Barnett and Vile Spin The Empty Bottle in Chicago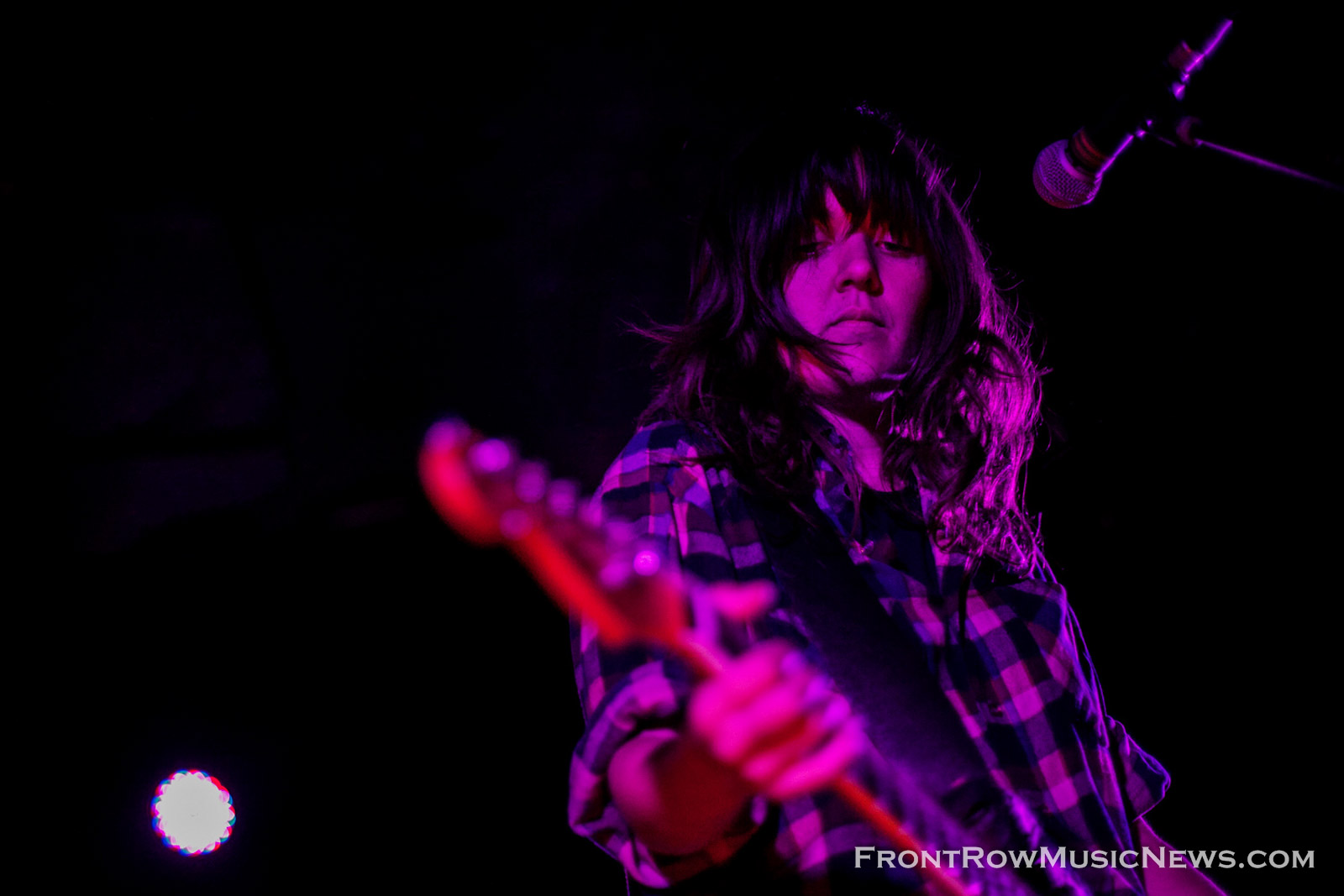 Courtney Barnett and Kurt Vile - Photo credit: Erica McKeehen
Australian-born Courtney Barnett and Philadelphia's Kurt Vile concluded their three-night stay in Chicago with an intimate performance at Chicago's west-side venue The Empty Bottle on October 28th, 2017. (The previous two performances were at Rockefeller Chapel on October 26th and Thalia Hall on October 27th). The odd indie-rock couple has been touring their collaborative effort Lotta Sea Lice, released on October 13th, 2017. Joining Barnett and Vile onstage were several rock talents including legendary drummer Janet Lee Weiss of Sleater-Kinney and Quasi.
Lotta Sea Lice combines Barnett's rock-out rambles with Vile's repetitive existential mumblings; the two take on a similarly soft tone, introverts with compelling narratives that carry their tunes beyond a mellow soundscape of country-folk rock. Verses on tracks like "Continental Breakfast" sound like late-night conversations between Barnett and Vile — two long-distance friends spilling their elliptical concerns and desires on trusted ears with guitars in hand. Music like this is easy to translate live; the audience can easily slip into the dialogue — and The Empty Bottle's modest size kept the performers especially grounded to Earth. When performing the album live, the two also toss in some spontaneous covers, like a raw, homespun take on Gillian Welch's "Elvis Presley Blues," but the laid-back jam-vibe never skips a beat.
Courtney Barnett and Kurt Vile Setlist, 10/28/17
1. Over Everything
2. Let It Go
3. Fear Is Like a Forest
4. Continental Breakfast
5. Out of the Woodwork — Barnett song
6. On Script
7. On Tour — Vile song
8. Depression — Barnett song
9. Life Like This — Vile song
10. Blue Cheese
11. Dead Fox — Barnett song
12. Untogether — Belly cover
Encore:
Elvis Presley Blues — Gillian Welch cover
Pretty Pimpin' — Vile song
Avant Gardener — Barnett song
Barnett says on the duo's official website that she found Vile's 2011 release Smoke Ring for My Halo consoling while recovering from heartbreak and unemployment, and eventually was excited to open for him at a show in 2013 but too timid to engage backstage beyond handing him a copy of her first EP. Eventually, a mutual fan, Vile, started seeing more and more of Barnett at festivals, and the two started working on songs, sending each other demos with an eventual collaboration in mind, if even for a few recorded songs. Eventually Barnett and Vile settled on a collection of songs both original and re-imagined — Barnett's songs sung and performed by Vile, and vice versa — on Lotta Sea Lice.
For more information on Barnett and Vile's album or tour, visit http://courtneybarnettandkurtvile.com.
Tags: alternative rockChicagoCourtney BarnettErica McKeehenFolk Rockindie rockKurt VileLotta Sea LiceMatador recordsThe Empty Bottle
About Erica McKeehen
You may also like...