Chelsea Wolfe Haunts Thalia Hall in Chicago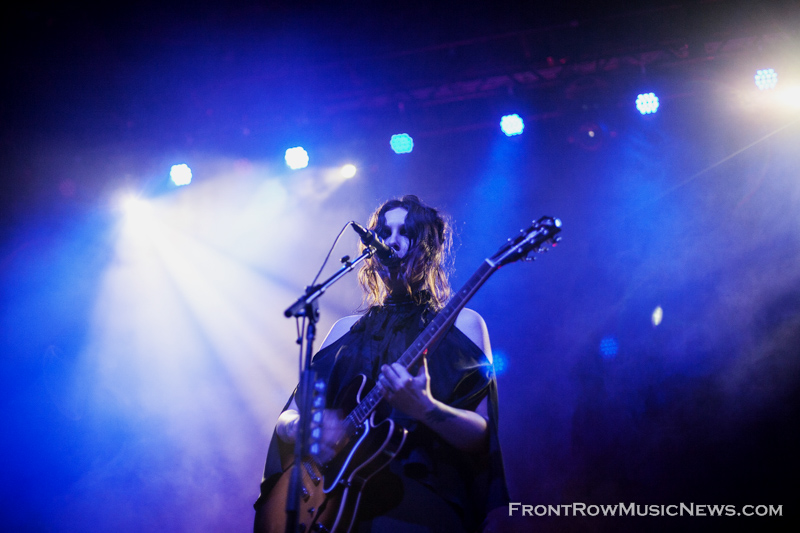 Chelsea-Wolfe-Photo-credit-Erica-McKeehen
On May 20th 2016, California native Chelsea Wolfe drenched Thalia Hall in ethereal, gloomy gothic rock, engulfing the space with dense, thunderous guitars and foreboding vocals. With a veil and her long, black hair sweeping across her face, Wolfe herself embodied total darkness both in presentation and in execution, leading her band through several of the metal-inspired anthems on last year's Aybss. After taking the stage to "Demons," Wolfe launched immediately into the epic, pseudo-demonic sounding "Carrion Flowers," following by tracks "Dragged Out," and"After the Fall,"  all from the Abyss.
A Dead Forest Index, the nomadic brother duo from New Zealand, opened for label-mate Wolfe, captivating the crowd with their minimally instrumented set, setting the tone for the evening: rich, intimate, and heavy.
The daughter of a country musician, Wolfe started writing music at the age of nine. Her debut album, The Grime and the Glow, was released in 2010, but she didn't gain her noted underground following until the next year's critically acclaimed Apokalypsis. In recent years, her songs have been featured in trailers for both Game of Thrones season four and Fear of the Walking Dead. Wolfe prefers to remain genre-less, but her music has been described as drone, gothic folk, and electronic noise rock, and she's frequently recognized as being ahead of the curve in the alt-rock arena. Notably, Wolfe's latest work on Abyss captures her persistent struggles with sleep, with songs that navigate between a nightmarish, disturbed landscape and a deeply soothing refuge for the unsettled soul.
For more information and tour dates, be sure to check out Chelsea Wolfe's official web site.
Tags: A Dead Forest IndexAbyssAlternativeChelsea WolfeChicagodroneelectronic noisegothic rockmetalThalia Hall
About Erica McKeehen
You may also like...