Interview: DREAMERS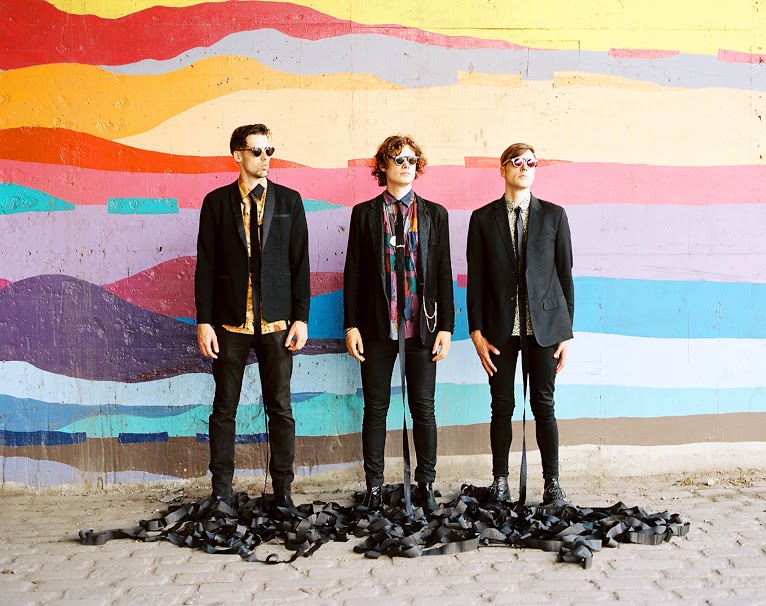 Chicago – A few days before their performance at the House of Blues in Chicago on April 22, 2015, Front Row Music News caught up with DREAMERS. The new band was recently picked from a large selection of artists to tour as direct support with one of their idols, Stone Temple Pilots. In addition, DREAMERS has a Summer release of their upcoming album, "This Album Does Not Exist" with their lead single "Wolves".
John Kosiewicz: Please introduce yourself and state your part in band, DREAMERS?
DREAMERS: We are DREAMERS.  Nick Wold on guitar and vocals, Chris Bagamary on drums and backing vocals.  Nelson on bass and backing vocals.  We play music.
John Kosiewicz: How did you come up with and what is the origin of the band name, DREAMERS?
DREAMERS: The 3 of us came together and recorded the album last year in Virginia.  During the process, we took a day off to climb a mountain and explore some waterfalls.  We realized we hadn't thought of a name yet, and DREAMERS kind of came about in that wandering, hopeful moment.  We liked it because it was inclusive.  We're all Dreamers.
John Kosiewicz: How did the band, DREAMERS, get formed?
DREAMERS: Nick and Chris have been friends since high school and were both in the band Motive.  When that band dissolved the two of them were still writing and making music together.  I just kind of found them at their rehearsal space and we all got excited about the chemistry and the songs, decided to make a record and DREAMERS was born.
John Kosiewicz: What's the biggest challenge as a new band?
DREAMERS: Finding showers?  Navigating the industry is a challenge for any band.  Also, we are currently in the middle of 3 months of touring the U.S.  Coast to coast and through the middle multiple times!  Every day poses new logistical things that need to be worked through.  Like our van dying 2 weeks ago.  The challenge is in keeping the faith and the spirit.  That all worked out, and we are continuing to play to wonderful audiences and meeting new and interesting people every day.  It's incredible.
John Kosiewicz: With your self-titled debut EP last November 2014 and your summer release of This Album Does Not Exist, tell us about the writing process? What inspires your song writing? Do you need music to write the lyrics? Do you write as a team or individually bring in pieces of a song?
DREAMERS: We almost always write music first and then lyrics after, but we just try to come at it from a million angles.  Write from a moment of inspiration, or sit down to write with no ideas.  Our songs are inspired by dreams, day to day life, and infinite wonder about the strangeness of existing. Nick is the main songwriter, and we arrange the songs and record as a group.
John Kosiewicz: What can we anticipated with the release of DREAMERS upcoming album, "This Album Does Not Exist"?
DREAMERS: Surprises!  Guitars!  Questions.  Maybe a few answers.  It will be a continuation and an evolution of the EP.  We're very excited to get more music out.  There are amazing things happening around us.  We can't wait to share the experience and the influence of our current journey.  We're shooting for the cosmos.
John Kosiewicz: Who are some of your musical inspirations?
DREAMERS: The Beatles, Nirvana, 90's grunge.  Current bands we've had the pleasure to know and perform with like Broncho and Mainland.  So much inspires us.  Past and present, it all kind of blends, blurs and melts into an iridescent collage we draw from and assemble as needed.
John Kosiewicz: Growing up and being inspired by Stone Temple Pilots, how will it feel being the supporting band in the Spring tour?  What do you hope to learn from them?
DREAMERS: We've already started that leg of the tour and it's been incredible!!  The audiences so far have been amazingly gracious and fun.  And the members of STP are not only phenomenal musicians but also generous, super cool guys.  We're taking notes on how to confidently captivate an audience of thousands every night.
John Kosiewicz: Do you have any pre-show or unusual backstage rituals?
DREAMERS: Backstage we get our voices warm by making bizarre chicken like noises and stringing random words together in song, such as "cold raviolis on ice".  It gets beautifully weird at times.
John Kosiewicz: What do you do in your freetime between shows?
DREAMERS: Most of the time between shows right now is spent driving!  We are learning to write in a moving vehicle.  We listen to music.  We take in the sights and sounds of the road.  Sometimes we'll have a moment to stop and explore.  We are explorers all.
John Kosiewicz: If you could have ANY special guest perform with you on stage, who would it be?
Nick: John Lennon
Chris:  Jonny Greenwood
Nelson:  Iggy Pop
John Kosiewicz: What would you like to say to everyone who is a fan and supporter of DREAMERS?
DREAMERS: Our fans and supporters rock.  At every turn, they've been there for us, given us love and have helped us keep moving forward.  From voting for us on Sirius radio and keeping us on the Alt 18, to driving hours to see our shows, to just sending kind, funny and encouraging words on social media; it really keeps us going.  It's magic and we love you all.
John Kosiewicz: Thank you for your time. In closing, is there anything you'd like to add?
DREAMERS: Thank you!  We're really looking forward to playing the House of Blues in Chicago on April 22nd and finding some good deep dish.  Come join us and tell us the best late night spots!
Tags: DREAMERSinterviews
About John Kosiewicz
You may also like...