Night Riots at House of Blues in Chicago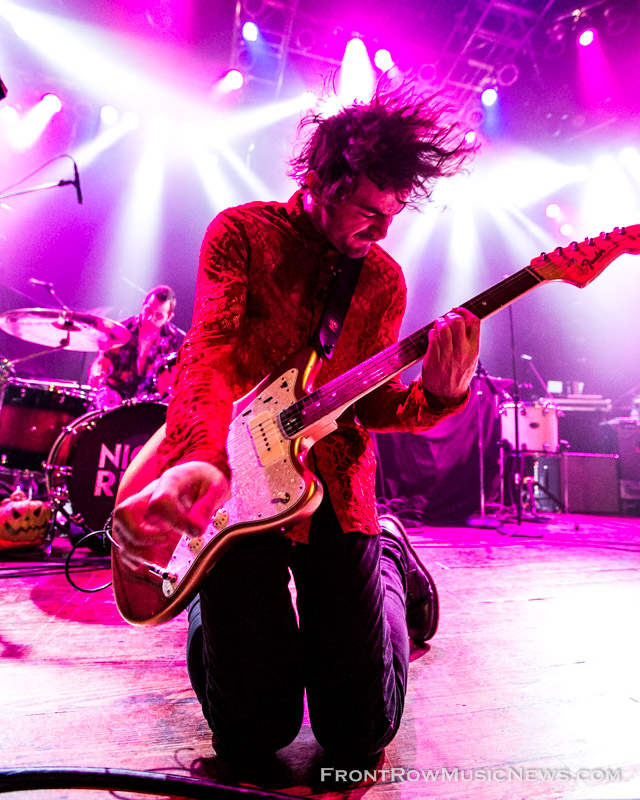 Night-Riots-Photo-credit-John-Kosiewicz
On March 23, 2017, the alternative rock band, Night Riots, performed for the sold out audience at the House of Blues in Chicago. Night Riots, along with Atlas Genius, are on tour in support of Andrew McMahon in the Wilderness' Zombies in America Tour. Formed in 2010 from San Luis Obispo, California, the band includes frontman, Travis Hawley; guitarists Nick Fotinakes and Matt DePauw; bassist Mikel Van Kranenburg; and drummer Rico Rodriguez. Currently, Night Riots are supporting their first full-length album, Love Gloom, which was released in October 2016 under Sumerian label.
As the opening artist for the night, you're limited to a shorter set list than the rest of the artists. However, Night Riots took full advantage of their brief time on stage, and by the time they walked off stage, were sure to have many new fans. These guys were all over the stage from one side to the other and standing on top of everything from drum stands to monitors. The energy was contagious and definitely got the audience moving for the night.
The set list printed for the night was slightly different than what was actually played. The original set list included the songs "Alright" and "Work It", but were removed and replaced with "Back to Your Love." A rumor was that Fotinakes said "Alright" was going to be a cover of Kendrick Lamar's song. Who knows if it was going to happen or not. Either way, fans received a great sampling of songs from Love Gloom (2016) and EP's Howl (2015), as well as Young Lore (2013). A favorite moment of Night Riots' set was mid-way through "Oh My Heart" when the stage lights go off and each member of the band have light up drumsticks. Here is the final set list for the night:
All for You (Love Gloom)
Nothing Personal (Love Gloom)
Oh My Heart (Howl)
Back to Your Love (Young Lore)
Breaking Free (Love Gloom)
Contagious (Howl)
Be sure to catch Night Riots the next time they are in your town. To keep up with the latest information and tour dates, visit the official Night Riots website: nightriots.com
About John Kosiewicz
You may also like...