twenty one pilots Concert Brings the Party to Chicago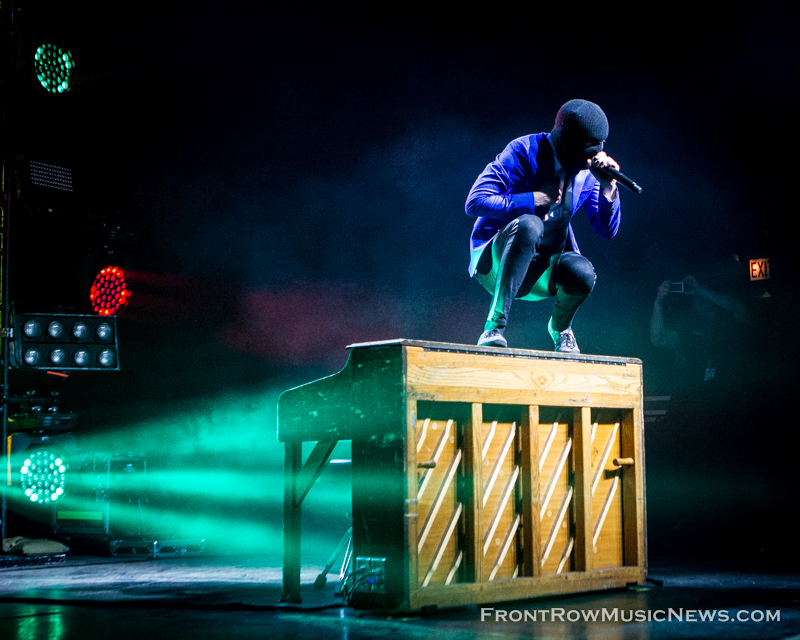 On April 18, 2014, twenty one pilots peformed at Riviera Theater in Chicago, IL
April 18th, 2014 @ Chicago: Following their recent performance of "Car Radio" at the 2014 MTV Movie Awards, Twenty One Pilots, played to a sold out crowd of around 2500 fans at Chicago's historic Riviera Theater. The duo from Columbus, Ohio, consists of Tyler Joseph and Josh Dun.  The band extended their tour in support of their third studio release from 2012, called "Vessel".
Opening with "Guns for Hands", the show started rather dark and mysterious. For the first few songs, both Tyler and Josh wore various masks switching from dark ski masks to skeleton masks. The show quickly accelerated to a high energy and spectacular light show with every song turning into an audience sing along. Peak moments of the night included lead singer, Tyler, crowd surfing while singing "Holding on to You", as well as drummer, Josh, performing a back flip off of the piano during the end of the same song. Bringing the party to the crowd, Josh ends the song, "Semi Automatic", playing a drum set on a platform being held up by the audience. Josh must really trust his fans! In addition, you can't forget favorites like "House of Gold" and encores of "Car Radio" and "Trees".
Twenty One Pilots is truly a fan favorite and a upcoming band to watch. You can find their official web site at: http://www.twentyonepilots.com/
twenty-one pilots Setlist for April 18, 2014
(via Setlist.fm)
1. Guns for Hands
2. Migraine
3. Ode to Sleep
4. Screen
5. Isle of Flightless Birds
6. Anathema
7. Forest
8. Mad World (Tears for Fears cover)
9. Holding on to You
10. House of Gold
11. Semi-Automatic
12. The Run and Go
13. Fake You Out
Encore:
14. Car Radio
15. Trees
About John Kosiewicz
You may also like...