Wolf Alice Bring Heaviness to the Midwest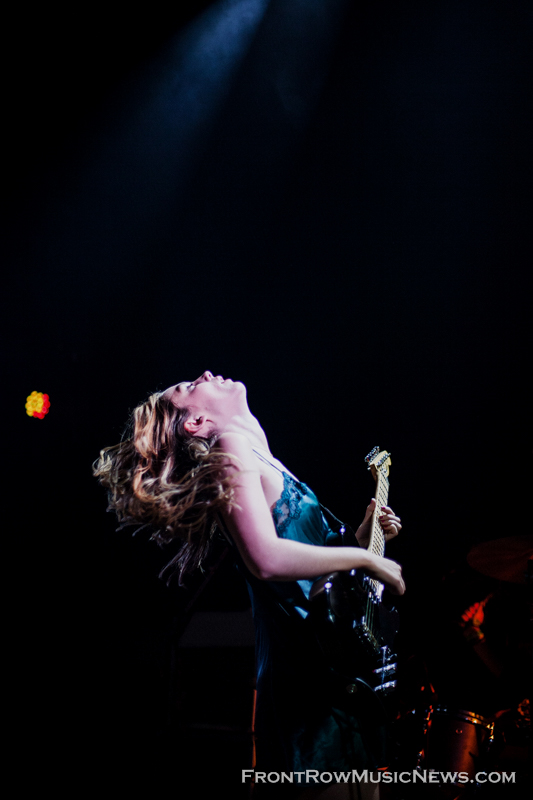 Wolf Alice, the alternative four-piece from London, took to the stage at Lincoln Hall on July 29th, 2016, just several hours after their performance at Chicago's own 25th annual Lollapalooza music festival. The show was sold-out and fans made their way from the summer festival, gaggles of teens speckled with sweat and glitter, to crowd the tiny Lincoln Park stage and scream along to the band's full set of grunge-infused anthems, songs that infiltrate listeners with a kind of cool not long-lost but still sort of beyond its years.
Wolf Alice is comprised of Ellie Rowsell (vocals, guitar), Joff Oddie (guitars, vocals), Theo Ellis (bass), and Joel Amey (drums, vocals). Quickly gaining the attention of music bloggers in the UK, the band changed members a few times before establishing themselves as Wolf Alice and embarking on several tours in support of acts like Peace, and mostly recently, notable peers The 1975. After a series of EPs (Blush in 2013 and Creature Songs in 2014) the band released their now acclaimed first album My Love is Cool in June 2015 — the album's single "Moaning Lisa Smile" was nominated for a Grammy for "Best Rock Performance" last year, and the group received the Best New Artist award from i-Tunes, among a host of other recognitions and accolades resulting from the successful debut.
The band's sound has been compared to that of vintage '90s alt-rock bands Garbage, Placebo, and Elastica. Roswell's brand of both tender and deadpan vocals are reminiscent of Kim Deal, invoking the spirit of guitar music most popular when all of the band's members were mere toddlers. That said, many of the band's lyrics speak of childhood innocence dissolving in the wake of time's inevitable but tumultuous wave of heartache and disappointment, coming of age in your wobbly and uncertain twenties. Tales of early friendships, formative romance, and adolescent angst stretch out across dark and thunderous guitars with layers of bass and drums, sandwiched between desolate, foreboding intros and outros. The energy that the quartet brings — joyful and cathartic, screaming along with audience members, glee plastered across their fresh faces — is balanced delicately by the storm clouds brewing in the backs of their throats and in the strings of their guitars.
Wolf Alice Set List, 7/29/2016
Intro
Your Loves Whore
You're a Germ
Freazy
Bros
Lisbon
90 Mile Beach
Silk
The Wonderwhy
Stormy
Swallowtail
Fluffy
She
Giant Peach
Blush (Encore)
Moaning Lisa Smile (Encore)
Tags: 90s rockAlternativeChicagoLincoln HallLollapaloozaMy Love is CoolRockWolf Alice
About Erica McKeehen
You may also like...