Justin Timberlake at the United Center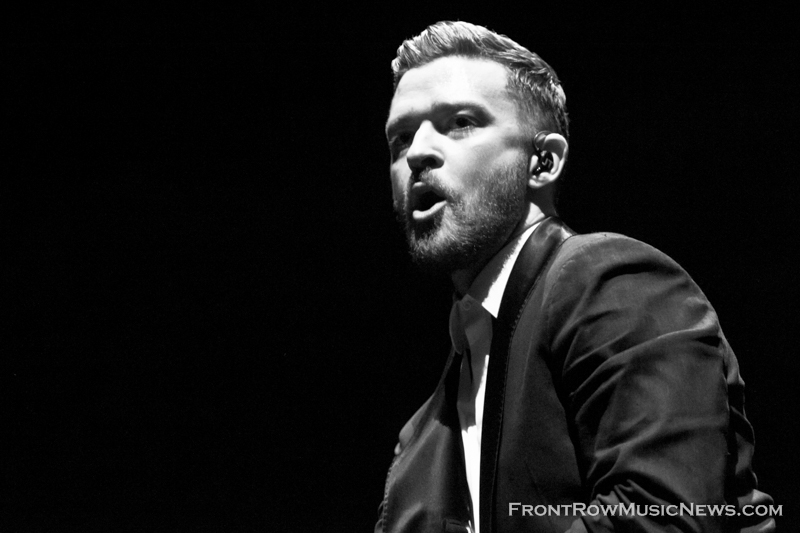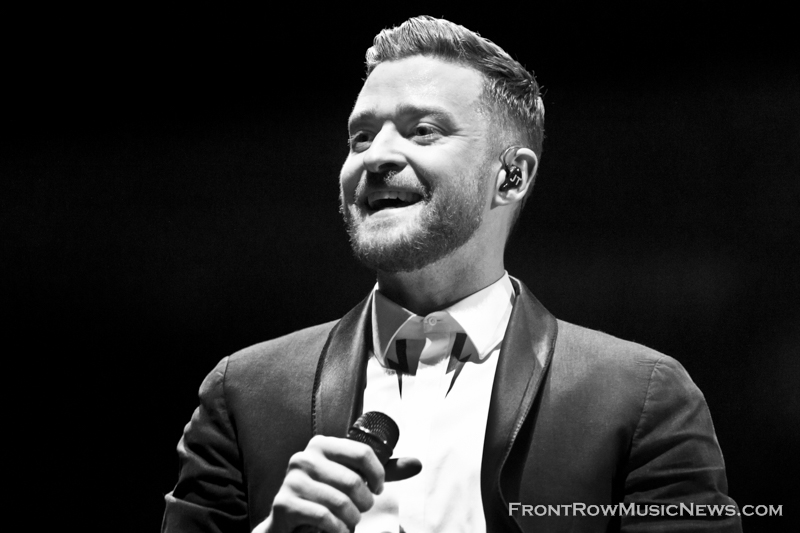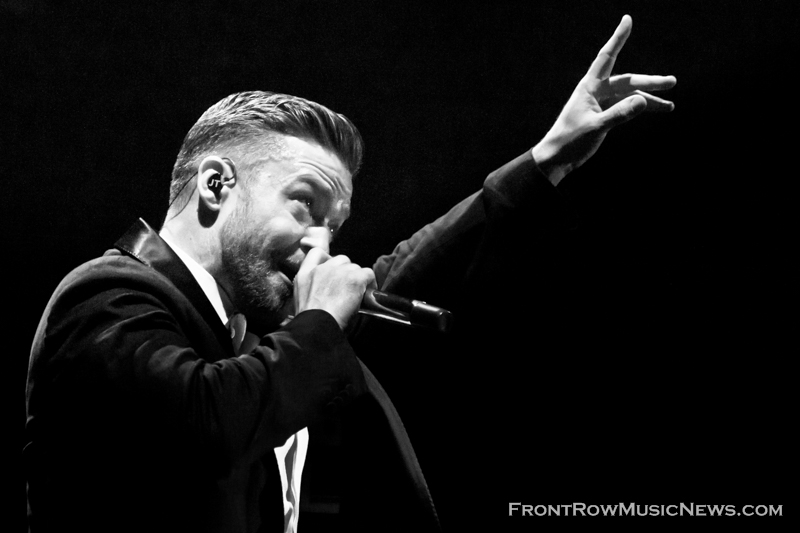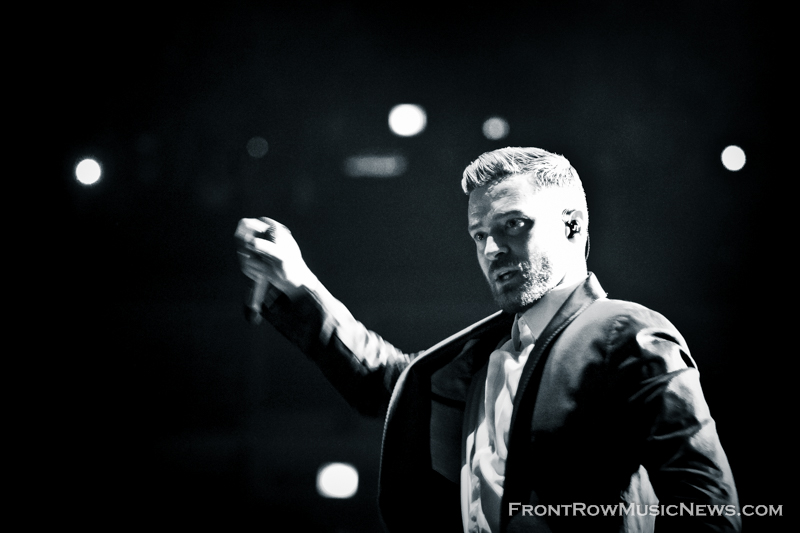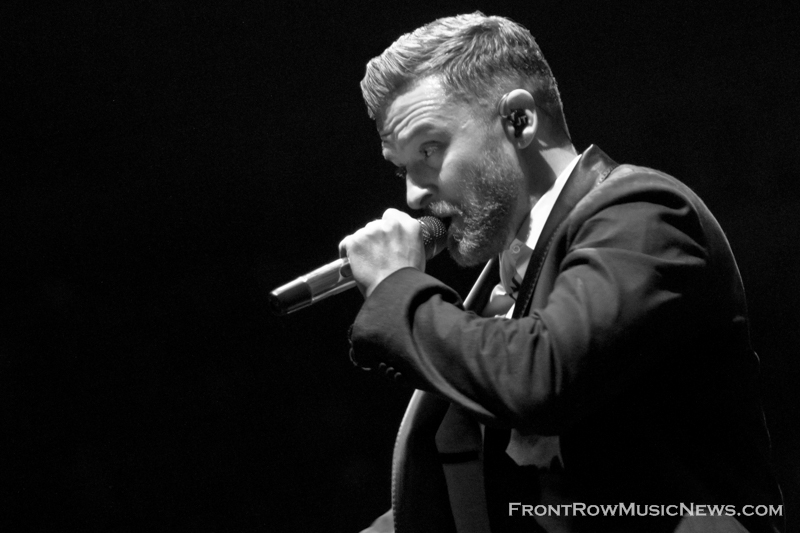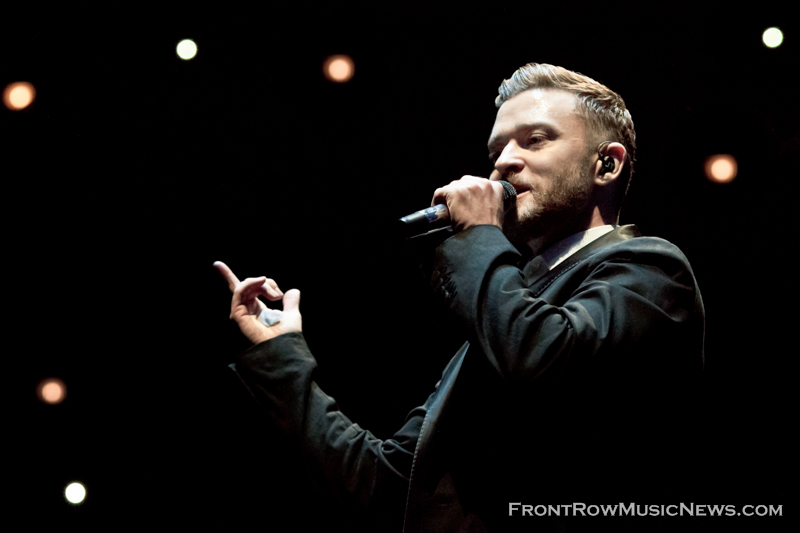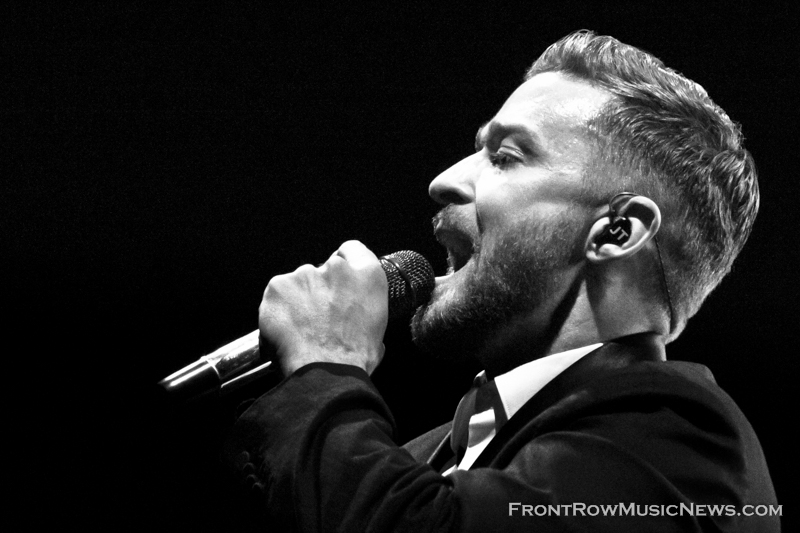 The darkness began to fade out as the Tennessee Kids began to play. The band slowly rose from below the stage while projections burst onto to the backdrop. Suddenly a silhouette stood tall under a bright spot light. Women screamed. Men cheered. Applause echoed throughout Chicago's United Center, welcoming Grammy Award winner Justin Timberlake to stage, as he broke into "Pusher Love Girl," for the start of what was to be an incredible night.
Timberlake brought his extraordinary 20/20 Experience World Tour to the Windy City Monday night, for the third time this year, in support the 2013 releases The 20/20 Experience and The 20/20 Experience – 2 of 2. Timberlake and his band displayed real showmanship with choreography that oozed sex appeal yet still remained a sense of class.
Fans sang along to favorites "Rock Your Body," "Señorita," and "My Love." During "TKO," Timberlake screamed, "Chicago, sing it to me!" When he took a moment to wipe his face with a towel, women screamed, "Throw the towel! We want the towel!" Afterward, JT scanned the crowd and exclaimed, "You came to party tonight!"
It indeed was a party. And what party would be complete without gifts? One fan gifted JT with a Bulls jersey that had Timberlake written on the back. He smiled, then joked, "I can't wear that in public. I'm from Memphis!" The crowd booed. Timberlake assured fans that he in fact loves the Bulls, but his hometown would not allow for it. He said he'd get his ass kicked for wearing it. Then he went on about how amazing it was to be performing in the house that Michael Jordan built, as he looked out and scanned the winning banners.
During "Summer Love" Timberlake climbed the stairs that reached high into the bleachers on both sides of the stage. He shook fans' hands and posed for photos. People sang along while filming it all with their phones. When he made his way back to the main level, he shouted, "Chi-town, shake your ass!" He and his dancers shook their booties all over the stage. Man, do they have charisma! Watching the singers, dancers, and band parade around stage was very entertaining. His band is stellar! More importantly, they look like they genuinely love what they do and seem to have so much fun doing it.
A beautiful white piano made its way on stage for "Until The End Of Time." JT asked fans to raise their cell phones; "Let's light the United Center up tonight!" During "Cry Me A River," ooohs from fans filled the stadium, and the horn section of the Tennessee Kids came to the front. Afterwards, he and his band dropped below the stage.
A ten minute intermission and costume change later, the band came out bathed in purple and green lights for "Only When I Walk Away." Then light flooded the audience. JT walked over to his mic, guitar in hand, and said, "My favorite part of the show is when I get to look at you." The crowd went crazy. He stared out into the stadium while strumming his guitar.
Later he cracked a smile and asked, "Are you guys drinking out there?" The stadium boomed with applause. JT shouted, "Hold your cups up if you are!" After a chuckle, he quipped, "You better Uber it home!" Laughter spread. Then he broke into the song he wrote about alcohol: "Drink You Away." A few songs later, the stage rose up, revealing a floating catwalk that moved to the other end of the United Center. Once his magical bridge parked, Timberlake walked down to greet fans and shake hands. He asked, "Are y'all having a good time?" Then with a wink, he slyly said, "Oh yeah, this is the drinking section!" After a laugh, he made his way to an older woman who shouted, "It's my birthday!" After inquiring about her age, he shockingly screamed, "Sixty-five!" He leaned in, gave her hug, and said, "So honored you chose to spend it with me. You still look fine, too!" JT grabbed a shot from the bar, raised the glass, and cheered, "Here's to you Chicago, from the Tennessee Kids. We love you!"
Throughout the night Timberlake performed plenty of covers, including Elvis Presley's "Heartbreak Hotel," Kool & The Gang's "Jungle Boogie," and Michael Jackson's "Human Nature." The latter of which he asked that everyone sing along so the King of Pop could hear from up above. For "What Goes Around… Comes Around," the Tennessee Kids left Timberlake to perform by himself with his acoustic guitar. People sang along. It was amazing hearing the large stadium fill with voices sweetly singing, "Don't wanna think about it / Don't wanna talk about it." Timberlake said, "Chicago you sound so beautiful." Members of the band slowly rejoined him, building up the song with drums and keys, then backup singers and chimes. JT smiled widely. It must be amazing to see and hear thousands of people singing along with you from so high above!
Things picked back up with "Take Back the Night." Band members danced and played in the aisles. People clapped and danced from their seats as JT's catwalk floated back to the main stage. Before heading off stage, JT and the Tennessee Kids played a brilliant cover of Bell Biv DeVoe's "Poison." Between the dance moves and mix of vocals from the back-ups, it was flawless!
Everyone came back out for an encore. JT shouted, "Y'all don't wanna go home yet?" Screams ushered in "SexyBack." The bass got heavy. Dancers rose from a trap door beneath JT's feet. Timberlake closed out the evening with "Mirrors." Towards the end of the song, he put down his mic, started clapping, and let the crowd sing it. The lyrics "It's like you're my mirror / My mirror staring back at me / I couldn't get any bigger / With anyone else beside of me" echoed throughout the United Center.
The 20/20 Experience World Tour continues into 2015, ending January 2 in Las Vegas.
Click HERE for tour dates.
Tags: 20/20 Experience World TourJustin TimberlakeUnited Center
About Sarah Hess
You may also like...