Rhye at The Vic in Chicago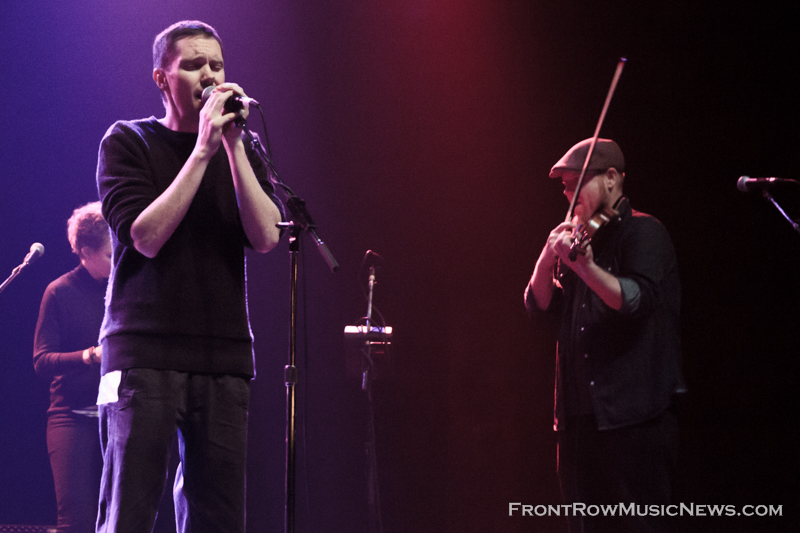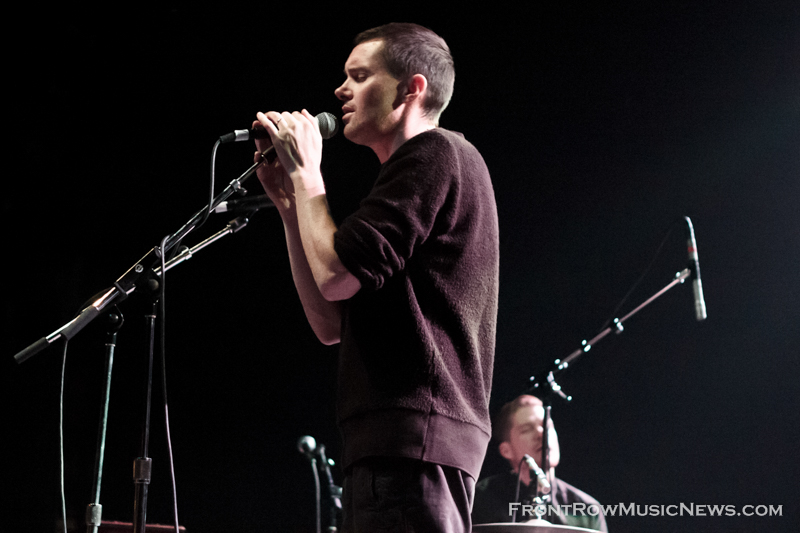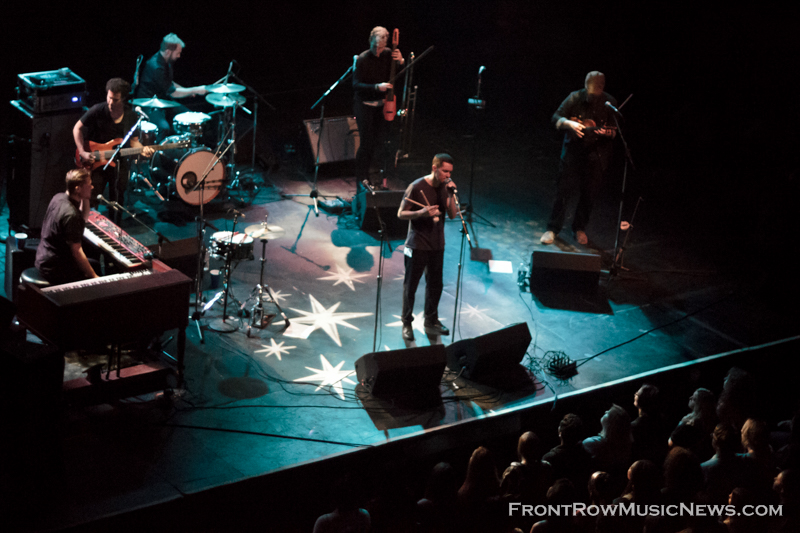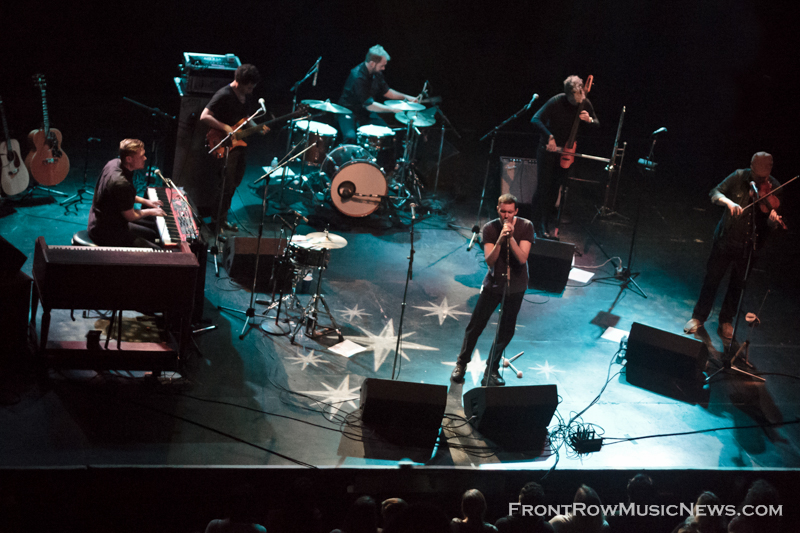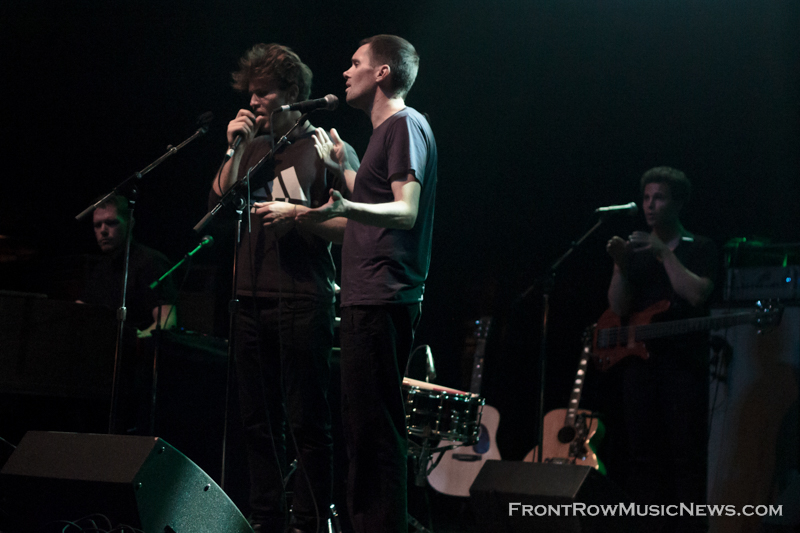 Michael Milosh gently sang, "We've got three days to fill each other, we've got three days to sing a song." Violin faded out. The lights dimmed and applause filled the room. Now a few songs in, the shy Canadian looked down at the stage and whispered into his mic, "I'm just starting to not feel nervous." A fan yelled, "Don't feel nervous!" Milosh smiled and gushed about how great the room was, thanking his devoted crowd. Another woman screamed, "We love you Milosh!" Indeed, on this Saturday evening at The Vic, Chicago was madly in love with Michael Milosh of Rhye.
Back in 2010 Milosh and Danish producer and instrumentalist Robin Hannibal (Quadron) formed the alternative R&B group Rhye. Being signed to the same label, the two ended up crossing paths, and briefly collaborating together while in Copenhagen. Later down the road, both would find themselves living in LA and again coming together musically. They formed Rhye and released "The Fall" and "Open" online, each boasting sensual vocals and intriguing instrumentation. Without any details, music journalists began speculating who was behind the chilling, soulful tunes comparable to Sade. Eventually Milosh and Hannibal revealed themselves to be the masterminds. Many were shocked to find it was a man behind the beautiful contralto.
After signing with Republic Records, Rhye released Woman in 2013, and eventually Milosh began touring sporadically sans Hannibal but nevertheless with a full band, making use of an organ, keyboards, violin, trombone, a bass, guitars, and drums and percussion. Along with experimenting with various instruments to create an ambient atmosphere, Rhye makes use of colorful, yet dim lights to set a mood and divert attention from all the bells and whistles so as to leave focus on the moment. Rhye's Chicago show did just that. With just peaks of light, many in the room didn't even worry about what was in front of them; people closed their eyes, swaying to the beat, while music filled every ounce of their being during tunes like "The Fall" and "Last Dance." Although, songs like "Hunger" did have people standing up, clapping, and getting down. At one point, a man and woman got up from their seats to dance in the aisle.
Rhye also played some new material, most of which was still in the experimental stage. Recently Milosh shared a new track titled "Right Never Comes." Clearly Milosh and Hannibal have been busy working on a new album. After playing a new song, Milosh said he'd treat the crowd to something they knew. When the violin began to play, giving clue that the band was breaking into "Open," the room filled with whistles and applause. Fans started snapping and singing, "I'm fool for that shake in your thighs. I'm a fool for that sound in your sighs."
Some highlights of the night: Molish brought out his opener Lo-Fang for a quick duet, afterwards telling the room, "That was nice! I was listening to him play earlier and after I was like, 'Dude, come out and do a song with me!'" For the last song of the night, "It's Over," Milosh asked the music hall to be as quiet as possible, as he wished to fade out the microphones. With his hands against his face, covering his eyes, as if he was crying, Milosh angelically sang, "It's hard to watch things slip away / Everything's so temporary / I should have known." And just like that, the emotional night was over, forever a beautiful memory.
You can catch Rhye on tour during November in select cities:
11-06 San Diego, CA – North Park Theatre
11-07 Los Angeles, CA – The Cathedral Sanctuary at Immanuel Presbyterian
11-09 Oakland, CA – Fox Theater
11-21 Chapultepec, Mexico – Lunario del Auditorio Nacional Paseo de la Reforma
11-22 Guadalajara, Mexico – Teatro Estudio Cavaret
About Sarah Hess
You may also like...