Carrie Underwood Shines at Allstate Arena in Rosemont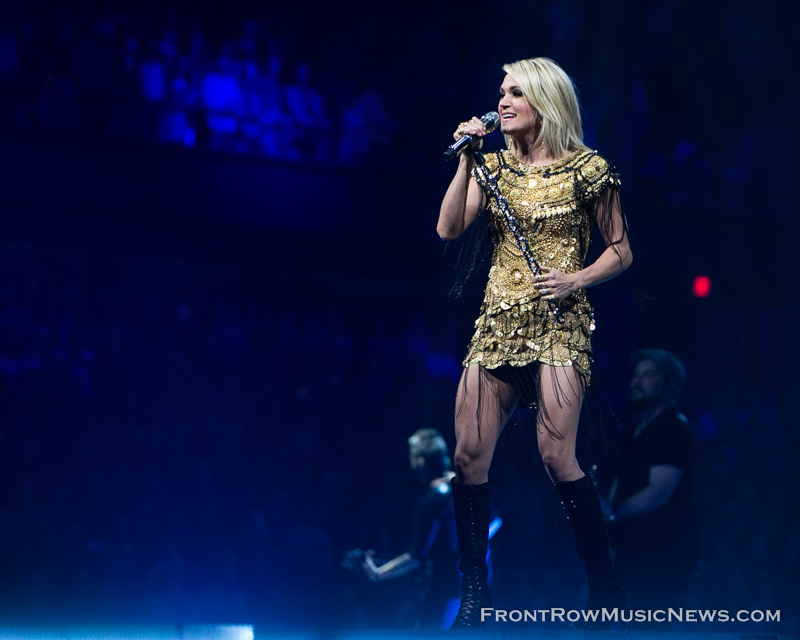 Carrie-Underwood-Photo-credit-John-Kosiewicz
With her recent release of her fifth studio album, Storyteller, country superstar, Carrie Underwood, brought "The Storyteller Tour – Stories in the Round" to the Allstate Arena on May 17, 2016 with a sold-out crowd of over 16,000 fans in Chicago. Opening the night included special guests Easton Corbin and The Swon Brothers.
"The Storyteller Tour – Stories in the Round" is Carrie Underwood's first tour "in the round." For those who have never been to a concert "in the round", unlike most shows where the stage is on one side of the venue and some fans are seated way on the long end, the stage is in the middle of the arena floor. The 360-degree setting allows fans on all sides of the arena to get a closer intimate concert experience.
Although the entire night was amazing, a few specific highlights of the nearly two hour performance were:
• Started out with Underwood performing "Renegade Runaway," from the Storyteller album, as she emerged on a high platform in the center of the arena.
• Underwood's cover of The Nitty Gritty Dirt Band's song, "Fishin in the Dark." Shortly after she started the song, Easton Corbin joined in on the song, followed after by The Swon Brothers.
• Prior to playing Little Toy Guns, Underwood introduced her band one by one. However, the twist was she controlled the video camera, "Carrie Cam", and brought the up close and personal perspective of each artist.
• Underwood showing her musical abilities with vocals, guitar, piano and harmonica
To get the latest information and tour dates, visit Carrie Underwood Website.
About John Kosiewicz
You may also like...