Whitney Brings Country Soul to Thalia Hall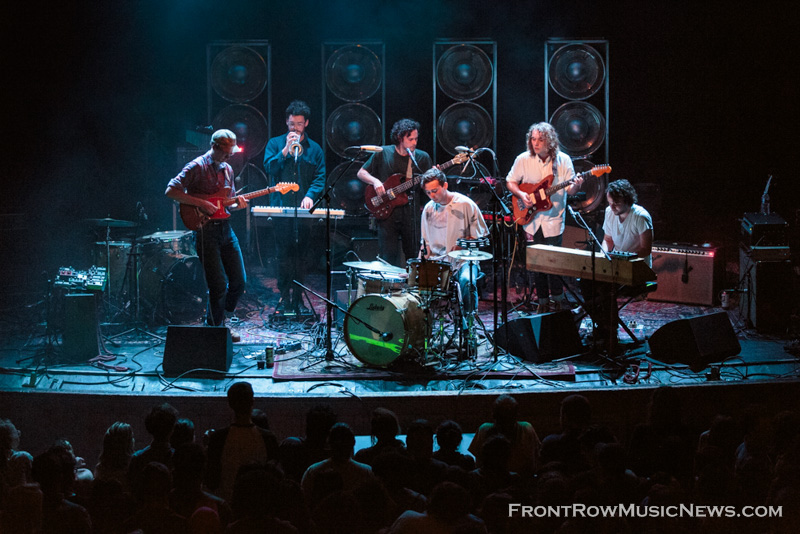 Whitney-Photo-credit-Sarah-Hess
Looks like the cat's out of the bag, when it comes to Chicago's best kept secret, Whitney. The country soul six-piece has spent the last few months on the road, playing shows at SXSW and throughout the Southwest, touring with Wild Nothing, and now killing it nightly with Unknown Mortal Orchestra. Along the way, they've caught the attention of many, from music lovers to bloggers and outlets like NME and Noisey.
Whitney was formed in 2014 by drummer Julien Ehrlich and guitarist Max Kakacek, after the two friends left the band Smith Westerns. Ehrlich – who was also previously a member of UMO – and Kakacek spent the winter holed up during a crazy Polar Vortex, writing and creating songs documenting their heart break, after both men found themselves without a band, leaving relationships, and essentially homeless. The two eventually moved up to Kakacek's family lake house and wrote songs which later developed into the band's debut album Light Upon the Lake (due out June 3rd through Secretly Canadian). Ehrlich and Kakacek expanded from a duo to a full band, with the addition of Will Miller on trumpet and keys, Malcolm Brown on keys, Print Chouteau on rhythm guitar, and Josiah Marshall on bass. The guys also have a seventh honorary member: their long-time friend and master sound engineer, Charles Glanders.Together these men form one of Chicago's most buzzed about bands, Whitney, blending an exceptional blend of country, R&B, and jazz. Paired perfectly with the band's 70s country feel, is Ehrlich's soulful falsetto.
Tuesday night, Whitney brought some rich, country soul to Thalia Hall in Pilsen, in support of Unknown Mortal Orchestra. The band played an phenomenal set, which included favorites from the soon to be released Light Upon the Lake, like "Polly," "No Woman," and the amazing instrumental "Red Moon," the latter of which saw extended time thanks to some playful improvisation. Whitney also covered Bob Dylan's "Tonight I'll Be Staying Here With You," earning much applause from the ground floor, up to the balcony.
If you have yet to discover Chicago's bets new band, get on it… and check out our photos from Whitney's Thalia Hall show!
Whitney is currently on a North American tour and will be playing Governors Ball and Bonnaroo, before heading off to Europe for a summer tour. A full list of tour dates can be found on Whitney's Facebook page.
Tags: ChicagoChicago musicindie rocklive in Chicagolive musicmusicmusic newsnew musicThalia HallUMOUnknown Mortal OrchestraWhitneyWild Nothing
About Sarah Hess
You may also like...