Judah and the Lion at House of Blues in Chicago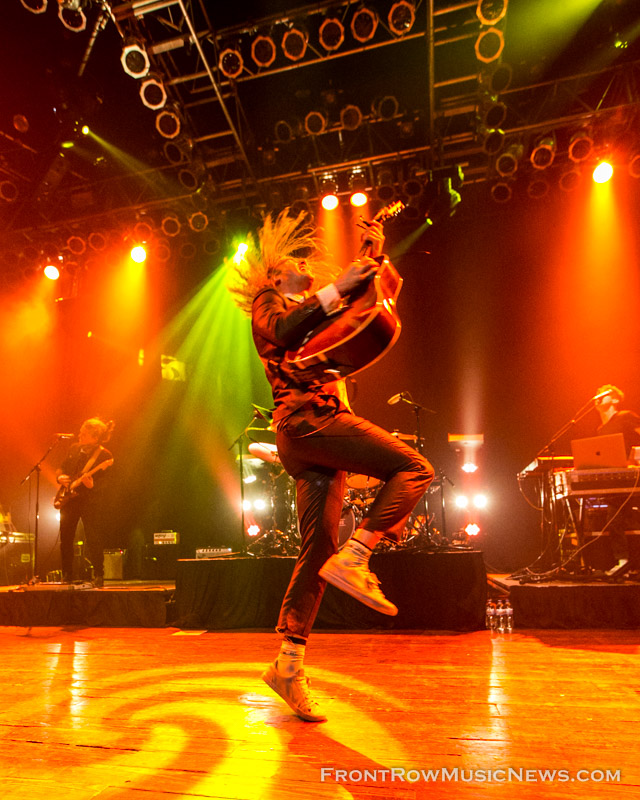 Judah and the Lion - Photo credit: John Kosiewicz
On March 23, 2017, wearing his astronaut helmet, Judah and the Lion front-man, Judah Akers, set forth into the wilderness of the sold out audience at the House of Blues in Chicago. Approximately 1000 background singers joined in unison with Judah & the Lion singing "Going to Mars" for an out of this world experience. Definitely a highlight of the night for many who came out to see the show.
After coming off of a national tour from January to March 2017 opening for twenty-one pilots' Emotional Roadshow, Judah and the Lion, started immediately on their own US headline tour called "Going to Mars" in support of their 2016 release Folk Hop 'N Roll, as well the Deluxe Album of 'Folk Hop N Roll.' The deluxe album includes the 'Going to Mars Collection' which was released on March 17, 2017 with 6 additional songs: 5 new songs and an acoustic arrangement of "Take It All Back." The alternative band out of Nashville, started in 2011. Current members in the band include: Judah Akers on guitar, lead vocals; Brian Macdonald on mandolin and backing vocals; Nate Zuercher on banjo and backing vocals; and Spencer Cross on drums.
The night's set list included all five of the new songs from the Deluxe Album, along with a variety of songs from each of their three album releases: Sweet Tennessee (2013), Kids These Days (2014) and Folk Hop 'N Roll (2016). Compared to only a handful of songs while opening for twenty-one pilots, this show included about 3 dozen songs and lasted about 1 1/2 hours long. Fan's were also treated to T‐Pain cover, "Booty Wurk (One Cheek At a Time)." Although the entire show was amazing, favorite moments included performances of "Going to Mars," of course "Take It All Back" and the closing encore song, "Water." All in all, Judah and the Lion keep fans totally engaged in the show with amazing music, dancing and fun for all to enjoy.
Keep up the latest information and tour dates at the Judah and the Lion official website: judahandthelion.com
About John Kosiewicz
You may also like...