Wilco Close Out Four-Night Stay at The Chicago Theatre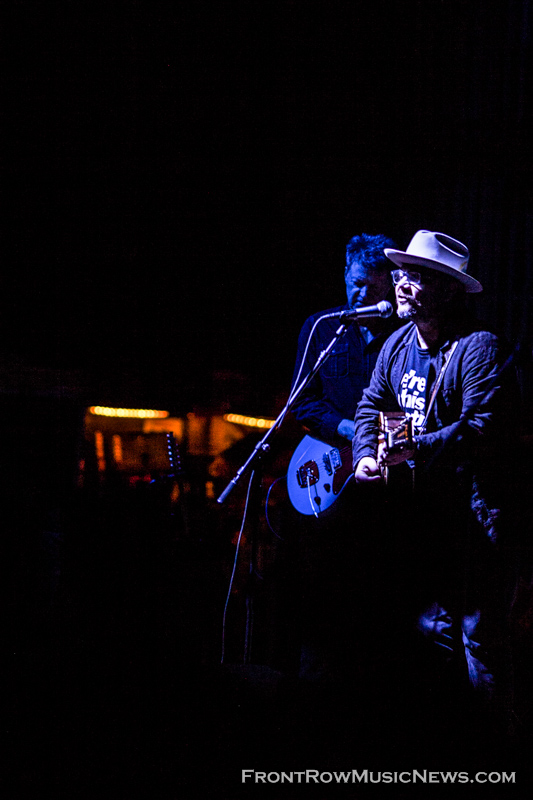 In their first set of hometown reserved-seat theatre performances in five years, Wilco performed four nights at the awe-inspiring Chicago Theatre on February 22nd, 23nd, 25th, and 26th. Front Row Music News covered the last night.
The Chicago band Wilco's 10th studio album Schmilco is out now. The American alternative rock band formed in 1994 by the remaining members of alternative country group Uncle Tupelo and the lineup frequently changed during the groups' first ten years, with only singer Jeff Tweedy and bassist John Stirratt remaining from the original lineup. However, for the last thirteen years, the members have remained constant, consisting of Tweedy, Stirratt, guitarist Nels Cline, multi-instrumentalist Pat Sansone, keyboardist Mikael Jorgensen, and drummer Glenn Kotche. Wilco has released ten studio albums, and although their musical style is mostly described as "alt-country," their sound has been inspired by a slew of notable artists and styles, including The Beatles and Television as well as elements of multi-era alt-rock and pop.
Special guest James Elkington performed alongside the band on their closing night set.
Wilco Set List, 2/26/2017
1. On and On and On
2. Normal American Kids
3. If I Ever Was a Child
4. Cry All Day
5. Muzzle of Bees
6. Bull Black Nova
7. I Am Trying to Break Your Heart
8. Art of Almost
9. Pickled Ginger
10. Misunderstood
11. Someone to Lose
12. A Magazine Called Sunset
13. Reservations
14. Impossible Germany
15. Say You Miss Me
16. Via Chicago
17. Box Full of Letters
18. Heavy Metal Drummer
19. I'm the Man Who Loves You
20. Hummingbird
21. The Late Greats
Encore:
Random Name Generator
Jesus, Etc.
Locator
Monday
Outtasite (Outta Mind)
I'm a Wheel
Encore 2:
Spiders (Kidsmoke)
For more information and tour dates for Wilco, be sure to check out their official web site.
Tags: alt-countryAlternativeChicagoChicago TheatreCountryindiewilco
About Erica McKeehen
You may also like...