Florence and the Machine at Hollywood Casino Amphitheater in Chicago / Tinley Park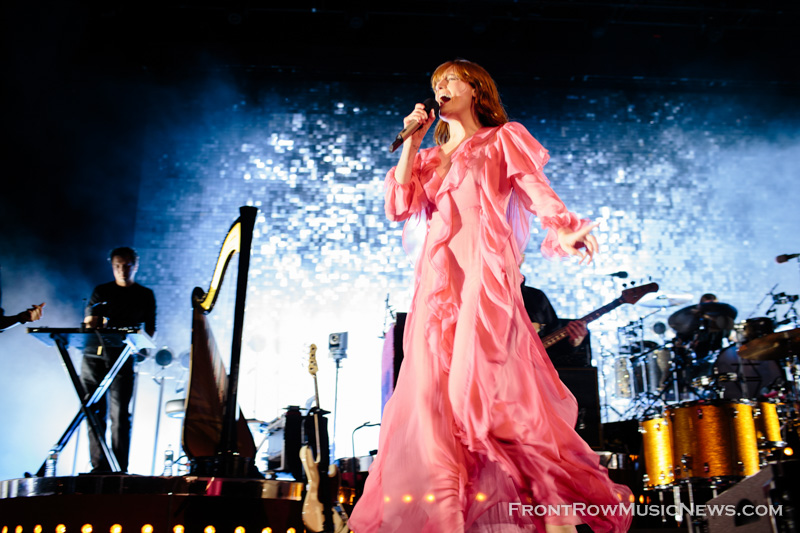 Florence-The-Machine-Photo-credit-Azuree-Wiitala
As I arrived at the Hollywood Casino Amphitheatre in Tinley Park, I saw loads of flower crowns, pretty flowing white dresses and blankets for those sitting in the grass seats. I loved seeing such a pretty array of flower adorned sprites waiting for their goddess to take stage. Florence Welch, the powerful force that is Florence and the Machine, came out on stage and handed out a dozen or so purple roses to her fans in the front row. I found that to be such a lovely touch, especially coming from an artist who is probably used to receiving flowers instead of giving them out!
Welch was decked out in a flowy outfit, barefoot, her hair lose and wild. "The Machine" consisted of back up singers, a full band, a harpist(!!) and a horn section. I couldn't stop starring at their massive sequined back drop, it looked like a space ship. They kicked off the set with "What the Water Gave Me." Welch moved around the stage, she more or less flowed between the left and right sides of the stage. Her movements remind you of a cross between Stevie Nicks and some kind of performance artist. Simply put, it was beautiful and mesmerizing. I was incredibly impressed at how beautifully she sang live! Welch has a beautiful and powerful voice, and despite her bouncing around stage she hit every note. "Ship to Wreck" was next you could hear the crowd singing along, bouncing along in the crowd with their queen.
The entire show had theatrical feelings to it, without being too out there or pretentious. I loved the set design, her energy and of course, the beautiful songs. If you have a chance to catch Florence and The Machines on tour, don't miss them! You can find upcoming shows at the Florence and the Machine website.
About azuree wiitala
You may also like...