The Sounds at The Metro in Chicago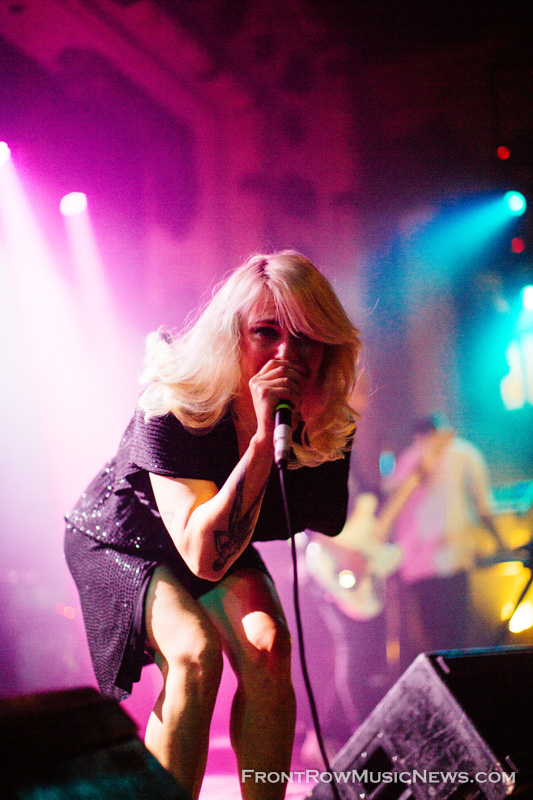 The Sounds - Photo credit: Azuree Wiitala
I was pumped to catch The Sounds on their 10 year anniversary tour of "Dying To Say This To You" at The Metro on November 20th. Currently, Swedish indie rock band consists of: Maja Ivarsson on vocals; Félix Rodríguez on guitar; Jesper Anderberg on keyboards, piano, guitar; Johan Bengtsson on bass; and Fredrik Blond on drums.
The Sounds kicked their set off with "Song with a Mission" the first song off their second album, Dying To Say This To You (2006), and then continued to play the album in its entirety. Thinking the show would end after "Running Out of Turbo," I was pleasantly surprised to hear a total of 20 songs spanning their entire career: Living in America (2002), Crossing the Rubicon (2009), Something to Die For (2011) and Weekend (2013).
The crowd was pretty lit the entire show but things got really exciting when "Living in America" came through the speakers. This is the song that will always come to mind for me when I think of The Sounds, bringing me right back to my early 20's dancing to that song followed by Idioteque and a bunch of early 2000's dancey songs.
The Sounds are still currently on tour in the US, don't miss your chance to see them! Tour dates and the latest information can be found at The Sounds website.
Dying to Say This to You
Song With a Mission
Queen of Apology
Tony the Beat
24 Hours
Painted by Numbers
Night After Night
Ego
Hurt You
Much Too Long
Running Out of Turbo
No One Sleeps When I'm Awake
4 Songs & A Fight
Thrill
Mine For Life
The Best of Me
Shake Shake Shake
Living in America
Dorchester Hotel
Encore:
Rock & Roll
Hope You're Happy Now
Tags: The MetroThe Sounds
About azuree wiitala
You may also like...