Interview – Safeguard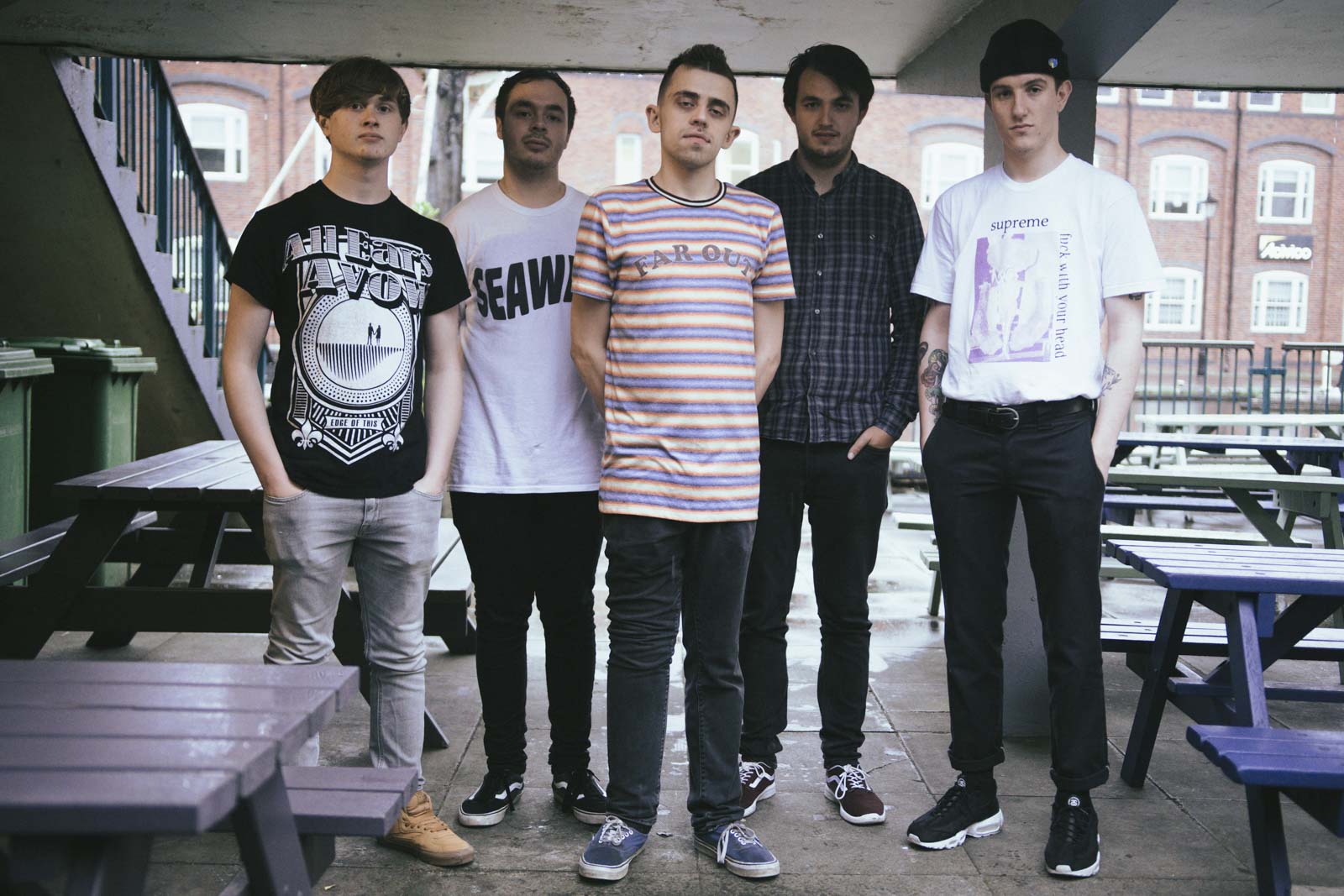 Safeguard
Formed in 2016, rising pop-punk band, Safeguard, hails from North Yorkshire, UK. The band current line-up includes: Connor Dale on drums; Declan Gough on vocals; Martyn Marsh on guitar; Zak Lonsdale on bass; and Denholm Horn on guitar. The modern day pop-punk genre of the band has drawn comparisons to artist such as Knuckle Puck, the Story So Far and Neck Deep. In early 2017, Safeguard put out a self-released EP 'When Did You Stop Caring?'. On December 1st, they will be releasing the band's follow up EP called, I'm A Stranger To Myself via Wilhelm Records.
Safeguard's guitarist, Denholm Horn, took a few minutes out of the band's busy schedule to answer a few questions for Front Row Music News.
For those who are new to Safeguard, can you please introduce yourself, tell us a little bit about the band, as well as yourself?
DH: I'm Denholm and I'm one half of the guitarists in Safeguard. I've been playing guitar for about 9 years and can also play bass and keyboard. At the minute I'm studying music production at York St John university and it's going well, it allows me to look at the band from a producer's perspective.
How did the band, Safeguard, get formed?
DH: Safeguard was formed by Declan putting an ad on a band networking site and got a reply from Martyn and Zak. They started writing and eventually Connor joined after the first drummer left for university. I was drafted in to play for the first EP release show and I'm now a full member.
As a new band, what's your biggest challenge?
DH: Our biggest challenge is gaining exposure and trying to create music that is both full of classic pop punk influences but also new and interesting. Writing songs that no one has heard before is challenging but extremely rewarding.
With the 2nd EP due out on December 1st, what can we expect from this new music?
DH: From the new EP you can expect a massive leap in the level of professionalism and production despite it being such a short and sweet burst of music, with flavours and influences from many popular bands in the scene at the moment, the main influence being Knuckle Puck.
Who are some of your musical inspirations?
DH: When I first started playing guitar I was massively into pop punk and took influence mainly from Green Day and Sum 41, then this progressed onto heavier influences in classic rock and metal such as Metallica, Ozzy Osbourne and Meat Loaf. More presently I have been trying to adapt my playing style to bring it closer to the level of progressive metal and djent artists like Periphery and Animals As Leaders as well as more chilled out melodic prog musicians such as Plini and Owane.
If you only had one album to listen to forever (sorry, no streaming), which album would it be?
DH: If I only had one album to listen to forever it would be Songs in the Key of Life by Stevie Wonder as he is one of the most talented and inspirational musicians of all time (also the horn section in Sir Duke is well tasty)
Do you have any pre-show or unusual backstage rituals?
DH: Not any rituals per se but we do often psych ourselves up if there's a large audience waiting so we can give them our absolute best performance. Our usual rituals consist of taking the piss out of each other, and by that I mean taking the piss out of Declan.
If you could have ANY special guest perform with you on stage, who would it be?
DH: If I could have any one guest on stage with us it would be Seasick Steve because he is amazing to watch live and who doesn't love guitars made out of licence plates and hub caps.
Do you spend much time on social media? If so, what is your preferred form of communicating to your fans through social media?
DH: My preferred social media is Facebook but because I'm at university I try to steer clear of social media as it can sometimes distract from my work.
This or that: Sweet or Salty?
This or that: Cat or Dog?
This or that: Computer Games or Video Games?
This or that: Paper or Plastic?
This or that: Superman or Batman?
DH: Superman because he's OP
This or that: Money or Fame?
DH: Money because I like fancy guitars
What's next for Safeguard in 2018?
DH: We're planning on writing loads of new material for an album which should be really exciting seeing as it'll be our first full album released under Wilhelm.
What would you like to say to everyone who is a fan and supporter of Safeguard?
DH: Can't say anything to fans other than I can't thank you enough for the support we've received and how far it's gotten us. We can only ask for more of the same love you've given us because it's more you doing us a favour than us doing you the favour of writing music for you.
Thank you for your time. In closing, is there anything you'd like to add?
DH: I'd like to add that our audience and fans are awesome for listening to us so thanks. Also look out, because we've got some good stuff coming up.
Be sure to keep up with the latest information and show dates at the Safeguard Facebook page.
About John Kosiewicz
You may also like...