Interview: Sleepy Kitty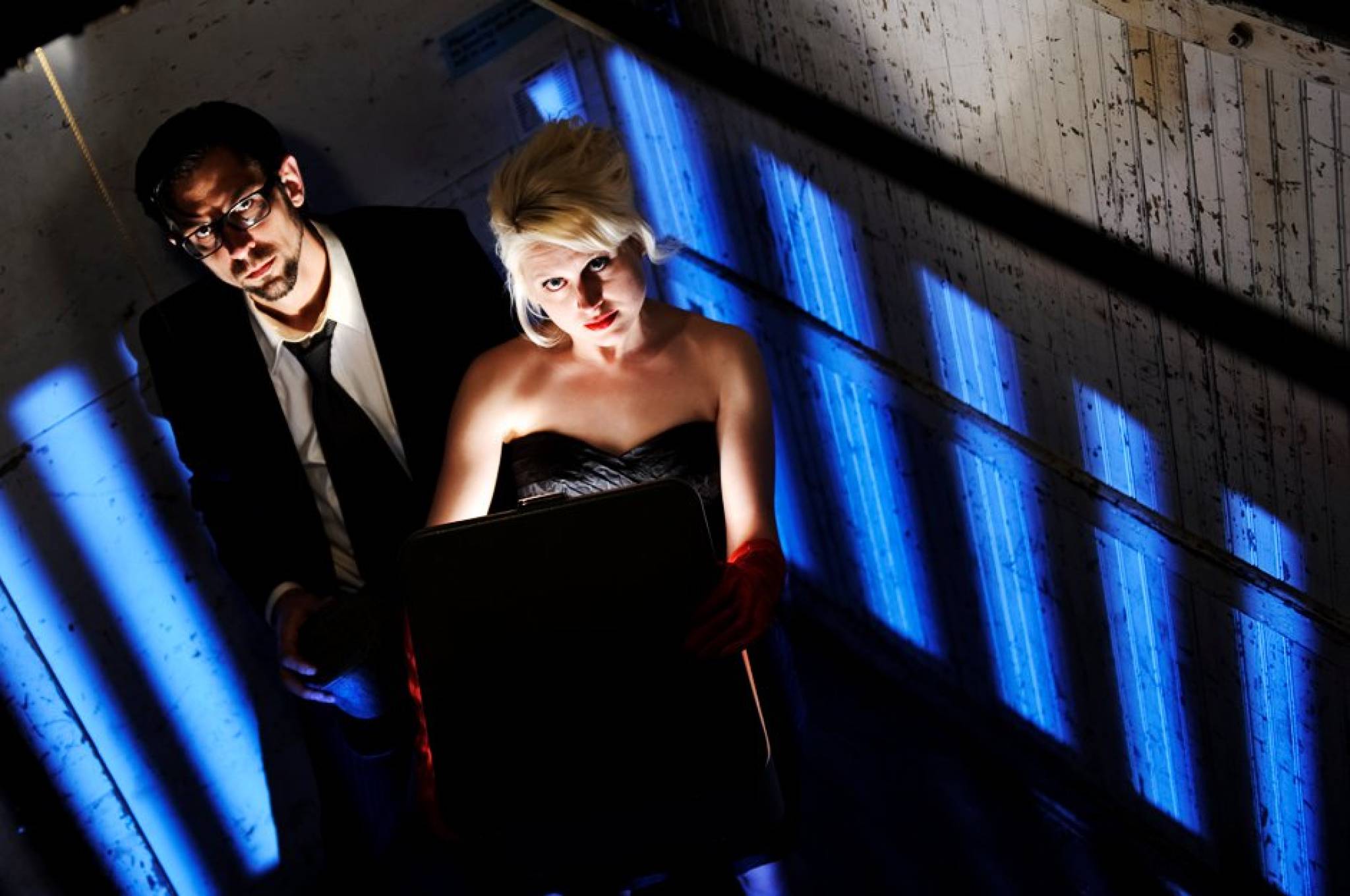 Our friends, Sleepy Kitty, are coming back to Chicago on March 26, 2016 to perform at Lincoln Hall with Ezra Furman & His Boy-Friends. Front Row Music News first caught Sleepy Kitty during their performance at the House of Blues in Fall 2014.
There's no better time than the present to get more acquainted with the two piece indie rock band from St. Louis via Chicago. Sleepy Kitty took some time to answer our questions and give more insight on their influences, favorites of Chicago and St. Louis, pre-show rituals and so much more.
When you're done reading the interview, be sure to keep up with the last information and tour dates at Sleepy Kitty website.

John Kosiewicz: For those who are new to Sleepy Kitty, can you please introduce yourself, tell us a little bit about the band, how it was formed and how you came up with the name, "Sleepy Kitty"?
Sleepy Kitty: Sleepy Kitty is Paige Brubeck on guitar and vocals and Evan Sult on drums and backing vocals. The band basically started as Evan's and my weirdo side project from our other bands — very influenced by The Fall, Steve Reich, and The Velvet Underground, and all with lots of harmonies. The band has changed some since then as it became our main thing, our everything thing. The name actually is referring to cute cats on the internet, so add "music" when you Google us, or you'll fall down the cutest, most distracting hole the Internet has to offer.
John Kosiewicz: On your Facebook page, you list "Home" as Chicago and St. Louis. What's your favorite things about your hometowns?
Sleepy Kitty: Chicago is one of the most beautiful cities, with a great music scene and great public transit. Some of our favorite venues in the country are in Chicago. Plus, the Art Institute there is a second home to me. St. Louis is an incredibly interesting city. The small number of chain stores makes it a really easy to find local businesses and more interesting places. The street that we live on in St. Louis is one of the most diverse arrangements of establishments. In the last few years a number of bars have popped up, there are great Latino grocery stores in the neighborhood for several years, there's a new public basketball court, an independent art supply store, a place with an amazing barrelhouse piano and brass jazz music, a cat shelter, art studios, a Bernie Sanders volunteer HQ, practice spaces, and various places that sell antiques and general weird stuff. Besides that, it's a neighborhood and a city where local politics can make a big difference in day to day life, and the 20th ward has been a very exciting place to be. Also, the City Museum in downtown St. Louis is a must to visit, and the St. Louis Art Museum is amazing and free to all.
John Kosiewicz: In your eyes, how has the band transformed over the past years, as well as how have your respective home towns of Chicago & St. Louis, impacted your music?
Sleepy Kitty: We have lots of songs specifically about cities. "NYC Really Has It All" is basically a letter to a friend who moved away about the changes in Wicker Park, and in our own lives. I started writing "Hold Yr Ground" the day our van was stolen from behind our building in St. Louis. St. Louis is a rough place in a lot of ways. I mean, it's incredibly blighted and has the highest murder rate in the country. That said, people here are some of the friendliest people I've ever met. People look out for each other in a lot of ways — you have to, in a way. "Hold Yr Ground" is kind of about a frustration with a crumbling infrastructure that let down its people, but also a deep optimism that things can change for all people and for the better. That song also deals with neighborhood changes, and the balancing act of a changing neighborhood, and wanting to keep a place but knowing that change itself is inevitable. Sometimes I feel like a hermit crab, crawling into the shell of an old building, knowing that one day I'll crawl into a different shell.
John Kosiewicz: What's the biggest challenge of being a duet?
Sleepy Kitty: I think the biggest challenge is there are only 2 people to do all the things that need doing — all the planning, driving, merching, and whatnot. There's also the fact that if I stop playing guitar, all of the melodic instruments in the entire band have stopped playing and there will be a gaping hole. It's not like playing bass or guitar in a 4 piece, you've got a little more flexibility there.
John Kosiewicz: What inspires the group's song writing? Do you need music to write the lyrics? Do you write as a team or individually bring in pieces of a song?
Sleepy Kitty: As I said earlier, we write about cities a lot. Cities, human drama, some politics, and oddly enough we take a lot of inspiration from films, or we certainly did on Projection Room. Our newest release called Flux, which will be coming out this summer, feels like a document of our band mid-change. Again on the cities thing, there's a song on Flux that, to me, is about the feeling of older millennial anxiety, plus travel and planning a tour and the desire to just keep charging along right into it. Musically for us, I will often come in with a burst of melody and handful of lyrics all in one, and then we figure out the rest of the song from that. I'm kind of a self-censoring type though, so lyrics are the hardest part of the process when writing about anything remotely personal. A lot of the pieces on Flux come directly from Evan and me making instrumental music in the practice space too.
John Kosiewicz: Do you have any pre-show or unusual backstage rituals?
Sleepy Kitty: Great question! I like to drink a lot of water, and sometimes do vocalises if I have the time and place. Maybe even gargle with salt water if I can. If I'm lucky enough to have some solo time to get ready, when I'm putting on makeup and getting ready for a show I like to listen to some high energy music like The Stooges, The Buzzcocks, Broncho — or nothing gets me amped like some of the big numbers from Evita, Les Miz, and now Hamilton. I'm serious, "What Do I Get," "Try Me Out Sometime," "Guns and Ships," "Do You Hear the People Sing," these all have one thing in common and that is that they get me AMPED.
John Kosiewicz: Can you share one of your funniest stories about an on stage performance?
Sleepy Kitty: One of my favorite things that has ever happened onstage to us was during our song "What Are You Gonna Do When You Find Bigfoot?" at a show in DC. The song ends with us making a bunch of swamp sounds and Bigfoot calls, and that night as soon as we started doing it, basically the whole room started "bigfoot calling" us back. It was amazing to me, and I was kind of cracking up. It was really kind of magical. That had NEVER happened before, and we don't really play it as a call and response, but that night it was. I loved how the collective consciousness of the crowd was confident enough to do that, and it seemed almost matter of fact, like it was the obvious thing to do. We've since become good friends with a lot of people who were at that show, and not only does it make a lot more sense, the call is totally in our normal vocabulary now.
John Kosiewicz: If you could have ANY special guest to perform with you on stage, who would it be?
Sleepy Kitty: Bernie Sanders. . . or Lin-Manuel Miranda. Either of them are welcome to join us onstage whenever they please.
John Kosiewicz: What is your preferred form of communicating to your fans through social media?
Sleepy Kitty: Facebook has probably been the one we use the most. It's the one that I think is easiest to tell people where you're gonna be and what's going on. I like Instagram too, and I am terrible at Twitter, but we have a Twitter account.
John Kosiewicz: What's next for Sleepy Kitty in 2016?
Sleepy Kitty: We just released a new video and we'll be on the road with a fantastic band called Ezra Furman & His Boy-Friends for the rest of March and beginning of April. The big news is we have a new release called Flux coming out this summer!
John Kosiewicz: What would you like to say to everyone who is a fan and supporter of your band?
Sleepy Kitty: Thank you for listening and dancing and supporting Sleepy Kitty this whole time! And I hope you check out Flux this summer.
John Kosiewicz: Thank you for your time. In closing, is there anything you'd like to add?
Sleepy Kitty: Thank YOU for the interview. These are great questions and it's been a pleasure.
Tags: InterviewSleepy Kitty
About John Kosiewicz
You may also like...