Foxygen's Enigma Illuminates The Vic in Chicago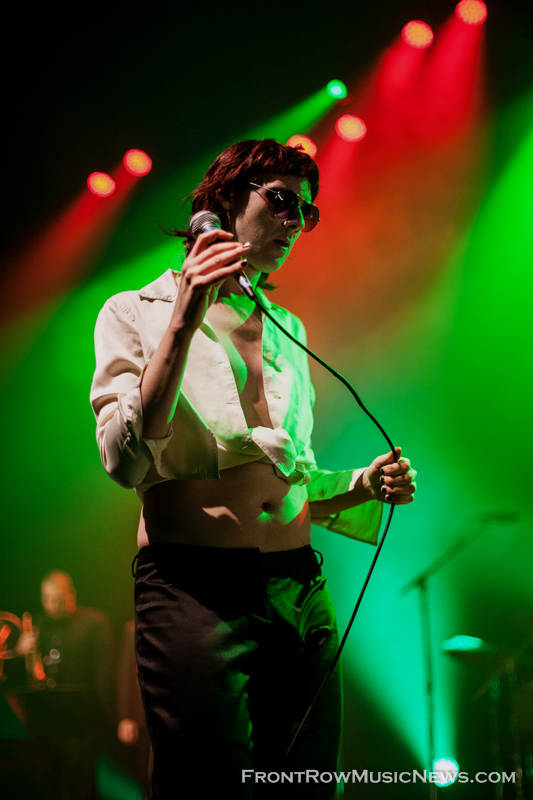 Foxygen-Photo-credit-Erica-McKeehen
Californian indie duo Foxygen is fervently touring in support of their most recent release Hang. On March 31st, 2017 at the Vic Theatre in Chicago, 24-year-olds Sam France and Jonathan Rado, along with a slew of talented and shiny backing performers, took to the stage with their unique brand of indulgent, bright, psychedelia garnished with just a touch of avant-garde.
The boys' classic rock-informed anthems had a frenetic pace throughout the evening, creating a layered backdrop for enthusiastic and moody fans. However, some unhinged moments coupled with bombastic flair and decadence — as they periodically erupted — certainly provided the euphoric release that Foxygen fans have come to expect. After experiencing the peaks and valleys of their performance that night, even I, a new listener, left feeling slightly tingly from the sparkly majesty in which I too had taken communion, even if some silent conflict seemed visible on the band's faces during moments of the more mushy and/or just plain intense songs.
The spectacle of rock is never outdone by a swaggery frontman and Sam France fits the bill to a tee. He does not take the task of navigating 60s nostalgia — problematic manifestations intact — lightly. His gelatin limbs, crimson curls, and luminescent white skin wrapped taut in black and white polyester had the first several rows in a love fest frenzy, and he played the room well, meeting relative levels of excitement and exhaustion with an appropriate reactive shift in his body or voice. France coupled grace with grandiose, leaving his shirt unbuttoned for all of the set, occasionally lifting the shades from his eyes to reveal the starkness of his young face. If you were close enough to catch a glint of his glare no doubt the experience was even more rich for you. Simply said, even with the high-saturated dreamyness, his touring bandmates journeyed some twisty emotional terrains in his footsteps that evening.
Foxygen Set List, 3/31/2017
1. We Are the 21st Century Ambassadors of Peace and Magic
2. San Francisco
3. Shuggie
4. Follow the Leader
5. Avalon
6. Mrs. Adams
7. America
8. On Lankershim
9. Upon a Hill
10. Trauma
11. Rise Up
12. On Blue Mountain
13. Make It Known
14. No Destruction
15. How Can You Really
For more information about Foxygen's tour or latest album, visit their official web site.
Tags: AlternativeChicagoChicago concertsErica McKeehenFoxygenindiepsychedeliaRockThe Vic Theatre
About Erica McKeehen
You may also like...