The Magnetic Fields, Stephin Merritt, Sings His Life in Chicago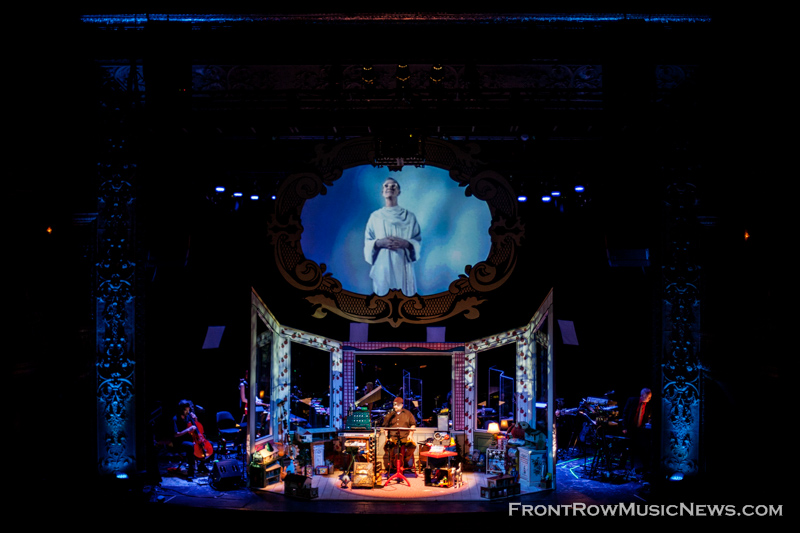 The-Magnetic-Fields-Photo-credit-Erica-McKeehen
Stephin Merritt, the primary songwriter and conceptual motive force of The Magnetic Fields, has molded a memorable musical career with his delightfully strange and achingly somber songwriting, and on April 19th and 20th, 2017, Chicagoans were treated to two nights of his brooding storytelling in an equally baroque setting, Pilsen's Thalia Hall. 50 Song Memoir, which was just released on March 10th this year, is Merritt's year-by-year sing-song autobiography, starting with his conception in 1966 continuing with a song for each year of his life. The carefully crafted songs flow into Merritt's starkly surreal narrative interludes — this journey of his life is like most — humorous and painful with spans of sheer oddity and joy — broken up into small, digestible pieces (two-three minutes per song).
For this tour, Merritt's story is brought to life before a live audience in a playful display with our Dear Narrator sitting in the center of the stage atop a candy-colored Neverland of Nostalgia. Wooden blocks and toy trucks line the set of what viewers imagine is an eclectic and whimsical recreation of the "rooms" in Merritt's life. Within his own sentimental sanctuary, Merritt carefully constructs our experience, navigating the playpen of tracks without ever moving from the safe confines of his story-time dollhouse. Outside the walls of Merritt's bedroom, an ensemble of six musicians surround him, discreetly and masterfully soundtracking each bittersweet chapter.
The Magnetic Fields Set List, 4/20/2017
1. '66 Wonder Where I'm From
2. '67 Come Back as a Cockroach
3. '68 A Cat Called Dionysus
4. '69 Judy Garland
5. '70 They're Killing Children Over There
6. '71 I Think I'll Make Another World
7. '72 Eye Contact
8. '73 It Could Have Been Paradise
9. '74 No
10. '75 My Mama Ain't
11. '76 Hustle 76
12. '77 Life Ain't All Bad
13. '78 The Blizzard of '78
Intermission
14. '79 Rock'n'Roll Will Ruin Your Life
15. '80 London by Jetpack
16. '81 How to Play the Synthesizer
17. '82 Happy Beeping
18. '83 Foxx and I
19. '84 Danceteria!
20. '85 Why I Am Not a Teenager
21. '86 How I Failed Ethics
22. '87 At the Pyramid
23. '88 Ethan Frome
24. '89 The 1989 Musical Marching Zoo
25. '90 Dreaming in Tetris
The Magnetic Fields are currently composed of Merritt, Claudia Gonson, Sam Davol, and John Woo, with occasional guest vocals by Shirley Simms. For more information and tour dates, be sure to check out The Magnetic Fields' official web site.
Tags: 50 Song MemoirbaroqueChicagoErica McKeehenindieStephin MerrittThalia HallThe Magnetic Fields
About Erica McKeehen
You may also like...