The Damage and Joy of the Jesus and Mary Chain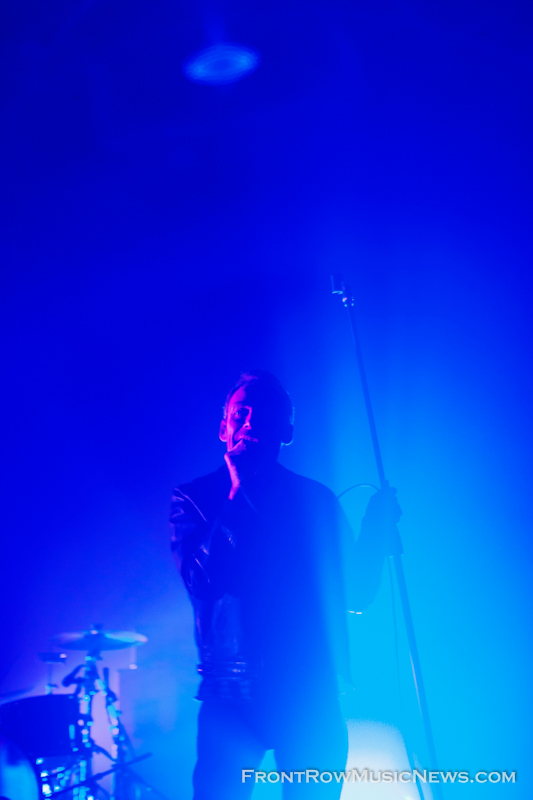 The-Jesus-and-Mary-Chain-Photo-credit-Erica-McKeehen
Post-punk warlords, the Jesus and Mary Chain, emerged from the darkness on May 10th at The Vic in Chicago's bright and shiny Lakeview neighborhood, touring in support of their most recent release Damage and Joy (their first album since 1998's Munki). Soaked in luminous beams, lead singer Jim Reid lurched over the mic stand in a simple black leather jacket, his face barely distinguishable in saturated swatches of blue, purple, and pink. The Jesus and Mary Chain's charged mystery has always been amplified by the aggressive, melodic distortion of layered guitars and perplexing words; Reid approaches the work of performance as a subtle perfectionist, expressionless as he rides the gentle waves of the band's dreary and stoned sound cloud. He meekly thanked the audience between several songs, snarling a laugh that us Midwesterners wouldn't be able to understand him through his thick Scottish accent anyway.
All-consuming/all-destroying romance and heartache, though they are certainly prevalent themes throughout the Jesus and Mary Chain's discography, are soft topics barely detected through the throbbing gut, open-mouthed adrenaline of the band's live performance. If you know a bit about the Reid brothers and the history of the group, you know that tension, subversion, and mutiny ran rampant all the years that they were building esteem and success with seminal 80s alt-rock albums like Psychocandy and Darklands. The band's branded sound pioneered later acts like My Bloody Valentine, and their unorthodox guitar and production techniques came to define the shoegaze genre.
As they pummeled through the wall of sound to perform fan favorites "Just Like Honey" and "Some Candy Talking," The Vic lit up, and the melancholy lifted just enough for everyone to feel their blissful nostalgia wax and wane. After several break-ups brought on by brotherly feuds, the Reid brothers (with Jim on vocals and William on guitar) reunited in 2012 and have been performing live (most recently, the 30-year anniversary of Psychocandy in 2015) and working together since, settling into bratty middle age with plenty more angry observations to make.
The Jesus and Mary Chain, with rousing Reid as the frontman, have dedicatedly navigated a career in rock music as obscure outsiders, and its oddly comforting to observe that they still remain the angsty aliens of their time and place.
The Jesus and Mary Chain Set List, 5/10/2017
1. Amputation
2. April Skies
3. Head On
4. Far Gone and Out
5. Between Planets
6. Blues From a Gun
7. Always Sad
8. Mood Rider
9. Teenage Lust
10. Cherry Came Too
11. The Hardest Walk
12. All Things Pass
13. Some Candy Talking
14. Halfway to Crazy
15. Reverence
Encore:
Nine Million Rainy Days
Just Like Honey
You Trip Me Up
The Living End
Taste of Cindy
War on Peace
Encore 2:
I Hate Rock 'n' Roll
Check out the Jesus and Mary Chain's official website for more tour dates and information.
Tags: AlternativeChicagoDamage and JoyErica McKeehenJim Reidpost-punkRockshoegazeThe Jesus and Mary ChainThe Vic
About Erica McKeehen
You may also like...