All Them Witches Survive Summer in Chicago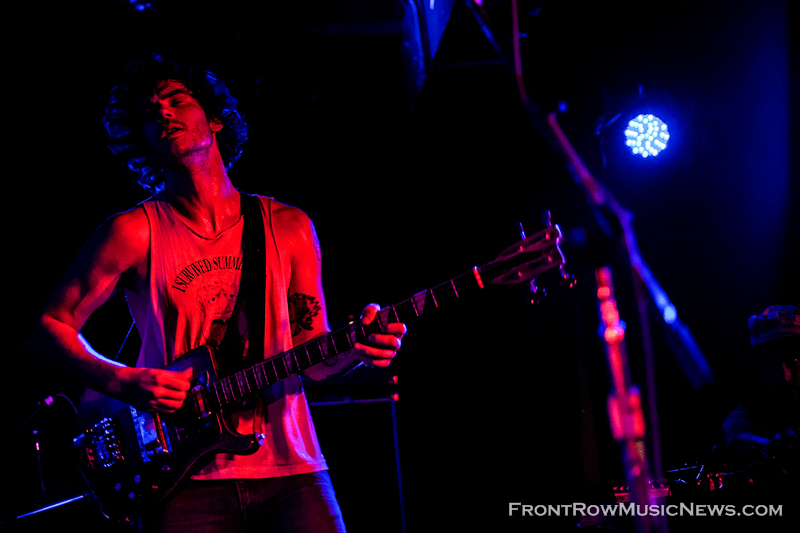 Nashville natives All Them Witches smashed and thrashed through a whirlwind set of psychedelic jams fused with soulful Southern electric rock on July 21st, 2016 in Chicago's West side dive-bar rock club, The Empty Bottle. The dimly-lit, liquor-stained venue seemed the perfect setting for the hot and heavy rockers, who took to the stage just before midnight drenched in sweat with bottles in hand, approaching their instruments grinning as "Bad Boys" by Inner Circle (aka the theme to Cops) blasted overhead.
After intros, the band plunged into the dark and mystic "Mountain" from their latest release, 2016's Lightning At the Door. If one had no idea what to expect from All Them Witches before that evening, the last several minutes of "Mountain," which pummel the listener in all-out seemingly never-ending head-banging drums and electric guitar, guarantee a dense, truly hypnotic experience to follow. The set continued on with plenty of new material ("The Marriage of Coyote Woman," "Charles William," and "When God Comes Back" all from Lightning At the Door), including songs not yet released on record. 
Fellow Nashville foot-stompers Chrome Pony set the stage for epic rock grooves, lighting up the dingy bar and drawing audience members closer and closer to the stage until the room was packed.
Despite identifying the obvious influences (classic guitar-driven hard rock like Sabbath and Zeppelin), All Them Witches strive to forge their own path, creating atmospheric, arcane rock with somber story-telling lyrics and heavy-handed, stoic musicianship. After meeting at work, bassist and lead vocalist Charles Michael Parks, Jr. and drummer Robby Staebler began working together on music Parks wrote with guitarist Ben McLeod. Following the addition of Alan Van Cleave on keys and other instruments, four years of nonstop recording and relentless touring (including smaller festivals that eventually lead to, most recently, Bonnaroo, SXSW, and Nelsonville Fest, amongst others), the band earned a captive fanbase, finally receiving international acclaim after a humble self-release on Bandcamp for Lightning At the Door.
For more information and tour dates, be sure to check out All Them Witches' official web site.
Tags: All Them WitchesBluesChrome Ponydark Delta bluesDying Surfer Meets His MakerelectricLightning at the DoorNashvillepsychedelic rockSouthern rock
About Erica McKeehen
You may also like...