One Hell of a Night with Bad Company in Chicago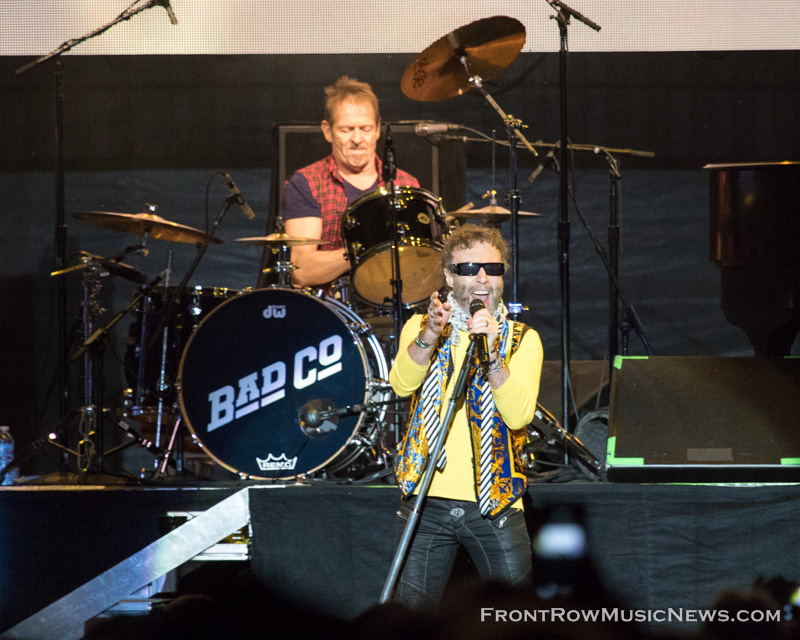 Bad-Company-Photo-credit-John-Kosiewicz
On June 23, 2016, Bad Company and Joe Walsh brought their 'One Hell of a Night' tour to FirstMerit Bank Pavilion at Northerly Island in Chicago. The 25 shows kicked off on May 12th in Dallas, TX and will end in Nashville TN on July 3rd. As co-headliners, they are rotating the headlining spot each show. For the Chicago show, Bad Company was the headliner. It must have been a long bus ride based on Walsh's quote: "I told Paul, if it's a long bus ride I go first!"
The English rock band, Bad Company, was formed in Westminster, London in 1973. Original members, Paul Rodgers on lead vocals, guitar, keyboards and harmonica; and Simon Kirke on drums and backing vocals; are joined with Howard Leese on guitar and Todd Ronning on bass. In addition, current touring member, Rich Robinson is on guitars.
The set list for Bad Company was really "One Hell of a Night." Fans had the opportunity to enjoy some of their favorite singles from the bands early three albums, Bad Company (1974), Straight Shooter (1975), and Run With the Pack (1976), as well as others. Fans sang and danced along with some of the classic rock staples, including: "Shooting Star," "Feel Like Makin Love," "Bad Company," "Can't Get Enough of Your Love," "Rock Steady", plus many more.
Keep up to date on the latest information and tour dates at the Bad Company website.
Setlist
1. Live for the Music
2. Gone, Gone, Gone
3. Feel Like Makin' Love
4. Electricland
5. Man Needs Woman
6. Ready for Love
7. Burnin' Sky
8. Movin' On
9. Run With the Pack
10. Shooting Star
11. Can't Get Enough
12. Rock 'n' Roll Fantasy
Encore:
13. Bad Company
14. Rock Steady
About John Kosiewicz
You may also like...