Carnival of Madness: Shinedown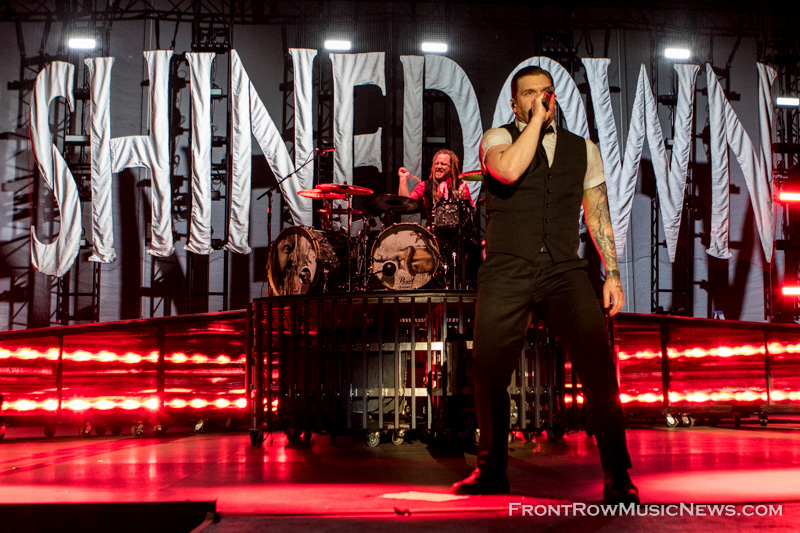 Shinedown-Photo-credit-John-Kosiewicz
On August 16, 2016, Front Row Music News caught the Carnival of Madness Tour on their stop at FirstMerit Bank Pavilion on Northerly Island in Chicago, IL. The annual summer hard rock/alternative rock tour was started in 2010. The line-up for 2016 was headlined by Shinedown who returned for their third year (2010, 2013, 2016). Also, returning to the Carnival of Madness line-up were Halestorm (2012, 2015, 2016) and Black Stone Cherry (2011, 2016). In addition, but for their first time, was Whiskey Myers.
The members of Shinedown are Brent Smith on vocals, Eric Bass on bass, Barry Kerch on drums, Zach Myers on guitars. Shinedown's most recent album called, Threat to Survival, which was release on September 15, 2015. All three of the singles off their recent album were performed live: "Cut the Cord," "State of My Head" and "Asking for It."
One highlight of the night occurred just prior to the third song, "Diamond Eyes." Smith brought the Shinedown audience just a bit closer to each other by having everyone "Look to your left. Now to your right turn", then shake or high five each other.  With that common interest of the rock and roll show, it became more of a big party.  The madness ended with Shinedown's song from the album of the same title, "The Sound of Madness."
Be sure to get the latest information at the Shinedown website or for next year at Carnival of Madness.
Shinedown Setlist – 8/16/2016
Adrenaline
Fly from the Inside
Diamond Eyes (Boom-Lay Boom-Lay Boom)
Unity
Asking for It
How Did You Love
Enemies
Call Me
Creep (Radiohead cover)
I'll Follow You
State of My Head
Second Chance
Cut the Cord
Simple Man (Lynyrd Skynyrd cover)
Sound of Madness
About John Kosiewicz
You may also like...