Father John Misty at The Chicago Theatre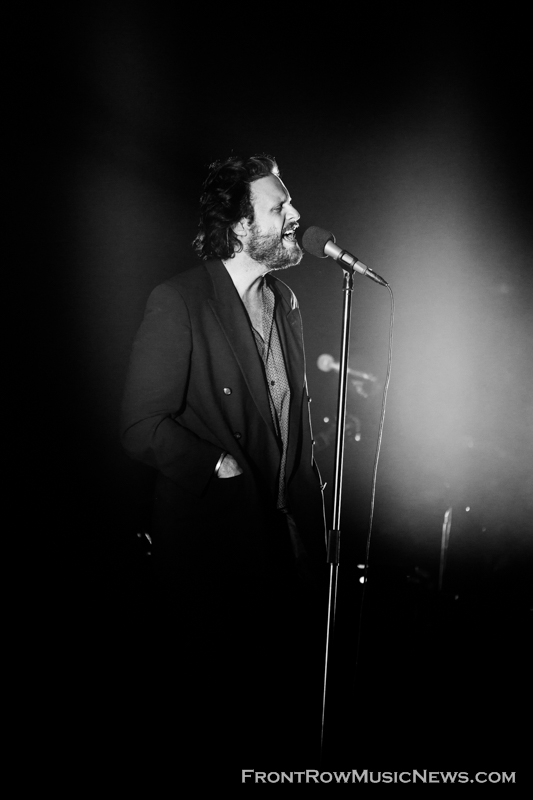 Father-John-Misty-Photo-credit-Azuree-Wiitala
When I heard Josh Tillman and co, collectively known as Father John Misty, were performing at the Chicago Theatre, I was initially a bit perplexed. I've seen Father John Misty play nearly every time he's performed in Chicago and his crowd interactions along with having perfected theatrical-but-not-too-over-the-top dance moves are what I always walk away from each show remembering the most. The Chicago Theatre, gorgeous as it is, seemed much too tame a venue to hold Tillman's larger than life on stage presence. My curiosity about what would transpire was piqued.
Dams of the West opened the night, followed by Father John Misty. As the band took the stage, I realized there were some new additions to the line up, namely an eight person string section complete with conductor. I also spotted Chicago native Elliot Bergman from Wild Belle playing saxophone. Behind the three or so keys, bass, guitar, drums and strings was a huge back drop- I love it when a band has projections and was excited to see what Father John Misty had in store. I remember the last time he played The Riv (see my post from the show) his light show was an experience to behold.
The Chicago Theatre show was a feast for the senses. In contrast to Father John Misty's lyrics, which in my opinion are smart and witty commentary about our current state, the show itself was incredibly visceral. Every piece worked together, the strings never over the top, most of the band in fact subtle and in the background – Tillman up front and the projections behind all of them. The images being projected changed throughout the show setting different moods. My favorite of which was a ride down a dessert complete with a sun turned to moon. None of the visuals were too serious, not too kitschy either- they walked the line of quirk and seriousness much like Tillman himself.
The show started with the title track, "Pure Comedy", followed by the remaining first six songs off of the new record, Pure Comedy. As "When You Are Smiling And Astride Me" started, everyone came to their feet, the first song in the set of older material. As Tillman nailed every song, the crowd swayed and sang along. There are few artists that I've seen that sound exactly like, if not better, than their recordings live and Tillman absolutely falls into that category. Although there were a few technical difficulties during the show, barely noticeable really, I found it rather endearing when Tillman misstepped and knocked his forehead with the mic. I have never noticed an awkward step or moment all of the times that I've seen him play. His sway is perfection. His voice spot on. Every move so flawless and he's so incredibly handsome, it's almost hard to look at him for too long. It was a tiny moment, the slightest err, made a person so full of personality and perfection… human. I loved it, perhaps because I am such an awkward and clumsy person, it felt relate-able. Tillman joked about it for a moment but it didn't make him lose his footing on the rest of the show, which was incredible.
I noticed that there wasn't a pit between the stage and the audience, something I hadn't seen at The Chicago Theatre before. Tillman's interactions with the first few rows made such an enormous venue seem as intimate as one of the smaller venues in town, something I was worried about missing at this show. Father John Misty played fan favorites from I Love You, Honeybear and Fear Fun, the rest of the night until the radical six song encore.
All that to say, if you have the chance to catch the Pure Comedy tour, do not miss it! One of my favorite concerts of the year for sure. You can see upcoming tour dates fatherjohnmisty.com/tour.
About azuree wiitala
You may also like...