SCENE IT IN HOLLYWOOD: GLAM SKANKS JOIN HOST DREW CAREY AS HIS MUSICAL GUEST ON "NIGHT LATE" AT UCB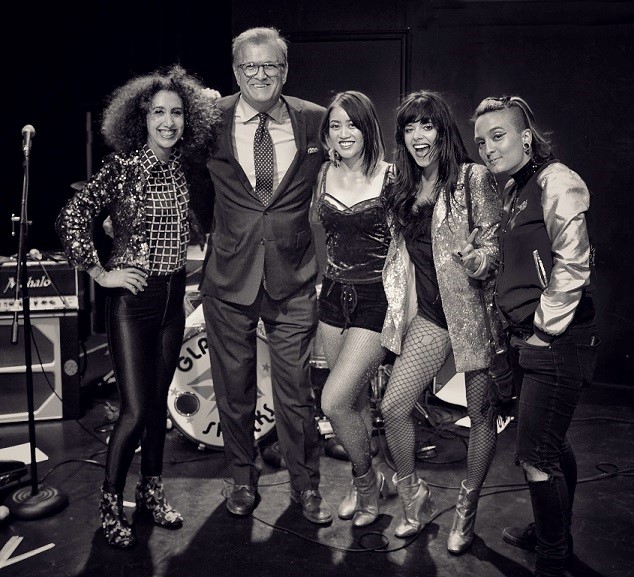 ADAM ANT tour opener Glam Skanks join DREW CAREY as his musical guest on "Night Late" at USB
Following their North American/UK tours opening for pop icon Adam Ant, Hollywood glam-rockers, Glam Skanks were the musical guest on "Night Late", UCB's flagship monthly late-night talk show with guest hosts Drew Carey ("The Price Is Right", "The Drew Carey Show") and comedian Alison Rich ("Saturday Night Live", "The Goldbergs"). Previous guests on "Night Late" include Brooke Shields, Willie Geist, Jill Kargman, Sasheer Zamata, Phoebe Robinson, R.L. Stine and Julio Torres.
The all-female band, who toured the USA/UK with Adam Ant earlier this year and opened for Alice Cooper, brought their wild brand of glitter, love and rock and roll to the set. (Check out our review from their January 31, 2017 performance in Chicago.) In addition to opening three North American/UK tours for Adam this year, Glam Skanks have opened for The Skids, played as Cherie Currie's (The Runaways) backing band and have music featured in Kevin Smith's most recent "Yoga Hosers" movie starring Lily-Rose Depp and Harley Quinn Smith.
Glam Skanks also return to the UK to open for Adam Ant's final 2017 show at The Roundhouse in London on December 21.
For more information about Glam Skanks' tour or latest album, visit their official web site.
Tags: Adam and the AntsAdam AntChicagoErica McKeehenglam rockGlam SkanksGlitter CityKings of the Wild FrontierLAThe Vic
About John Kosiewicz
You may also like...