Greta Van Fleet "From The Fires" Release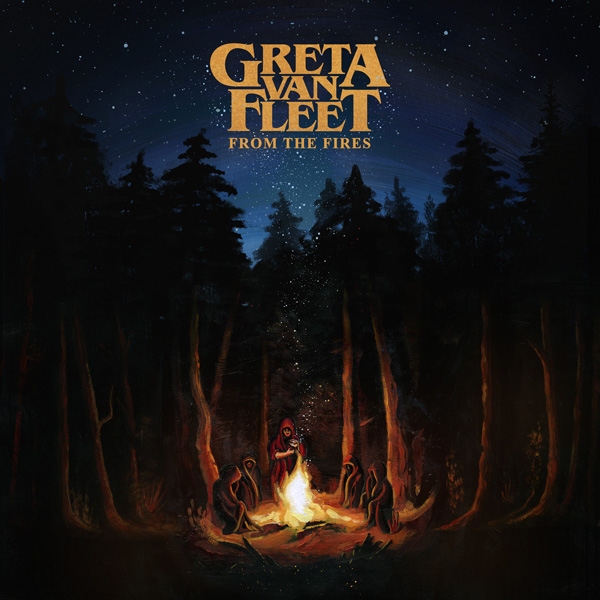 One of the most exciting up-and-coming rock bands, Greta Van Fleet (GVF), release an eight-song double EP, called From The Fires, on November 10, 2017 via Lava/Republic Records. The band out of Frankenmuth, Michigan, recorded the four new tracks at Rust Belt Studios in Detroit in September 2017 and produced by Al Sutton and Marlon Young who also produced Black Smoke Rising earlier this year. The one disk, double EP, combines four brand new Greta Van Fleet recordings, along with the four critically-acclaimed tracks from the band's break-out EP, Black Smoke Rising which was released digitally on April 21, 2017, and physically on August 7, 2017 by Republic Records. The band's vocalist Josh Kiszka, said that combining the Black Smoke Rising tracks with the four new recordings made for an ideal grouping. "All eight of these songs share a theme of basic humanity," said Kiszka.
The four new songs include:
"Edge of Darkness"
"A Change Is Gonna Come"
"Meet Me On The Ledge"
"Talk On The Street"
In addition, the cover art for From The Fires was conceived by Josh who said, "When we were all kids, our extended families and friends spent part of every summer together at a place called Yankee Springs. We were out in the middle of the woods, and every night, we'd sit around a campfire, play music and tell stories. I always loved that as it reminded me of ancient times when people would gather around the fires with the tribes' elders telling fables of wisdom and courage, passing down human history. That concept is where the cover art and title come from."
Greta Van Fleet is currently on Leg Two their tour, with all headline dates from Legs One and Two of the band's first U.S. tour completely sold out in advance. Early this year, Front Row Music News caught GVF at RibFest Chicago on June 9 , 2017, probably the last local street fest for these rising stars. In addition to a slew of headline dates, Leg Two of the tour includes stops at several major rock festivals including Louisville's Louder Than Life, where the band played at 2PM to a promoter-estimated 10-15,000 fans.
On these headline dates, fans can expect to hear both the double EP, as well as selections from the 25-plus additional songs already written, many already recorded. "Each of our songs has its own gravity," Jake adds, "and we're really excited for people to hear the diversity of more than just the four songs that have been released." With that said, can we expect a third EP to complete the trilogy in the near future.
If you are looking for rock'n'roll the way it was always meant to be, then Greta Van Fleet is the band for you.
Definitely keep an eye on this up and coming band for the latest information and tour dates at their website: GretaVanFleet.com/.
About John Kosiewicz
You may also like...