Interview: Forever Still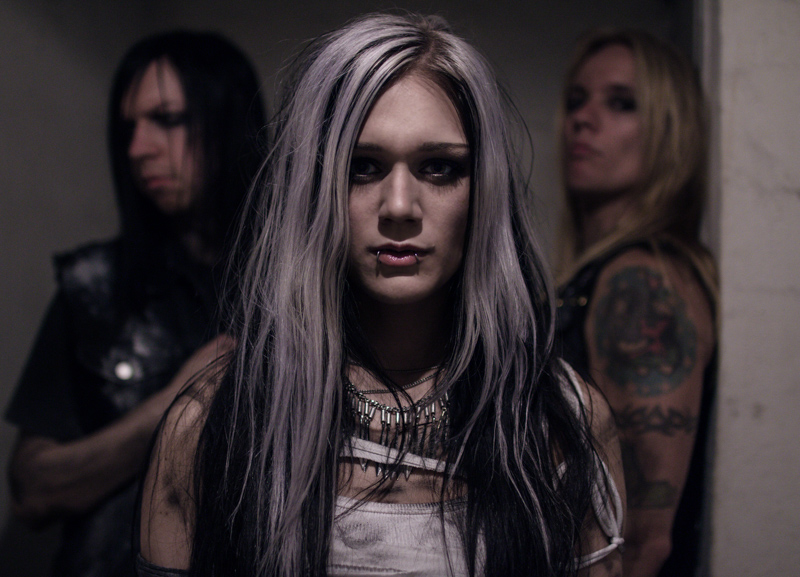 How does a Chicago based Front Row Music News and an up and coming Copenhagen, Denmark rock band, Forever Still, cross paths in the 21st century? By social media of course. Specifically, in this case, via one tweet on Twitter by an energetic fan. It was exactly one year ago, while searching on hashtag, #MustListen, I came across the following tweet which read:
"Awesome alternative metal band! #MustListen Your Light"
Forever Still released their debut full length album "Tied Down" on January 15, 2016, which will follow with an extensive European tour. We'll just have to wait to see if they hit the US some day. In the meantime, Forever Still has taken time for the following interview.
Forever Stills are:
Maja Shining
Mikkel Haastrup
Dennis Post
John Kosiewicz: For those who are new to Forever Still, can you please introduce yourself, tell us a little bit about the band, as well as yourself and your part in band?
FOREVER STILL: My name is Maja and I'm the vocalist of Forever Still. Forever Still is a melodic heavy rock band from Copenhagen, Denmark. I started the band with Mikkel (live bass) with whom I've written all the songs. He plays every instrument in the studio and I write vocal melodies and lyrics. Together we manage everything in the band – recording, producing, mixing, mastering, videos, art, design, booking, you name it.
John Kosiewicz: What is the origin and how did the band come up with the band name: Forever Still?
FOREVER STILL: Mikkel and I started writing together before coming up with a name, as we wanted the band name to represent the sound and vibe of the music. We released our first official EP "Breaking Free" in 2013 under the name Forever Still, which stems for the feeling of being stuck in a bad place unable to move on. But this is something you can turn around and the feeling of being 'forever still' can become a positive stillness where you're at peace with yourself.
John Kosiewicz: How did the band, Forever Still, get formed?
FOREVER STILL: Mikkel and I met at a show and started talking about making music together. Mikkel sent me some instrumental ideas and I was hooked immediately and we got together and started recording the vocal melodies I had made for the pieces. We had awesome chemistry from the get go and I knew this could become something special.
John Kosiewicz: What's the biggest challenge of your band?
FOREVER STILL: Doing everything ourselves. We're as DIY as it gets, and we have so many things we want to accomplish and so little time to do it. Also sometimes it can be hard to know when a song is good enough, since we're alone in the studio and we're the only one who decide when we're finished. This is both good and bad!
John Kosiewicz: With your release of the debut album 'Tied Down', you have compiled the EP trilogy to build the album. Tell us about how have each of the three EP's evolved over time? What ties the three EP's together to make them a Trilogy?
FOREVER STILL: We had the concept in mind from the get go and knew how we wanted each EP to develop. I think it's important to be able to see the whole picture when doing a concept album for it to really work. The full album is a journey from a pitch black hole filled with anxiety and despair to recovery and self discovery. "Scars" is the dark and dreary beginning, while "Save Me" is an emotional roller coaster of ups and down and "Break The Glass", the final EP, is about letting go and setting yourself free.
John Kosiewicz: What inspires the groups song writing? Do you need music to write the lyrics? Do you write as a team or individually bring in pieces of a song?
FOREVER STILL: Everything comes from personal experience and emotion. Usually Mikkel starts out with some instrumental pieces that he sends my way and I get melodies and lyrical themes in my head, which I return to him so he can be inspired for the next instrumental piece for the song. I could never write lyrics on their own as they're so attached to the instrumentals and/or the vocal melody. I don't know the emotion or the rhythm of the song without some sort of melody, so making lyrics first makes no sense for my style of writing.
John Kosiewicz: What is your personal favorite song from the 'Tied Down' and what sets it apart from the rest for you?
FOREVER STILL: It changes a lot. Right now I'm really fond of the title track "Tied Down" because of the way it mixes soft fragility with heavy darkness – I find it captivating and very emotional. Another few of my current favourites would be "Scars" and "Save Me".
John Kosiewicz: Who are some of your musical inspirations?
FOREVER STILL: Every piece of writing that we put out comes from inside, so musical inspiration is extremely subconscious. Currently I'm listening to The Ocean, but it varies a lot depending on my mood.
John Kosiewicz: Do you have any pre-show or unusual backstage rituals?
FOREVER STILL: Except for the bi-monthly human sacrifices we are pretty normal. Also, Scandinavians have a pretty dry sense of humor.
John Kosiewicz: Can you share one of your funniest stories about an on stage performance?
FOREVER STILL: We have lots of fun live experiences, but one comes to mind. This particular night we had a fan singing along so loud both me and the guys could hear him even louder than me. I usually do a few vocal variations live to spice it up a bit and have fun with it, but I got so confused hearing him sing the recorded parts that I had to stick with less variations just to avoid messing up when hearing one thing in your ear and singing another!
John Kosiewicz: If you could have ANY special guest perform with you on stage, who would it be?
FOREVER STILL: I have plenty of people I'd love to work with and my favourites are singers with a lot of soul and emotion in their voices as well as a nice mix between harsher and softer vocals. Vocalists of A Perfect Circle, Nothing More, Martin Grech, Bring Me the Horizon, Chevelle, Deftones to name a few can get in touch whenever they'd please… Don't be shy!
John Kosiewicz: Copenhagen, Denmark is home to Forever Still, what one thing is your favorite about the city?
FOREVER STILL: Just the streets in general. They're really aesthetically pleasing with lots of old buildings and green areas. And you can go from a busy street to a completely silent one in a matter of minutes, especially at night it's magical. Both Mikkel and I love to use to city for long walks to clear our heads while talking about all the things we wanna do and need to get done.
John Kosiewicz: Chicago is home to Front Row Music News. When Forever Still comes to Chicago, what one thing would you look forward to about Chicago?
FOREVER STILL: You tell me! I have never been to Chicago so I have no clue what to expect. We're depending on you to be our tour guide now!
John Kosiewicz: What is your preferred form of communicating to your fans through social media?
FOREVER STILL: I'm really fond of Twitter, since it's a quick medium and it's really convenient to reach a lot of people in no time.
John Kosiewicz: What's next for Forever Still in 2016? What are the band's plans in regards to touring for 2016 in support of the debut album 'Tied Down'?
FOREVER STILL: We don't have any official dates yet, but we'll start announcing some real soon, so stay tuned for that! It is also possible to suggest your city for touring at www.foreverstill.dk/tour
John Kosiewicz: What would you like to say to everyone who is a fan and supporter of Forever Still?
FOREVER STILL: That they're awesome even though they already know that since we told them on Twitter just yesterday! Social media is awesome, because you get to appreciate people on a personal level every day. Keep sharing the music like you do – word of mouth is our greatest weapon as an independent band!
John Kosiewicz: Thank you for your time. In closing, is there anything you'd like to add?
FOREVER STILL: You're most welcome and I think you've covered all the important parts!
Tags: Forever StillFront Row Music NewsInterviewmusicmusic news
About John Kosiewicz
You may also like...