JD and the Straight Shot in Chicago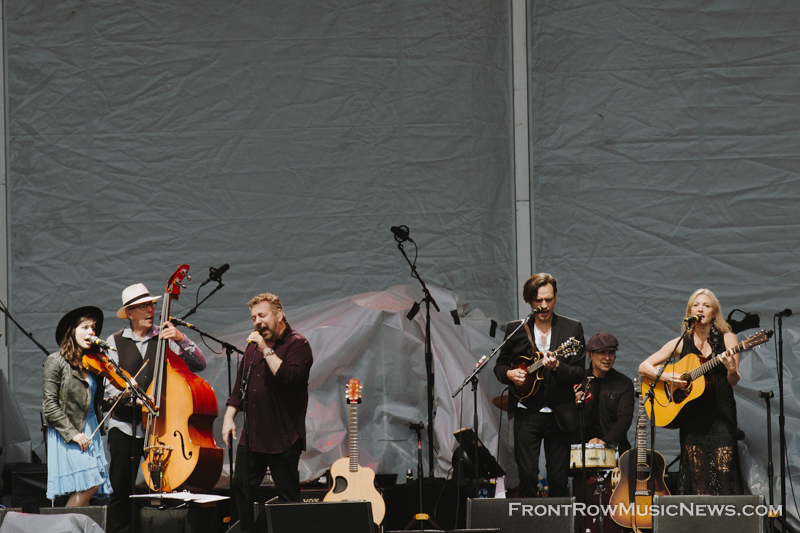 JD-and-the-Straight-Shot-Photo-credit-Azuree-Wiitala
On June 17, 2017, JD and the Straight Shot performed at The Huntington Bank Pavilion in Chicago as support for Don Henley. JD and the Straight shot is a band compromised of talented musicians who have toured with some amazing acts. Bassist Byron House has played with Emmylou Harris, Dolly Pardon and Robert Plant. Erin Slaver, the fiddler and violinist has toured with Rod Stewart and Martina McBride while guitarist Marc Copley has toured with the likes of BB King and Rosanne Cash. What an accomplished bunch, they've had songs on everything from TV shows to movies not to mention their current drummer played on SNL for years. We shouldn't leave out singer Jim Dolan, whose toured with the likes of some of my faves, Bruce Springsteen, The Eagles, and Don Henley.
The impending storm held off for JD and the Straight Shot's entire set, thankfully as the Pavilion was not covered. The set was a great mix of older and newer material from their latest release, Ballyhoo! They started us off with "Glide", a newer song followed by "Redemption Train". The song are a culmination of blues, folk, and Americana. A highlight of the show for me was the story telling that accompanied each song. This reminded me of the way that Stevie Nicks orated her show when I saw her last year. Giving backstory for songs and putting them into context definitely gave me a greater appreciation of JD & SS. They ended on "Let It Roll", a Little Feat cover.
If you have a chance to see JD and the Straight Shot, don't miss it. They're equal parts talented and entertaining! You can find the latest information and tour dates on their website at: jdandthestraightshot.com
JD and the Straight Shot Setlist
Glide
Redemption Train
Nature's Way
Perdition
Violet's Song
Moonlight
Ballyhoo
Better Find A Church
Let It Roll
About azuree wiitala
You may also like...