KISS at BMO Harris Bank Center in Rockford, IL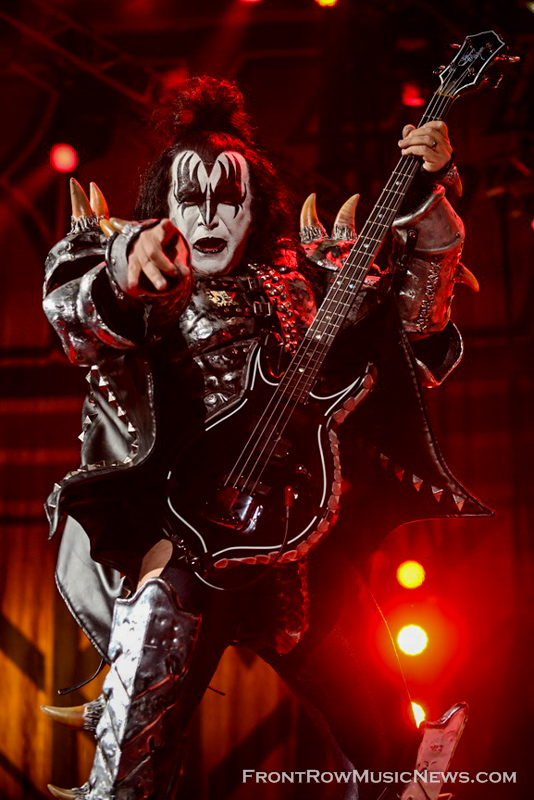 KISS-Photo-credit-Ed-Spinelli
Why in the hell are Kiss still touring? Because Rock N' Roll would suck without them! No sign of slowing down, Gene, Paul, Tommy, and Eric bring the "Freedom to Rock" Tour to Rockford's BMO Center.
The huge curtain drops to unleash a smoke filled stage and enough fire to make you think you just died and went to hell. The hall of famers kick off the night with "Detroit Rock City," they are seriously kicking ass!! Kiss continue hitting Rockford with songs one may expect like "Deuce" and "Shout it out Loud" and then sucker punch you with "Do you Love Me" and the rarely played "Flaming Youth." Keeping up with the Destroyer theme, Gene owns the red stage as he pounds the bass and spits blood all over himself before flying off to the rafters to perform "God of Thunder." Not much longer and Tommy Thayer hits the mic with "Shock Me" and ends with a guitar solo shooting fireworks from the headstock of his guitar. Finally "War Machine" gets played so the new comers can finally witness the legendary fire breathing Gene $immons light the stage! Perfectly done and a little closer than usual Gene wins the affection of everyone as he pounds his lit torch into the stage. Trade mark drums ignited by Eric Singer tell you it's time to get shot by Paul Stanley's "Love Gun". Paul decides to switch stages as he hitches a ride over the crowd and lands on a small stage at the back of the arena. After "Love Gun" the entire arena is changed to purple with spot lights on a huge mirror ball to fill the crowd with silver dots. With BMO looking gorgeous, Paul kicks of the ballad part of "Black Diamond" and then glides back to the band to finish the song and end the set.
Kiss returning to the stage with Eric Singer at the helm to belt out the mega "Destroyer" hit "Beth" with full band around him and was quite nicely received. With close to two hours of classic Kiss behind them the band now take a breather to honor the military by handing off a handsome check for $150K to the Hiring Our Heroes veteran's foundation. The crowd was then led into the Pledge of Allegiance and then Kiss finished the classy tribute with "Star Spangled Banner."
Before introducing the night's grand finale, Paul brings out "local hero and good friend" Rick Neilsen from Cheap Trick to join them on "Rock and Roll All Night." Gene and Tommy are locked in place on their trademark risers as they are extended over the crowd. Paul and Rick handle the rhythm together until Rick bails and Paul takes no mercy on his axe as he smashes it on the stage during a blizzard of confetti. Gene and Tommy make their way back to the littered stage to finish their anthem with fireworks and ending with a bang.
Kiss have gone through many changes over the past four decades and find themselves where they started. Though the cat and the spaceman no longer have the same DNA they are still an exciting act to see live. Many generations filled the BMO and there wasn't a disappointed face to be found.
Setlist:
Detroit Rock City
Deuce
Shout It Out Loud
Do You Love Me
I Love It Loud
Flaming Youth
God of Thunder (Gene's bass solo)
Psycho Circus
Shock Me (Tommy's guitar solo)
Cold Gin
Lick It Up
War Machine
Love Gun
Black DiamondEncore:
Beth
The Star Spangled Banner
Rock and Roll All Night (featuring Cheap Trick's Rick Nielsen)
You may also like...