Pop Evil headline at House of Blues in Chicago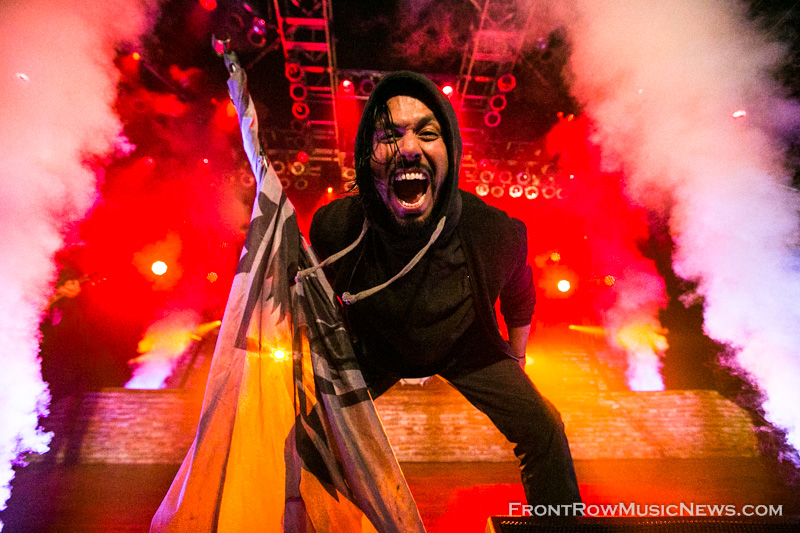 The cast of blue lights came down on the stage as lead singer, Leigh Kakaty, appeared with his head covered in a hooded sweatshirt behind the drum set. He strolled to the graffiti cardboard attached to a fence, which read "ROCK 'N ROLL". With a can of spray paint in hand, he overlaid the creativity with "N O". Pausing for a moment, he looked out at the audience, then completed with "N O W". As the band joined on stage playing the opening song, "Trenches," Kakaty grabbed the Rock 'N Roll Now flag and waved it as he strolled to the front of the stage. Staking the flag in the ground, the fog machines erupted, along with the energy throughout the venue, kicking off the "Rock 'N' Roll Now Tour: Right Now" show in excitement expected from Pop Evil.
On February 10, 2017, rock band, Pop Evil, returned to headline the House of Blues in Chicago. Pop Evil is on the "Rock 'N Roll Now Tour: Right Now" which is in support of their fourth studio album, "Up." The album was released on August 21, 2015, via eOne Music. The disc already has provided singles "Footsteps," "Ways to Get High" and "Take It All," along with their latest single, "If Only for Now." The "Rock 'N' Roll Now Tour: Right Now" also included support from Red Sun Rising and Badflower.
Midwest rock band, Pop Evil was formed out of North Muskegon, Michigan in 2001. Currently, the band includes founder Leigh Kakaty on lead vocals; along with Dave Grahs on rhythm guitar and backing vocals; Matt DiRito on bass and backing vocals; Nick Fuelling on lead guitar and backing vocals; and new to the band, Haley Cramer on drums. During the show, Kakaty described her as the "Greatest female drummer in the world, all the way from London England!" She definitely can slay the drums!
Pop Evil is winding up their current tour. Keep up on tour dates and the latest information at the Official Pop Evil website.
Tags: House of BluesPop Evil
About John Kosiewicz
You may also like...