Blues on the Fox with Tedeschi Trucks Band in Aurora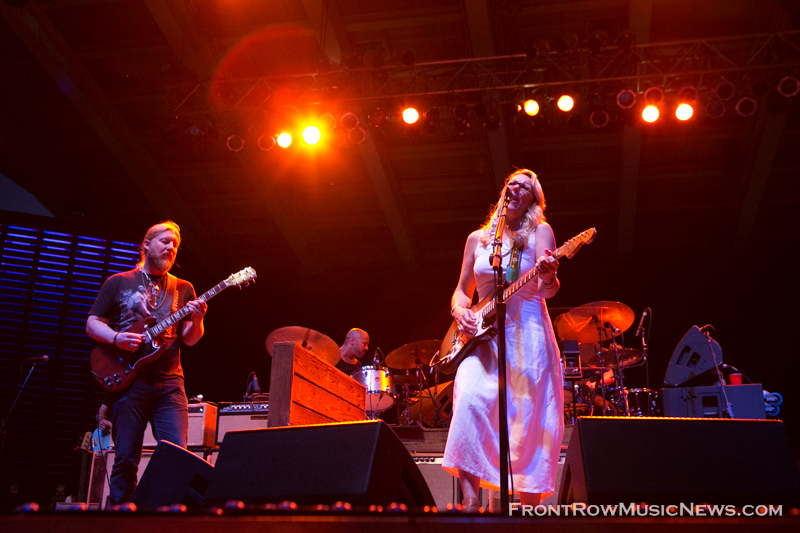 Tedeschi-Trucks-Band-Photo-credit-John-Kosiewicz
Blues on the Fox, celebrated 20 years on June 17 and 18, 2016 at RiverEdge Park in downtown Aurora, IL.  Saturday night, Tedeschi Trucks Band headlined the red hot blues line-up along with Los Lobos, Larry McCray and Leland.  The combination of Tedeschi Trucks Band and Los Lobos at the Blues on the Fox, was a sneak peek for the Wheels of Soul Tour 2016. David Hidalgo of Los Lobos even came out on stage to join Tedeschi Trucks Band to cover "Keep On Growing" by Derek and the Dominos, as well as The Sky Is Crying by Elmore James cover. What a treat for fans of both Tedeschi Trucks Band and Los Lobos.
Tedeschi Trucks Band, an 11-piece tour-de-force, was formed in 2010 by Susan Tedeschi and Derek Trucks. Trucks, was placed as #16 of the top 100 Guitarists of All Time by Rolling Stone, while Tedeschi delivers passionate, blues soaked vocals for a range of R&B to ballads. The group enlists dual drummers, two vocalists, a three-piece horn section, bass, and a multi-instrumentalist keyboard player for what is a greater-than-the-sum-of-its-parts collective.
Let Me Get By is the third and latest studio album which was released in January 2016 via  TTB's third studio album (behind Revelator-2011 and Made Up Mind-2013) is slated for release in January, 2016. As well, the album features the first lead vocals on a TTB album by Mike Mattison (on "Crying Over You" and "Right On Time"), whose mastery as a lyricist and songwriter has always been a central part of the TTB sound.
Keep up on the latest information and tour dates at the Tedeschi Trucks Band website.
Tedeschi Trucks Band Setlist
June 18, 2016
Laugh About It
Don't Know What It Means
The Letter (The Box Tops cover)
Don't Drift Away
Keep On Growing (Derek and the Dominos cover) (with David Hidalgo)
The Sky Is Crying (Elmore James cover) (with David Hidalgo)
Idle Wind
Made Up Mind
Sticks and Stones (Titus Turner cover)
Color of the Blues (George Jones cover)
I Pity the Fool (Bobby "Blue" Bland cover)
Let Me Get By
Encore:
Let's Go Get Stoned (The Coasters cover)
About John Kosiewicz
You may also like...