The Damned Celebrate 40 Years of Smashing It Up It Proper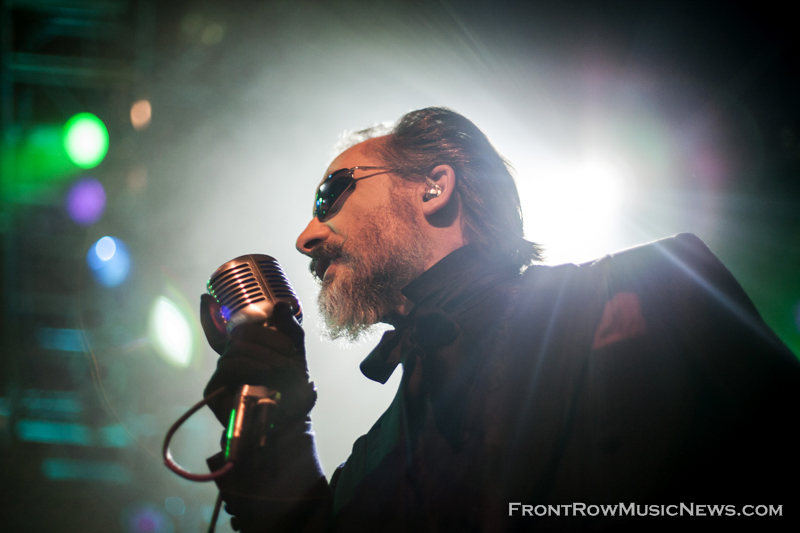 It's not commonly known, but the Damned were the first UK band to release a punk song — their track "New Rose," which was released one month prior to the Sex Pistols' Anarchy in the UK in 1976 — is just as frantic and explosive as any of the Pistols' early tunes. Damned Damned Damned, the groups' 1977 debut, became the first album released by any UK punk group, and! they are also regarded as the original punk nomads, touring the United States shortly after their record debut, to engage an unaware audience and assault everyone's sense of order with their uniquely dark look and sound. Fast forward 40 years, and the Damned are still rallying audiences together with psychedelic bursts of adrenaline, and they are still captivating listeners with their persistent infusion of macabre and morose into generally aggressive songs. Loyal fans gathered in Chicago's House of Blues on April 23rd to delight and rejoice in the anthems of their angsty youth and resurrect punk heroes who still couple charm and obscenity in their bloodrush performance, even this many years later.
With this much longevity, it's imperative (and a bit disorienting) to get a grasp on the band's ever-evolving line-up, though Dracula Dave Vanian has consistently remained the band's enigmatic ringleader. The group briefly broke up after their second album Music for Pleasure, and to make matters worse, the follow-up to their rock solid debut was poorly received. The band reformed once more without lead guitarist Brian James, and released 1979's Machine Gun Etiquette (featuring the legendary track "Smash It Up Parts 1&2"). In the 1980s, the Damned released four more albums, The Black Album (1980), Strawberries (1982), Phantasmagoria (1985), and Anything (1986), the latter two albums not featuring the quintessentially quirky co-founder and guitarist, Captain Sensible, who had left the band in 1984. In 1988, James and Sensible rejoined the band to perform what was said to be the group's final live show…
The Damned again reformed for a tour in 1991 and produced four more albums that decade. Not of This Earth from 1995 was drummer Rat Scabies's last with the band. Despite all the formation changes, the current formation as fans witnessed on this tour (40th Anniversary of Punk) are Dave Vanian (vocals), Captain Sensible (lead guitar), Monty Oxymoron (keys), Pinch (drums since 1999) and Stu West (bass).
The Edgar Allen Poe of Punk (…a few nicknames were playfully thrown Vanian's way in between songs throughout the evening via his ornery bandmates — especially Sensible, who frequently mentioned to the audience that 1.) it was his 63rd birthday, and, 2.) he really doesn't like Mumford and Sons) kept the audience thrilled and chilled throughout an extensive and electric performance.
The Damned Setlist, 4/23/17
1. Melody Lee
2. Generals
3. Disco Man
4. I Just Can't Be Happy Today
5. Alone Again Or
6. Love Song
7. Machine Gun Etiquette
8. Street of Dreams
9. Eloise (Paul Ryan cover)
10. Ignite
11. Stranger on the Town
12. Plan 9 Channel 7
13. Wait for the Blackout
14. The History of the World (Part 1)
15. New Rose
16. Neat Neat Neat
Encore:
Jet Boy, Jet Girl (Elton Motello cover)
Noise Noise Noise
Smash It Up
Encore 2:
Nasty
Anti-Pope
Catch the Damned for a show during the remainder of their Anniversary tour dates and read more about their legacy at the band's official website.
Tags: 40th Anniversary of punkCaptain SensibleChicagoDave VanianErica McKeehengothHouse of BluespsychobillyThe Damned
About Erica McKeehen
You may also like...