The Darkness at House of Blues in Chicago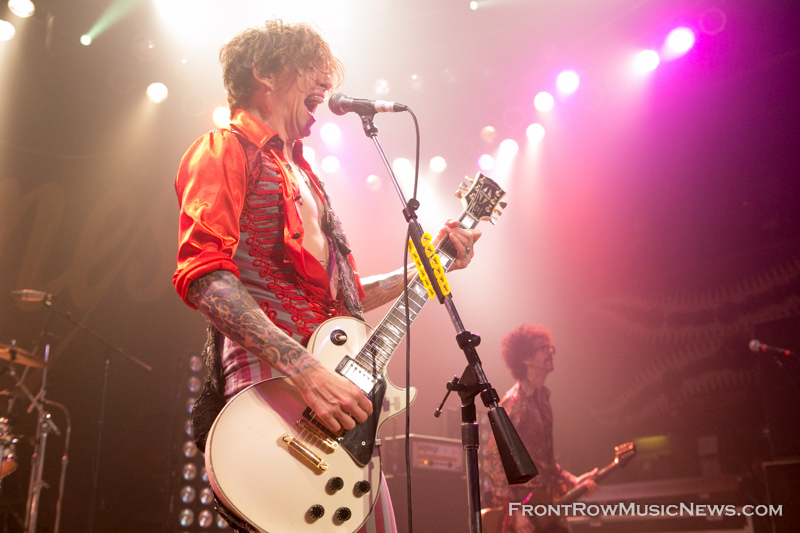 The-Darkness-Photo-credit-John-Kosiewicz
On April 27, 2016, rock band, The Darkness, stormed through Chicago for a headline performance at the House of Blues. Originally formed in 1999 out of Lowestoft, British, The Darkness' current band members include: brothers – Justin Hawkins on lead vocals and guitar, and Dan Hawkins on guitar and backing vocals; Frankie Poullain on bass and backing vocals; and Rufus Taylor, the son of Queen drummer Roger Taylor, on drums.  Also on the bill for the rockin' night were the bands: The Last Vegas and Raveneye.
The Darkness put together a set list which could satisfy both new and old fans including a variety of songs from each of their four studio albums: Permission to Land (2003), One Way Ticket to Hell… and Back (2005), Hot Cakes (2012), and Last of Our Kind (2015). Kicking off the show was "Barbarian,"  their first single from their latest album release on the band's own label Canary Dwarf Records via Kobalt Label Services.  However, The Darkness jumped back to their debut album with the second song and focused on that release throughout the night, playing over half of the songs from Permission to Land including singles, "Growing on Me", "I Believe in a Thing Called Love", "Get Your Hands off My Woman", and "Love is Only a Feeling".  Fans cheered and sang along to their favorites and had fans "bouncing to the clap" for "I Believe in a Thing Called Love".
One of the amazing highlights of the show was when Justin did a stage dive from the top of a speaker putting him up about 10 feet high into the crowd. He went on to sing the finale song "Love on the Rocks" while shredding the guitar on a solo.
Be sure to get the latest information and tour dates at The Darkness website.
Setlist
1. Barbarian
2. Growing on Me
3. Mudslide
4. Black Shuck
5. Roaring Waters
6. Givin' Up
7. One Way Ticket
8. Love Is Only a Feeling
9. Friday Night
10. English Country Garden
11. Every Inch of You
12. Get Your Hands Off My Woman
13. Stuck in a Rut
14. I Believe in a Thing Called Love
Encore:
15. Concrete
16. Love on the Rocks With No Ice
About John Kosiewicz
You may also like...