Unknown Mortal Orchestra Lights Up Thalia Hall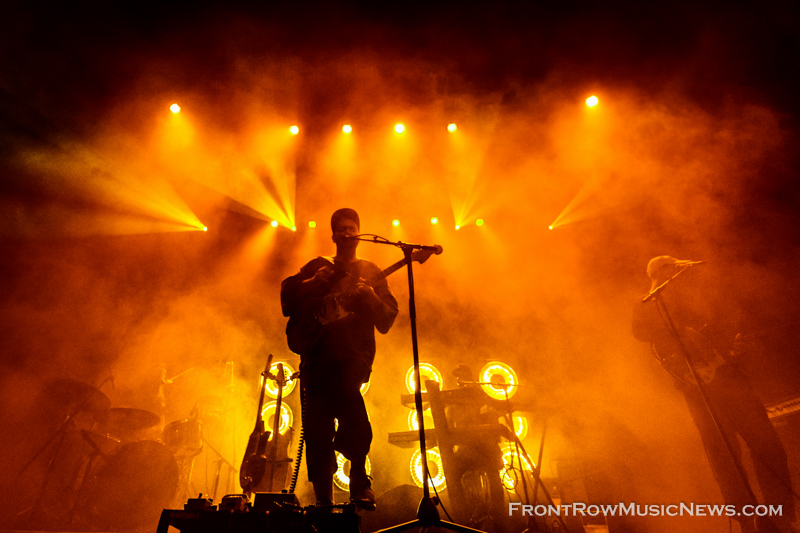 Unknown-Mortal-Orchestra-Photo-credit-Sarah-Hess
On a sunny Tuesday afternoon, an excited line of music lovers wrapped around Chicago's Thalia Hall, soaking up the rays, while waiting to experience Unknown Mortal Orchestra aka UMO aka "the best band in the world." Once inside the Pilsen venue, concertgoers were again bathed in light, thanks to Unknown Mortal Orchestra's remarkable custom light show, created by Zach Sternberg, featuring stacks of fixtures, which at first glance appeared to be speakers. Instead of releasing sound, the round "woofers" emitted brilliant rainbows of dancing light, enhancing UMO's dazzling performance.
UMO creates trippy, neo-psychedelic tunes, baked in funk and R&B and dipped in garage rock and jazz. The Portland based band – comprised of founding member, New Zealand native, and frontman Ruban Nielson (vocals, guitar), Jake Portrait (bass), Quincy McCrary (keys), and Riley Geare (drums) – has been touring in support of the 2015 album Multi-Love (Jagjaguwar). UMO played plenty of songs from Multi-Love, including "Necessary Evil" and "Can't Keep Checking My Phone." Though, of course UMO played some oldies, like "From The Sun," and "So Good at Being in Trouble," from II, and "How Can You Luv Me," from the band's self-titled debut.
All night long, fans got their groove on at the sold-out show, singing and dancing along to UMO's irresistible tunes, from the main floor up to the balcony. Front Row Music News was there to document the action. Take a look at our photo gallery of Unknown Mortal Orchestra!  In addition, check out our post on Whitney, who performed with UMO.
Unknown Mortal Orchestra is currently on tour. A full list of tour dates can be found on the UMO Facebook page.
Tags: ChicagoFront Row Music Newsindie rocklive in Chicagolive musicmusicThalia HallUMOUnknown Mortal Orchestra
About Sarah Hess
You may also like...