Madonna Continues to Wear Her Crown as the Queen of Pop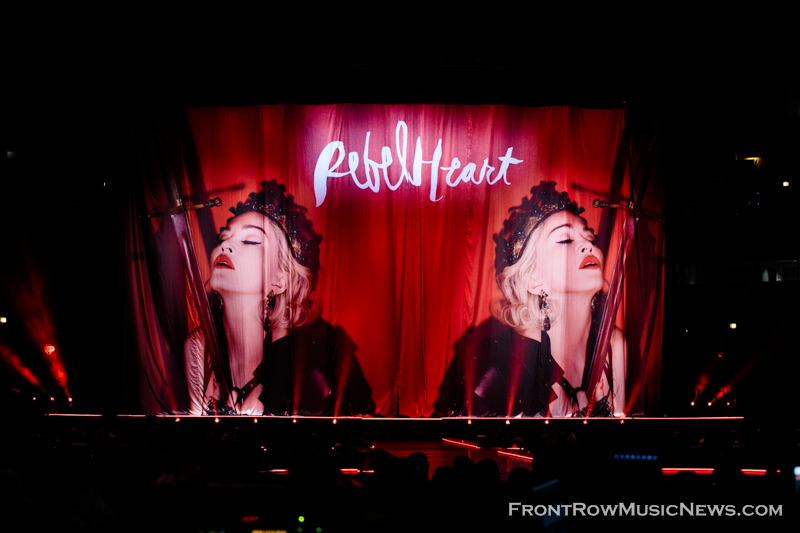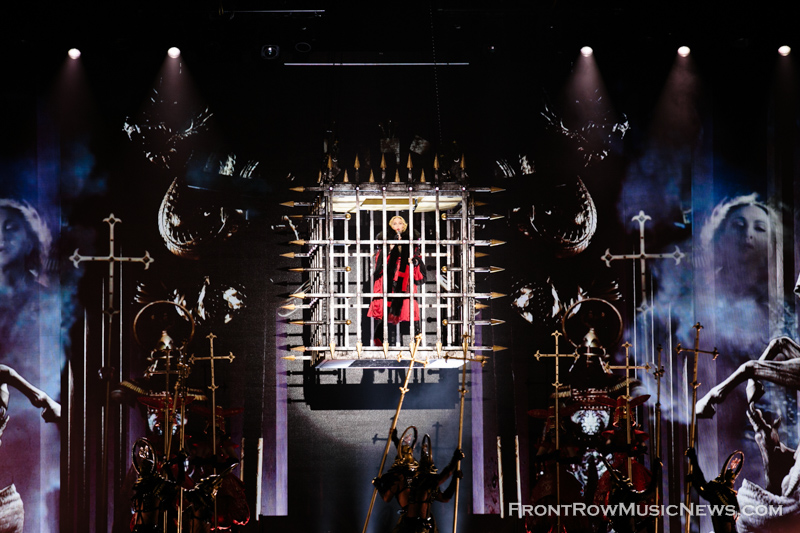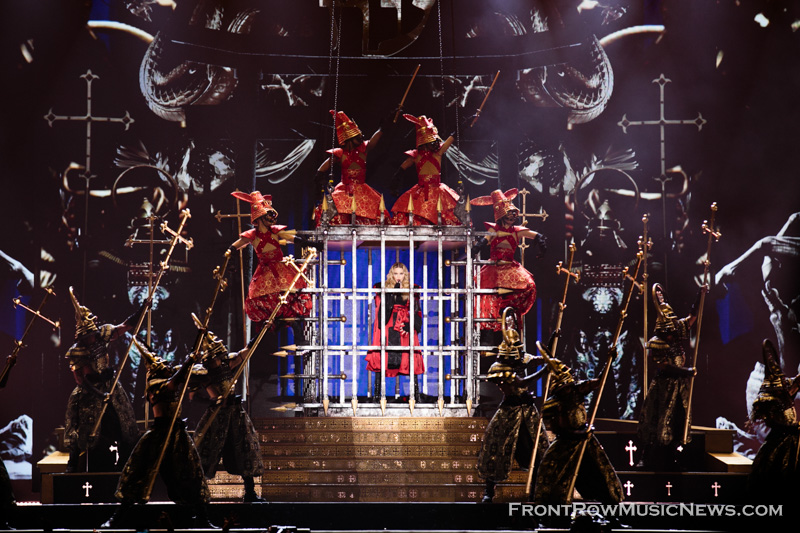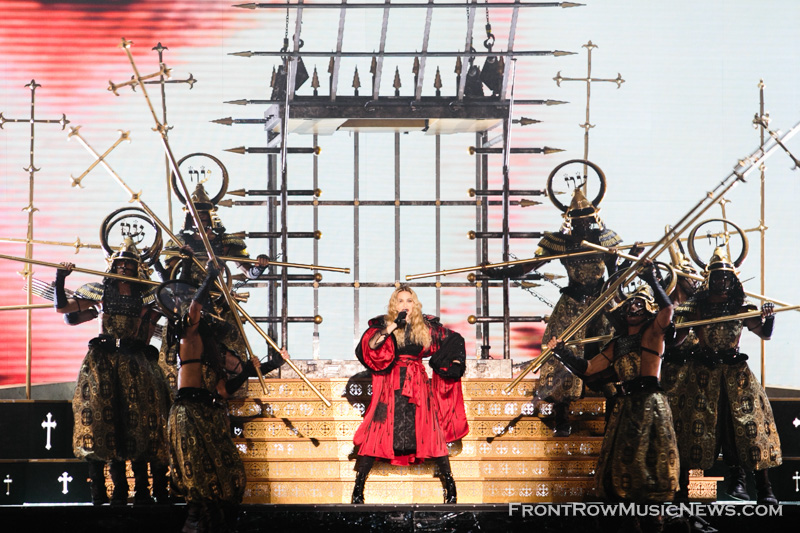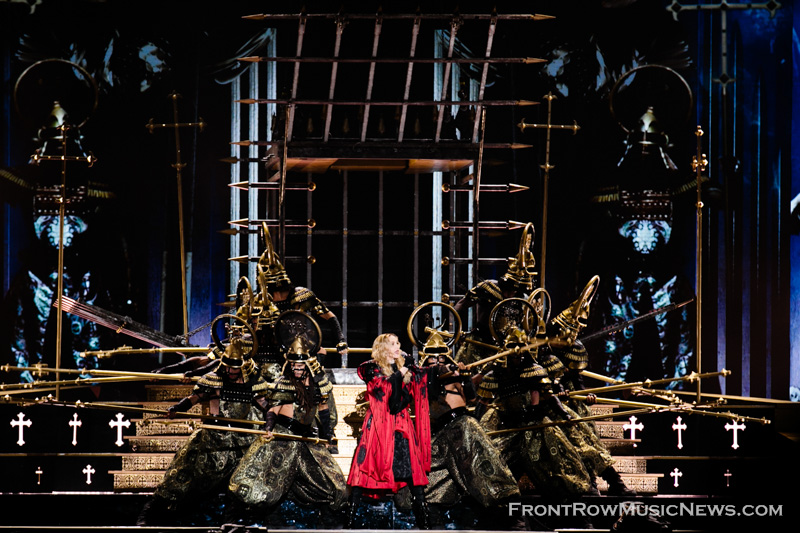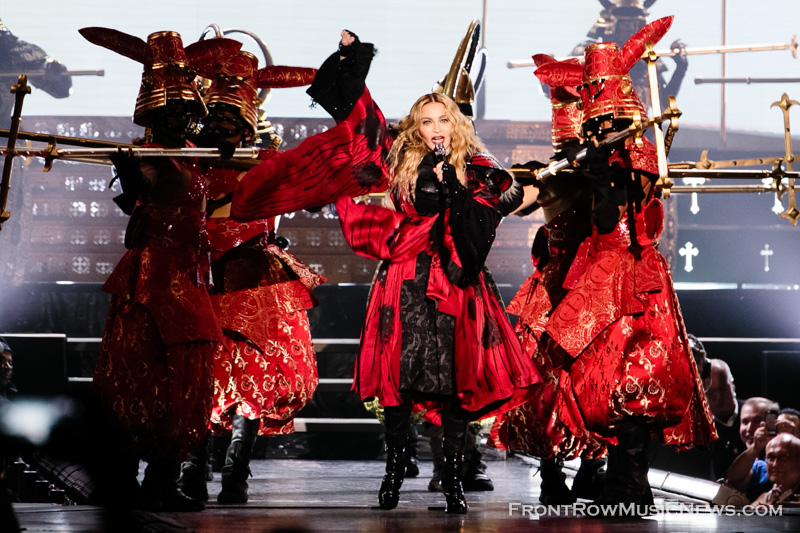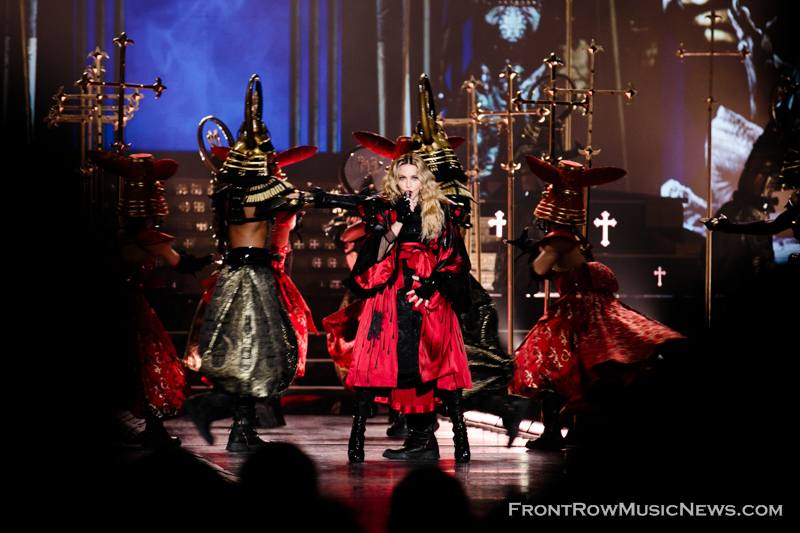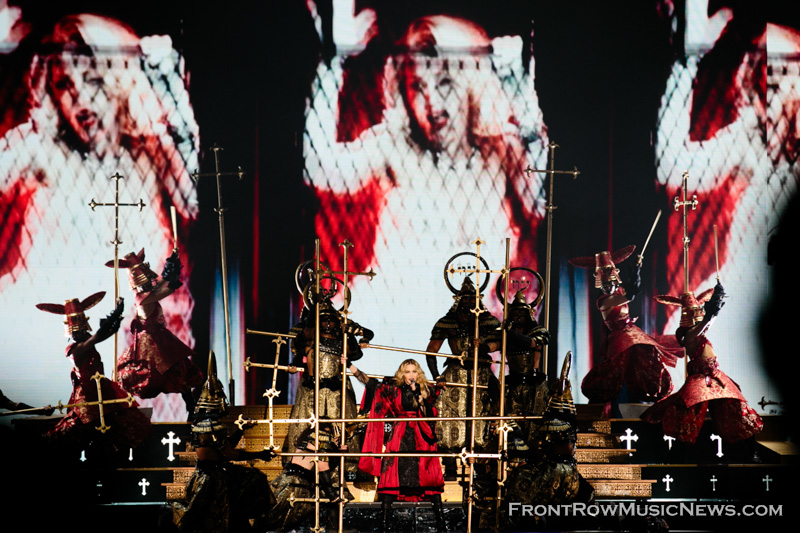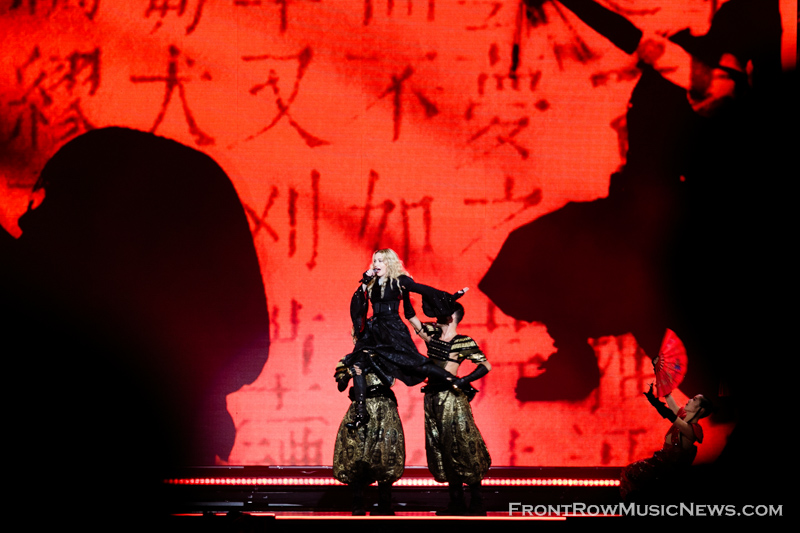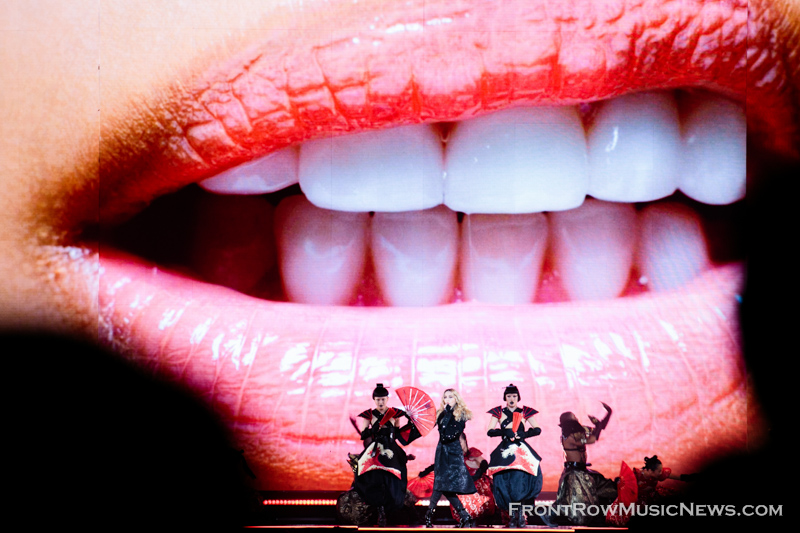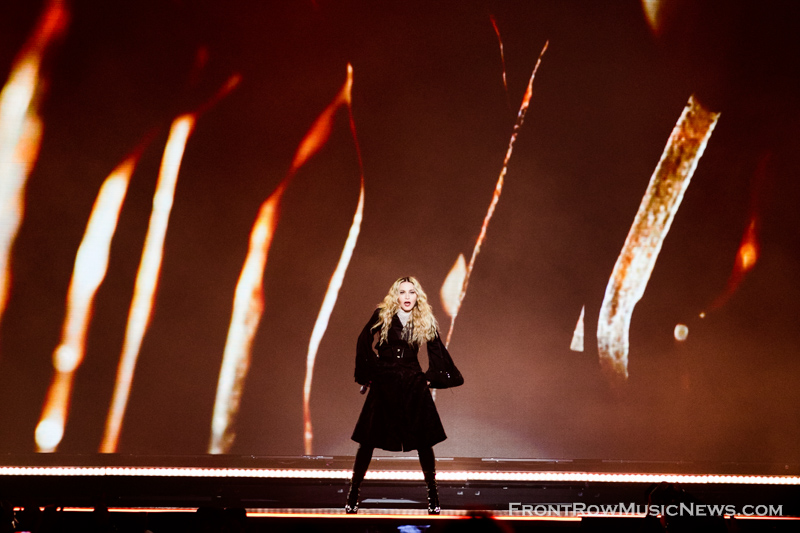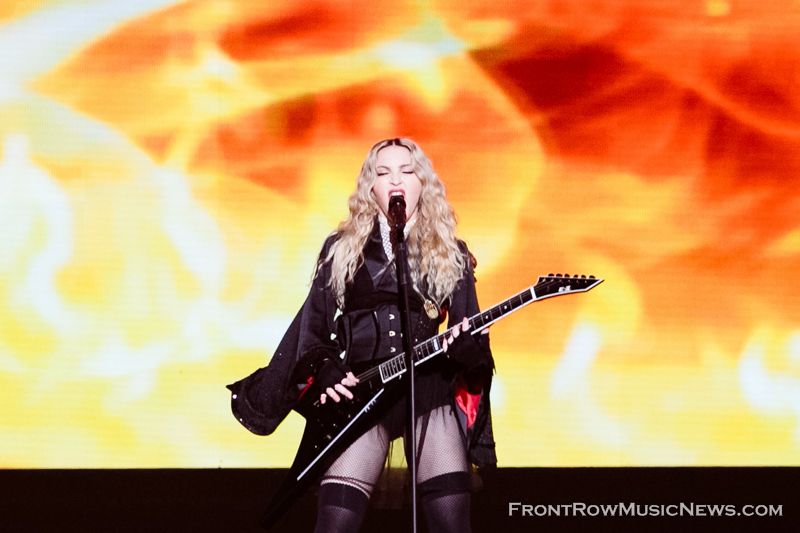 Disclaimer: I've been of a fan of Madonna's since I first discovered True Blue in my dad's music collection at the ripe old age of six. I remember stealing the CD, blasting it on a boom box, and singing in front of the bathroom mirror to "La Isla Bonita," with a hairbrush microphone. Eventually I'd get a Sony Walkman, and with my very own cassette tapes, spend hours choreographing dance routines to "Lucky Star," "Material Girl," "Dear Jessie," and "Holiday" in my pink ballerina slippers. So needless to say, I may be a bit biased when it comes to this review and in saying Madonna put on the best concert I've ever seen.
That said, based on what I saw at the United Center Monday night, almost everyone in attendance appeared to be a fan of the best-selling female recording artist of all time, including other media members. Men and women dressed as brides, donning veils. Big hair, bows, and lacy gloves brought the 80s back. 90s Madonna was represented with a few cone brassiere spottings, and of course matadors and bulls were a plenty. These costumes were nothing compared to what concert goers witness on stage during the Rebel Heart Tour. As the lights dimmed and the show commenced, a group of warrior men emerged in black and gold, looking like a mix of Huns and Japanese samurai, wearing hats suitable for Egyptian pharaohs and carrying large staffs with crosses, like conquistadors ready to conquer Chicago or Madonna, who came falling from the sky in a cage, imprisoned in steel. Images of Mike Tyson and Chance the Rapper filled the screen behind her as she sang along to "Iconic," off her recent release Rebel Heart.
She'd eventually break free from her prison and unleash a handful of costume changes, new stage settings, and plenty of what she referred to as "smoke and mirrors" and "bells and whistles." What was most captivating though, was her performance. You'd never know Madonna is 57, watching her dance around in heels, keeping up with her troupe of dancers. And her voice! She belted out notes like no one's business! Madonna performed plenty of new material, including "B**ch I'm Madonna" and "Devil Pray," but songs from her four decade spanning catalogue were also sprinkled in the twenty-four song set.
During "Burning Up," the Queen of Pop showed she's more than her voice, wailing out on guitar, and during "Holy Water," she showed off her pole dancing skills, straddling the golden rods and dancers, who were wearing nothing but a nun's coif and veil, black bras, and white, ruffled panties. She climbed a pole and spun around, her heels on a dancer's back, while tossing in a little "Vogue." You know Madonna, always sticking it to the Catholic Church. To keep it going, voguing dancers had an orgy filled Last Supper, dancing and grinding all over a golden alter. Later a black priest would rise from the center of the catwalk, sitting in chair, no doubt paying homage to her controversial "Like A Prayer" video, while male dancers dressed as a Roman, Jew, Muslim, Hindu, and Shaman danced on the stage.
A costume change and video later, Madonna and her crew went from a cathedral to a garage, with cars, chains, and tires and modern day greasers dancing to "Body Shop." But it was what came next that had hardcore fans going crazy. Madonna sat on a pile of tires and with a ukulele in hand, then told the audience she was about to bust out an oldie. She split the room in half, demanding that the left and right bring it, before breaking into "True Blue." The lyrics could be heard loudly bellowing from both sides of the stadium. Later in the night she'd also perform "Like A Virgin," rolling around on stage by herself, but the 80s tune that really turned the arena up was "La Isla Bonita." Fans – including myself – sang along word for word, as Madonna tangoed around in her sparkling matador costume.
Later she'd twirl around in a huipil, quechquémitl, and a traditional Mexican embroidered skirt, as images of sugar skulls danced on the screen behind her. Men wore sarapes, and a few female dancers were dressed like the Virgin of Guadalupe. While watching her dance around with her flock to a "Lucky Star" and "Dress You Up" mashup, I couldn't help but reflect on how lately so many white female pop stars have come under fire for cultural appropriation and wonder where Madonna fit in. Unlike Katy Perry, Miley Cyrus, and Iggy Azalea, Madonna has been doing this for decades. She also seems to do so more in homage, so is she less of a charlatan? Or should she be labeled a thief? In the moment, I stopped myself from dwelling further on it. I put my rose-colored glasses back on and watched as she knelt down and asked fans to count with her in Spanish: "Uno, dos, tres."
Halfway through the show, Madonna started to get a bit personal, talking to her audience about life, love, and marriage. Before "Who's That Girl" she gave a heartfelt speech, in which she told fans, "I'm still trying to figure out who I am." After dedicating "Ghosttown" to Chicago, she walked around, shaking hands and holding out her mic, letting fans sing into it. Those lucky enough to be chosen, sang along word for word, making the Queen of Pop smile.
During yet another costume change, men in top hats and penguin tuxedo suits climbed poles, which bent in every direction, leaving the dancers to toss about, nearly flying into the crowd. What a spectacle! Then it was on to a 20s speak easy, jazz club feel with "Music," flapper dresses, and a Charlie Chaplin dancer. Madonna joined the ranks of fellow celebrities and pop stars, like Rihanna and Miley Cyrus, in "freeing the nipple," with a topless dance partner, doing the Charleston around the catwalk. The arena went wild for "Material Girl," singing loudly and watching Madonna push men in top hats off the raised stage. Then she walked down the "aisle" in a long, lace veil, with a bouquet, followed by a string of suiters. Afterwards she offered to "marry" a couple in the crowd, tossing her bouquet to two lucky men, who locked lips to cheers. She joked about knowing a thing or two about marriage and quipped, "It's all downhill from here!" She charmed fans by proclaiming, "You know who I'm really married to? I'm married to you! I spend all my time with you. I write songs for you! The only thing we don't do is…. Rub each other's feet." Laughter spread throughout the arena, but soon things got a little more somber when Madonna sweetly sang Edith Piaf's "La Vie En Rose."
Before ending the night with "Holiday," and being lifted up and away into the night, the Queen of Pop pulled drag queen Derrik Barry from the crowd during "Unapologetic B***h." The Britney Spears impersonator walked the catwalk to the stage with Madonna, reminding fans of that notorious kiss between Brit and Madge. Madonna joked, "We're not making out. I did that already!"
Madonna is currently touring North America. This winter the Queen of Pop will tour Europe, Asia, and Australia. A full list of Rebel Heart Tour dates is available on the Madonna website.
About Sarah Hess
You may also like...