Taylor Swift turns up the Heat in Chicago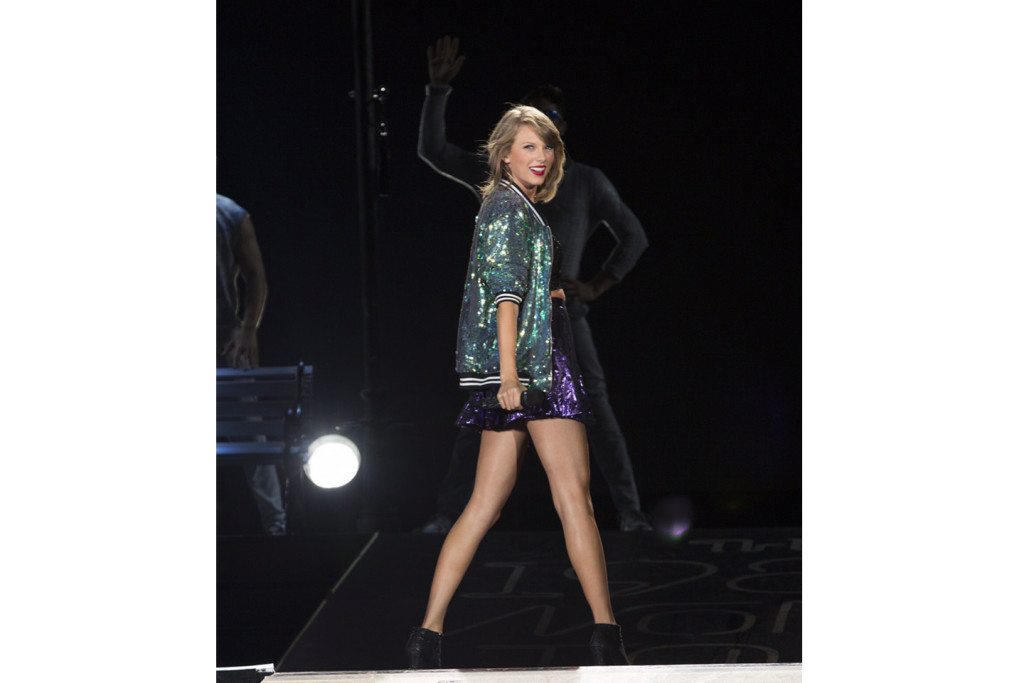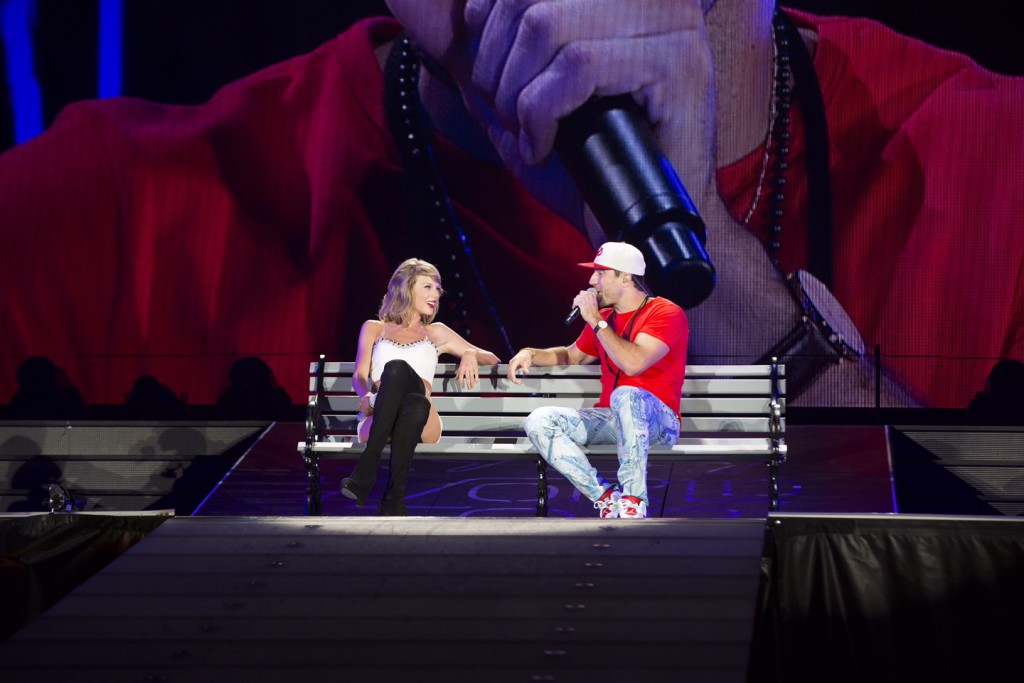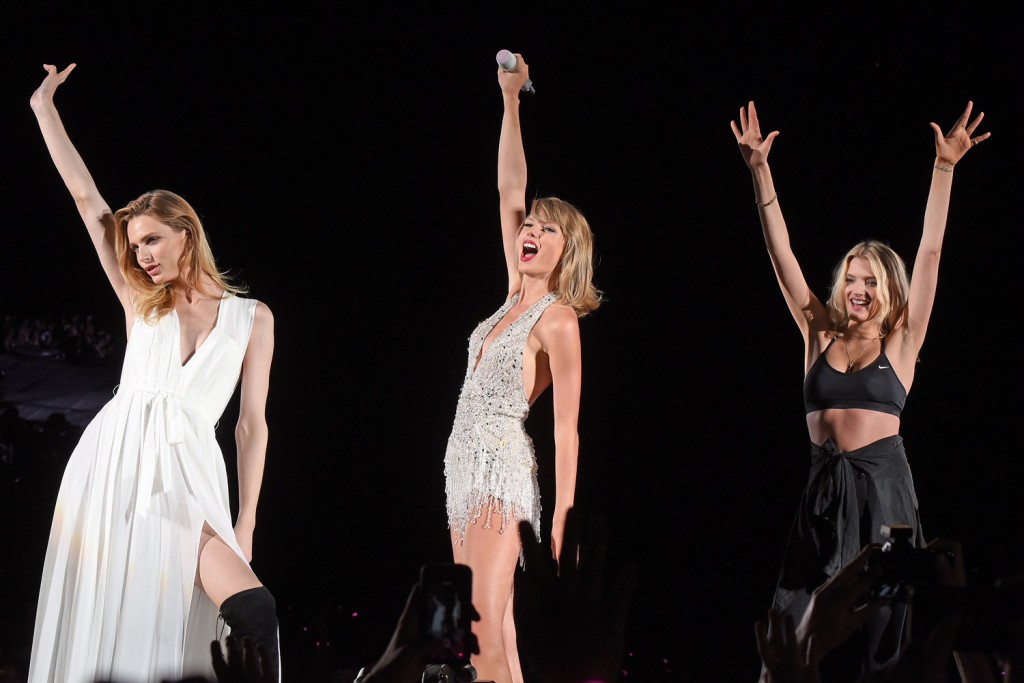 One of the hottest tickets of the 2015 summer is for Taylor Swift's The 1989 World Tour. It is definitely the concert to see by all ages. With the temperature near 90 for two shows at Soldier Field (Chicago's largest venue available for concerts), approximately 55,000 loving, dancing and screaming Taylor Swift fans suffered the heat to attend each of the sold out shows.  Walking to the venue, the realization of adornment, by so many, for Taylor Swift became apparent as many young and older girls wore costumes or dressed up as Swift had in her videos; others toting their homemade signs; some with battery powered lights draped over their clothes; while others sang her songs in preparation for the show; and all very excited with the opportunity to experience the performance seen that night.  And Front Row Music News covered the second show on July 19, 2015.
From the moment you entered the venue, you knew the night was going to be a special performance. After having your ticket scanned, everyone was presented with a light-up bracelet.  These were no ordinary glow-stick type bracelets.  Actually, made by PixMob, the translucent silicone bracelets contain a chip which is controlled by the main lighting board.  The bracelet is synced to light up, as well as change colors perfectly in time to the music.  After being slightly enamored by an audience full of phone waving strobes at other recent concerts, it was a magical experience to see 55,000 fans with light-up bracelets synced to music. Rather than just viewing the concert, it made fans part of the performance.
Taylor Swift stated, "One thing you should know about me, I was born in 1989" which is also the name of her fifth studio album released in October 2014. For the night's set list, Taylor performed every one of the 13 songs from the standard version of the 1989 album. In addition, New Romantics, which is one of the three additional tracks available, was also performed. Swift did not forget fan favorites from previous albums, stating, "I feel like, we are about to go on a trip down memory lane right now." Songs included: Love Story from the second studio album, Fearless (2008); Mean from the third studio album, Speak Now (2010); and I Knew You Were Trouble, along with We Are Never Ever Getting Back Together from the fourth studio album, Red (2012).
Throughout the night, Taylor Swift definitely showed her sincere appreciation to Chicago, making reference to her long history with Chicago and playing shows in Chi-town over the past 10 years. Also, she thanked fans for caring about the 1989 album and fans coming to celebrate the album. She sincerely meant, "I wanted to come, look you in the eye, and say thank you for everything you do. You are everything to me." Taylor Swift had emotional conversations with her fans. Even though there were 55,000 people at the show, it felt intimate, as if she spoke directly to each and every one individually in the audience. "I'm looking at you and I'm seeing every single one of you individually illuminated. I can see every single last one of you!"
As in other shows on The 1989 World Tour, the night included a big surprise. With Andy Grammer's guest appearance for the first night's show in Chicago, it was just a question as to who would appear for the second night. Almost half way through the set, Taylor Swift said, "The coolest new thing that country music has going on is about to be on stage. Please make some noise, Chicago, Illinois because Sam Hunt is here for you." As the audience went wild with excitement, Hunt came out to sing his song, "Take Your Time" alongside Taylor Swift.
On top of everything already mentioned, other highlights of the night included: dancers, dancers and more dancers; Swift showing her musicianship playing several instruments; and a hydraulic catwalk which rose over the audience and turned 360-degrees.
After approximately 2 and ½ hours of an epic performance, the night ended with an unforgettable rendition of the song "Shake It Up", along with a dazzling fireworks finale. This sparkling performance absolutely confirmed that Taylor Swift's 1989 World Tour was the concert to see by all ages during the summer of 2015.
Taylor Swift – Photo credit: TAS Rights Managment
About John Kosiewicz
You may also like...