Darius Rucker at Hollywood Casino Amphitheatre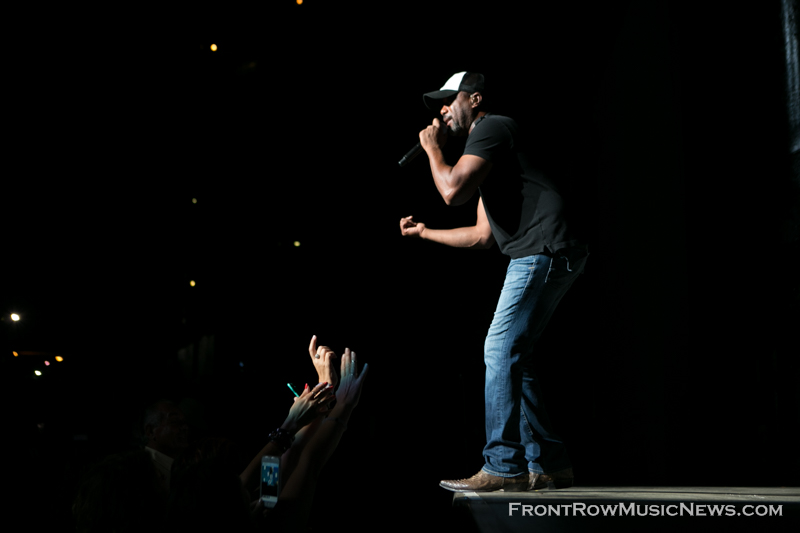 Darius-Rucker-Photo-credit-John-Kosiewicz
On August 20, 2016, Darius Rucker brought the "2016 Good for a Good Time Tour" to Hollywood Casino Amphitheatre in Tinley Park, IL (Chicago). If you have attended a Darius Rucker concert in the past, you already know not to expect a typical country show… Instead, it's a musical experience, and not just a "Good Time", but a Great Time! Also in support for the tour were Michael Ray, along with Dan + Shay.
Actually, Rucker told the audience himself that his pet peeve is when people label music by genre. As a result, the night's set list accentuated this point. Rucker showed his musical versatility mixing all genres of music throughout the night. Unfortunately, to help describe the performance, I'll need to define in genres, sorry Darius ;-)
After starting out with several selections from his solo country music, Rucker said, "You guys remember 'Hootie?' We were good!" With loud cheers from the audience, he began to play the Hootie and the Blowfish song, "Time." Mixed in through the night, he also played Hootie and the Blowfish songs, "Let Her Cry," "Hold My Hand" and "Only Wanna Be With You."
Also, Rucker threw in various covers throughout the night, including Garth Brooks', "Friends in Low Places" which everyone sang along to. He followed it up saying, "That's a great song, but I think a lot of you will also agree that this… is a great song," which he covered Blackstreet's, "No Diggity." Added to the covers were John Denver's "Thank God I'm A Country Boy" and closed out the night with Prince cover, "Purple Rain."
One fan favorite of the night was the beautiful performance of the song, "Let Her Cry." After his emotional story about how Rucker "believed that God sent him" (I don't want to ruin it for you by incorrectly telling it), he started out with an acoustic rendition, then concluded with a violinist and full band.
Another touching point of the night, Rucker thanked all the fans for coming out with a toast, "Here's to all you people out there who pay your hard earned money to come out and see us play, and I know it's hard earned. This is to all you guys."
The funniest part of the show… If you are going to sing along when attending a Darius Rucker show, make sure you know the words to the songs. During the middle of the song "Homegrown Honey", Rucker stopped the song. Looking at the Chicago-area audience, he said that this is a #1 song and you don't know the words. Correcting the audience to sing the song properly by saying, "You're so MONEY, not FUNNY!"
Be sure to keep up with the latest information and tour dates at Darius Rucker website.
Darius Rucker Setlist 8/20/2016
Lighter Up
Radio
Southern State of Mind
If I Told You
Time (Hootie & the Blowfish song)
Good for a Good Time
True Believers
It Won't Be Like This for Long
Don't Think I Don't Think About It
Friends in Low Places (Garth Brooks cover)
No Diggity (Blackstreet cover)
This
Let Her Cry (Hootie & the Blowfish song)
History in the Making
Alright
Hold My Hand (Hootie & the Blowfish song) (With Dan + Shay & Michael Ray)
Thank God I'm A Country Boy (John Denver cover)
Homegrown Honey
Only Wanna Be With You (Hootie & the Blowfish song)
Come Back Song
Encore:
So I Sang
Wagon Wheel (Old Crow Medicine Show cover)
Purple Rain (Prince cover)
About John Kosiewicz
You may also like...