Interview – Edge of Paradise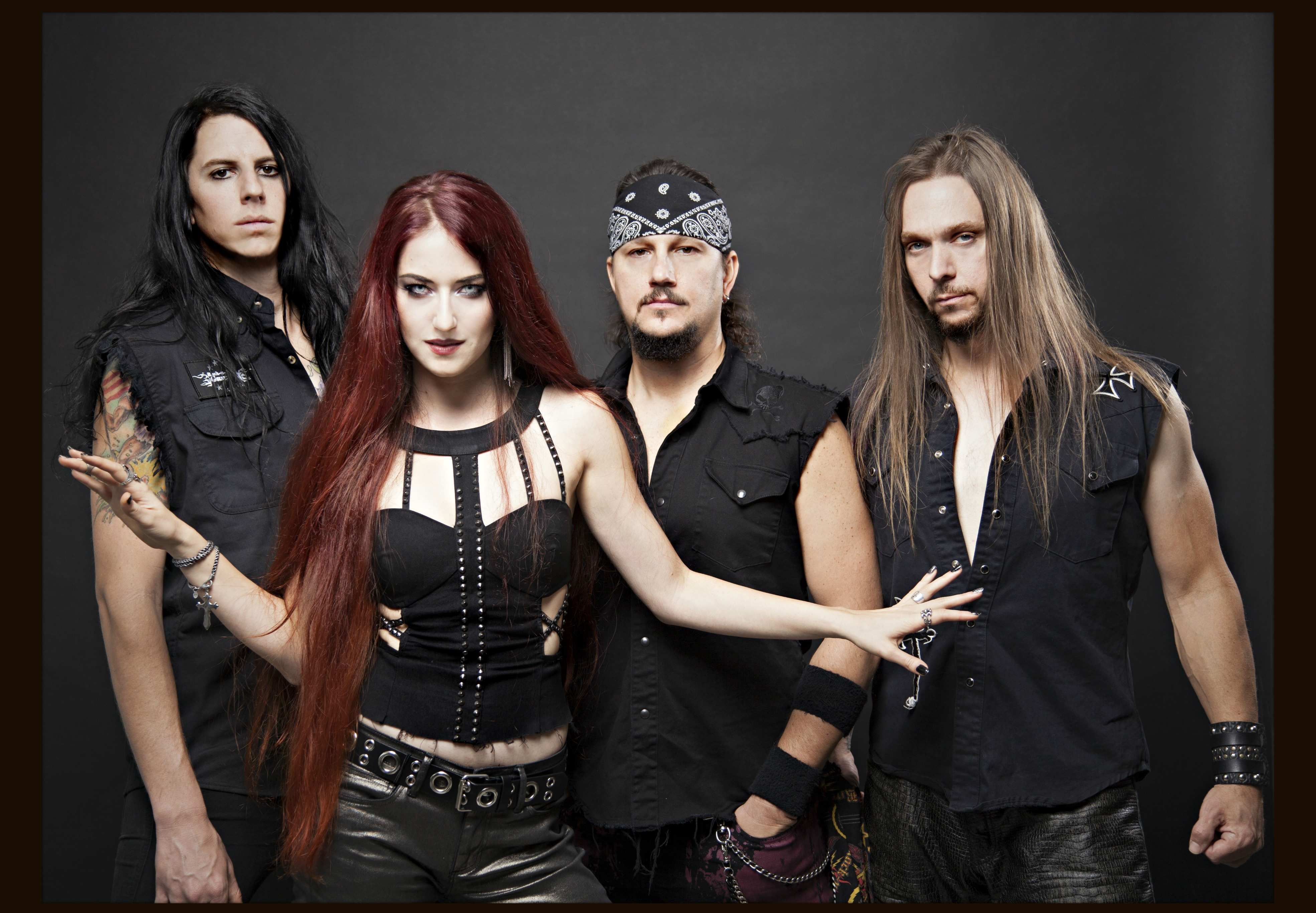 On August 21, 2016, hard rock/heavy metal band, Edge of Paradise made a stop in Chicago with a performance at LiveWire Lounge as they wrapped up the summer tour. Margarita Monet, the bands lead vocalist and pianist, took a little time to allow Front Row Music News the opportunity to interview her about the band and what to expect in the future for the band.
John Kosiewicz: For those who are new to Edge of Paradise, can you please introduce yourself, tell us a little bit about the band, as well as yourself and your part in band?
Edge of Paradise: Hello, thank you for having me! I'm Margarita, singer of the band. We are a heavy metal band with an industrial and symphonic edge. We have two albums out, Mask and our latest one, Immortal Waltz. We just released new music video for the single 'Shade Of Crazy' and have another song coming out this fall. Our live show is theatrical with a massive sound, we love touring and meeting all of you!
John Kosiewicz: What is the origin and how did the band come up with the band name: Edge of Paradise?
Edge of Paradise: We wanted the name to reflect our music, Dave is from a heavy metal background, and I'm a classical pianist, so we wanted something to represent the different stiles that mending together. Also, we live in LA and the sunny skies can be deceiving, on the outside it might look like the land of paradise, but people live here on the edge, and one wrong move, just might tip you over the edge!
John Kosiewicz: How did the band, Edge of Paradise, get formed?
Edge of Paradise: In 2011 I met our guitarist Dave Bates, we were both hired to work on a project by a local producer. Right away we knew that we worked great together and had similar visions, so a month later Edge Of Paradise was born! Dave had some unreleased music that he wrote with Robin McAuley, Tony Franklin and Gregg Bissonette were the rhythm section on the recordings. We reworked those songs, I sang them and we released our first album Mask as a foundation to start building on. It took us a few years to find our sound and the perfect lineup. And we have great chemistry between the members with bassist Nick Ericson and drummer John Chominsky, this lineup has been going strong for three years now!
John Kosiewicz: What's the biggest challenge of your band?
Edge of Paradise: I guess the challenge is that we'd like to just create music, tour, handle the creative side, but you gotta be so much more then that, it's like launching a worldwide business! It's definitely not easy, but like anything in life, if you want to reach high, you gotta put the work in! We made quiet a few mistakes at first, but those mistakes lead us to the right people and now we assembled a great team that are helping push this machine forward!
John Kosiewicz: What inspires the groups song writing? Do you write as a team or individually bring in pieces of a song?
Edge of Paradise: I'm always inspired :) Some songs are about my experiences, my outlook on life and society, I love exploring the human human mind, we want to take the listener on a sonic roller coaster ride, and send a positive message at the same time! Usually the way the songs come together is i make an idea on the piano or with some samples, then Dave works on the guitar parts, we kind of feed off of each other, i let the music inspire the words, then we arrange the song together. We have a home studio with pro tools so we're lucky we can demo things up pretty good, then we send it to the rest of the band and work on it at the rehearsal and evolve the song. After the final demo we take it to our producer and go into a real studio, the song evolves some more, then it's ready to be sent off for mixing! Hearing the final product is a huge rush, i'm totally addicted!
John Kosiewicz: With your recent song release "Shade of Crazy", can fans expect more new
music to follow?
Edge of Paradise: Yes! We're always working on more music! We just finished another song called "Alive" and filmed a sci fy themed music video for it. We're very excited for that one, it really showcases the evolution of our sound. People that heard it, describe it as a mix between Rob Zombie, Korn and Ramstein with a female singer haha! We're going to be releasing that sometime in the fall, and at the end of the year, we're planning to release an EP.
John Kosiewicz: Who are some of your musical inspirations?
Edge of Paradise: We all look up to iconic bands like Iron Maiden, Black Sabbath, Judas Priest, they created something that can stand the test of time and that's what we aspire to do with our music, to create something great and original. I look up to singers like Ronnie James Dio, Bruce Dickinson, Klaus Meine, Glen Hughes. There is so much feel and attitude in their singing, i think that's one of the most important qualities in a singer, the ability to fuel each word with emotion and conviction. I also grew up on classical music, i played piano my whole life, and that reflects in our music as well!
John Kosiewicz: What do you do in your free time while traveling between shows?
Edge of Paradise: Well I'm constantly chasing time, there is so much to do! We're always writing music, practicing, promoting, i also make our website, posters, run social media, create costumes… The image of the band, the stage show is very important to us, we want the visuals to reflect our music, and that's a lot of work too! We also live in a LA, and that's a rat race in itself, just to park your car! I do love to draw, It's a hobby of mine, a few people started to buy my paintings, so that's kind of cool, something to add to our merchandise :)
John Kosiewicz: When touring from city to city, do you have time to explore? Or is there not much time to get in sight seeing?
Edge of Paradise: We love exploring! We're always on a time crunch, maybe because we love to sight see ;) As i'm answering this interview, we're on a lake in Wisconsin, we have a off day before our Michigan show, so we're exploring the great lakes, visiting some historic small towns, it's absolutely beautiful! We've seen so many places and had a lot of adventures, met many amazing people, that's part of the thrill of touring!
John Kosiewicz: Do you have any pre-show or unusual backstage rituals?
Edge of Paradise: Well Dave likes to apply his KISS cologne, and then we warm up with Rudolph The Red Nose Reign Deer, haha just joking! We just warm up, tune the guitars, make sure all the gear is ready to go :)
John Kosiewicz: Can you share one of your craziest stories about an on stage performance?
Edge of Paradise: Well Dave's amp started smoking once, it was our first East Coast tour, first show in Philadelphia, and his amp started to catch fire, it was pretty metal! Good thing he had a backup amp!
John Kosiewicz: If you could have ANY special guest perform with you on stage, who would it be?
Edge of Paradise: I'm a fan of Amy Lee, would be cool! Bruce Dickinson of course :)
John Kosiewicz: Do you spend much time on social media? If so, what is your preferred form of communicating through social media?
Edge of Paradise: Multi tasking helps :) And with technology nowadays you can access anything from your phone. I try to interact with people as much as i can, we're lucky to have very supportive fans, and many have become great friends, it's always cool to meet people at shows that are fans of the band and love the music! And social media is a big part of what we do in this day and age, ultimately we're entertainers and it's fun to document and share what we're up to, cool places we've visited on tour, behind the scenes, and more!
John Kosiewicz: John Kosiewicz: What's next for Edge of Paradise for the rest of 2016 and into the new year?
Edge of Paradise: New music! We have a great team of people working with us, we're also excited to be joining with Alpha Omega Management, and we're going to put all our forces behind this upcoming single "Alive". Besides new music we're also working on booking more show dates including summer festivals in the US and Europe!
John Kosiewicz: What would you like to say to everyone who is a fan and supporter of Edge of Paradise?
Edge of Paradise: You rock, thank you for the support! It's the best feeling when people tell us they love our music! Thank you for inspiring us, and we love meeting you on the road!
John Kosiewicz: Thank you for your time. In closing, is there anything you'd like to add?
Edge of Paradise: Thank you for having me and for spreading the word about Edge Of Paradise! And check out our latest music video "Shade Of Crazy"
About John Kosiewicz
You may also like...