Blink-182 at Hollywood Casino Amphitheatre in Chicago / Tinley Park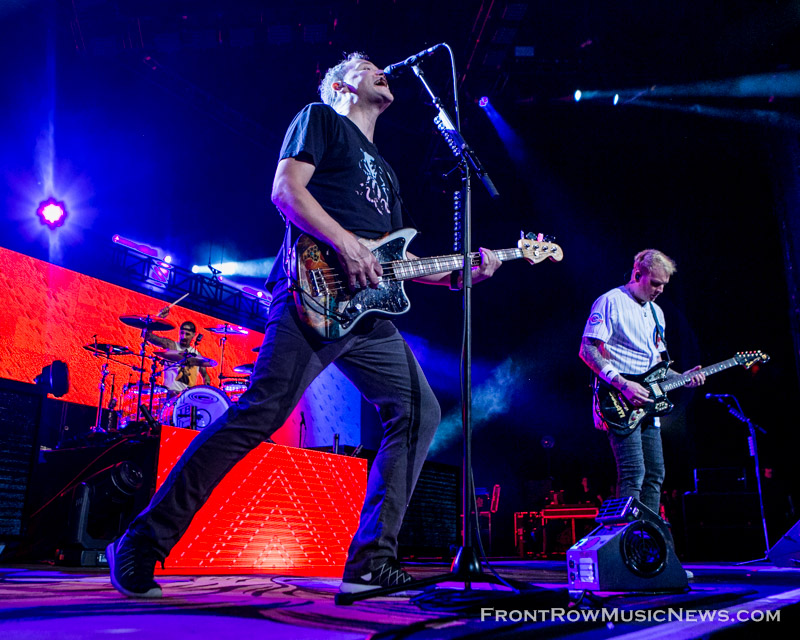 Blink-182-Photo-credit-John-Kosiewicz
On September 9, 2016, Blink-182 performed at Hollywood Casino Amphitheatre in Tinley Park, IL (Chicago), along with The All-American Rejects and A Day to Remember. In support of their July 2016 release, "California," their massive summer headlining tour, California Summer Tour, across North America started in San Diego on July 21 and is wrapping up in Irvine, California on October 8. Currently, Blink-182 is a trio which consists of founding member, Mark Hoppus on bass and vocals; Travis Barker on drums; and Matt Skiba on guitar and vocals.
The crowd of nearly 30,000 fans (if it wasn't sold out, it was close) was a mixture of die hard fans from the beginning to newest fans which started listing as a result of their most recent album. As the curtain dropped, one of the first things the audience noticed was Chicago native, Matt Skiba, sporting a Chicago Cubs jersey with number 182 on the back. Cub fans cheered with excitement!
From the start, the band had the their audience into the show with favorites: "Feeling This"; followed up with "What's My Age Again?" Fans were singing along from the start to the end of the show. The set-list included a mix of songs from six of their seven studio albums: Cheshire Cat (1995); Dude Ranch (1997); Enema of the State (1999); Take Off Your Pants and Jacket (2001); Blink-182 (2003); and California (2016). (No songs were played from Neighborhoods (2011)) Highlights also included current number one single "Bored to Death," as well as older songs like "The Rock Show," "Blind Date" and "Stay Together for the Kids." The four song encore ended with "Carousel," "All the Small Things," "Brohemian Rhapsody," and "Dammit." The show contained enough for all Blink-182 fans to love!
For more information and tour dates, be sure to check out Blink-182's official web site.
Blink-182 Setlist – September 9, 2016
Hollywood Casino Amphitheatre, Tinley Park, IL (Chicago)
Feeling This
What's My Age Again?
Family Reunion
The Rock Show
Cynical
First Date
Down
I Miss You
Bored to Death
Built This Pool
Dumpweed
Stay Together for the Kids
Reckless Abandon
San Diego
Not Now
Violence
Kings of the Weekend
Happy Holidays, You Bastard
Dysentery Gary
Los Angeles
Encore:
Carousel
All the Small Things
Brohemian Rhapsody
Dammit
Tags: Blink-182Hollywood c
About John Kosiewicz
You may also like...