Adam Ant In Chicago: Antpeople are the Warriors, Antmusic is the Banner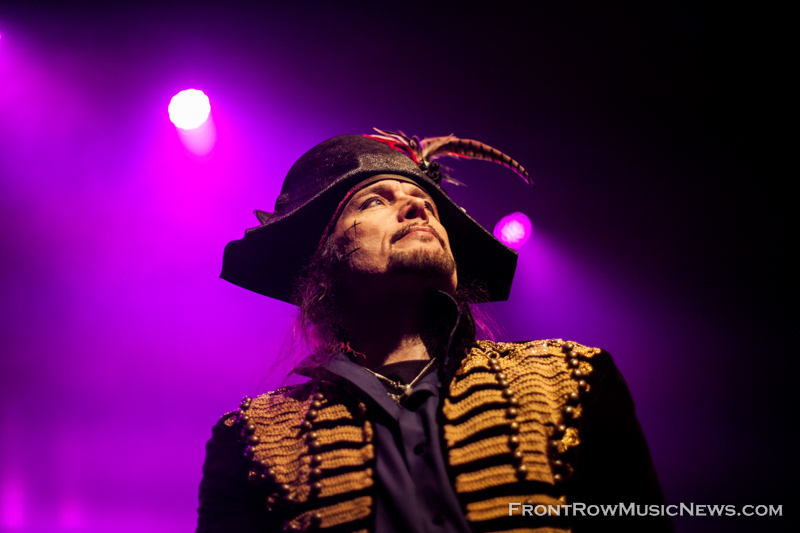 Adam-Ant-Photo-credit-Erica-McKeehen
On January 31st, 2017, Antpeople of the Midwest (and beyond, I'd imagine) gathered in Chicago's appropriately baroque Vic Theatre to resurrect their dandy leader, calling upon Adam Ant to perform a collection of songs that paved the way for an esteemed and inventive musical career — a career that has permanence and sustained iconography in rock history.
Kings of the Wild Frontier, which just celebrated it's 35th birthday, represented several years of hard work and gutless persistence to infiltrate the mainstream at the time it was released. While it was the Ants' second album, it wasn't until the group performed "Dog Eat Dog" on the then-ever-pervasive Top of the Pops that they broke the masses, and Adam Ant became a household name. Up until 1980, the group were sort of fringes of the scene, peripheral to punk in the UK, gaining small traction in the sweat and piss of the club scene as a darker, punk-goth outfit until their 1979 debut Dirk Wears White Sox. Malcolm McLaren remarked that if Adam wanted to be famous, he needed to cut the "esoteric" approach and wise up to the biz — Adam's response was forming the new Ants (after McLaren recruited Adam's former mates to form Bow Wow Wow), including long-time songwriting partner Marco Pirroni, and recording Kings of the Wild Frontier.
The music retained the eccentricity — tribal beats coupled with post-punk riffs and country-western motifs — laid underneath dense layers of chants and yodels. But Kings somehow had more opportunity than Dirk — and a captive audience to gobble it up. The album introduced songs like "Antmusic" into the popular consciousness before full-on Antmania took grip. At the onset of new wave, Adam Ant was uniquely risqué — but sweet and squeaky clean enough for teenage bedroom walls — humorous, and, by prioritizing his own brand of aesthetics and performance as part of the total package, subverting much of mainstream rock. His experimental vocal styling set him apart as a singer, his flamboyance and fetishistic flair grounded him as a true performer, and his duty-bound and devoted focus on oppressed groups and cultural misfits gave way to truly unique song-writing on thematic albums that, even today, conjure an almost cinematic experience. In the early 1980s, nothing else sounded quite like Adam and the Ants — and certainly no frontman was quite like Adam Ant.
Fast forward to 2017, Adam (born Stuart Leslie Goddard) is 62 and has long-since safely-secured his glam-rock icon medals of honor. There aren't many left — icons, that is; and while it's a rather traditional talk track that music informs culture and vice versa, it seems more important now than in recent decades to celebrate, recognize, and reinvigorate art that pushes sociopolitical envelopes, challenges the status quo, and aims to represent a broad spectrum of sexuality, identity, and independence.
In Chicago, Adam's devotees buzzed about the venue, zinging with blissful gratitude. Adam is magnetic and larger than life on stage, as a proudly-weathered man whose resilience and integrity across the span of a forty-year career have given him a perverse sense of eternal youth. And yes, most guests still lost some innate sense of composure when the Berundi beat began and Adam seamlessly slinked and slithered his way to the mic, leather-clad and gypsy-bejeweled to belt out the opening vocals to "Dog Eat Dog" — he has grown into an irrevocable charmer. Fans stomped their feet and raised their fists alongside the battle cries and war chants of each album track, climaxing at the intro of the sacred title piece, "Kings of the Wild Frontier," which opens with the proclamation: "I feel beneath the white / there is a redskin suffering / from centuries of taming." Loaded as it is with outlier themes, Kings (as well as the subsequent release Prince Charming) barely lift a finger lyrically and still manage to fiercely challenge, over and over, Western representations of bravado, heroism, and masculinity.
After performing the entirety of Kings of the Wild Frontier, Adam and the band pushed onward with some catalogue classics like "Stand and Deliver," "Prince Charming," and "Goody Two Shoes," as well as some of the naughtier archive anthems like "Beat My Guest" and "Christian D'Or." Banter between songs was kept at a minimum and despite the joyous gravity in witnessing beloved music, fans were checked by the recent passing of Adam's guitarist and musical director, Tom Edwards, on January 25th — the quieter, less energetic moments were graciously and respectfully met. The set concluded with "Physical (You're So)" and members of the band quietly dismissed themselves from the stage, one by one, humbly waving goodnight to the crowd.
In so much more than a performance of a classic album, Adam Ant reminds listeners that imagination is a sustaining force no matter the application — and despite one's own time and place.
For more information and tour dates for Adam Ant, be sure to check out Adam Ant's official web site.
Tags: Adam and the AntsAdam AntAlternativeBerundiChicagoErica McKeehenglamKings of the Wild Frontierpost-punkRockThe Vic
About Erica McKeehen
You may also like...