TORRES Fears No Darkness at Subterranean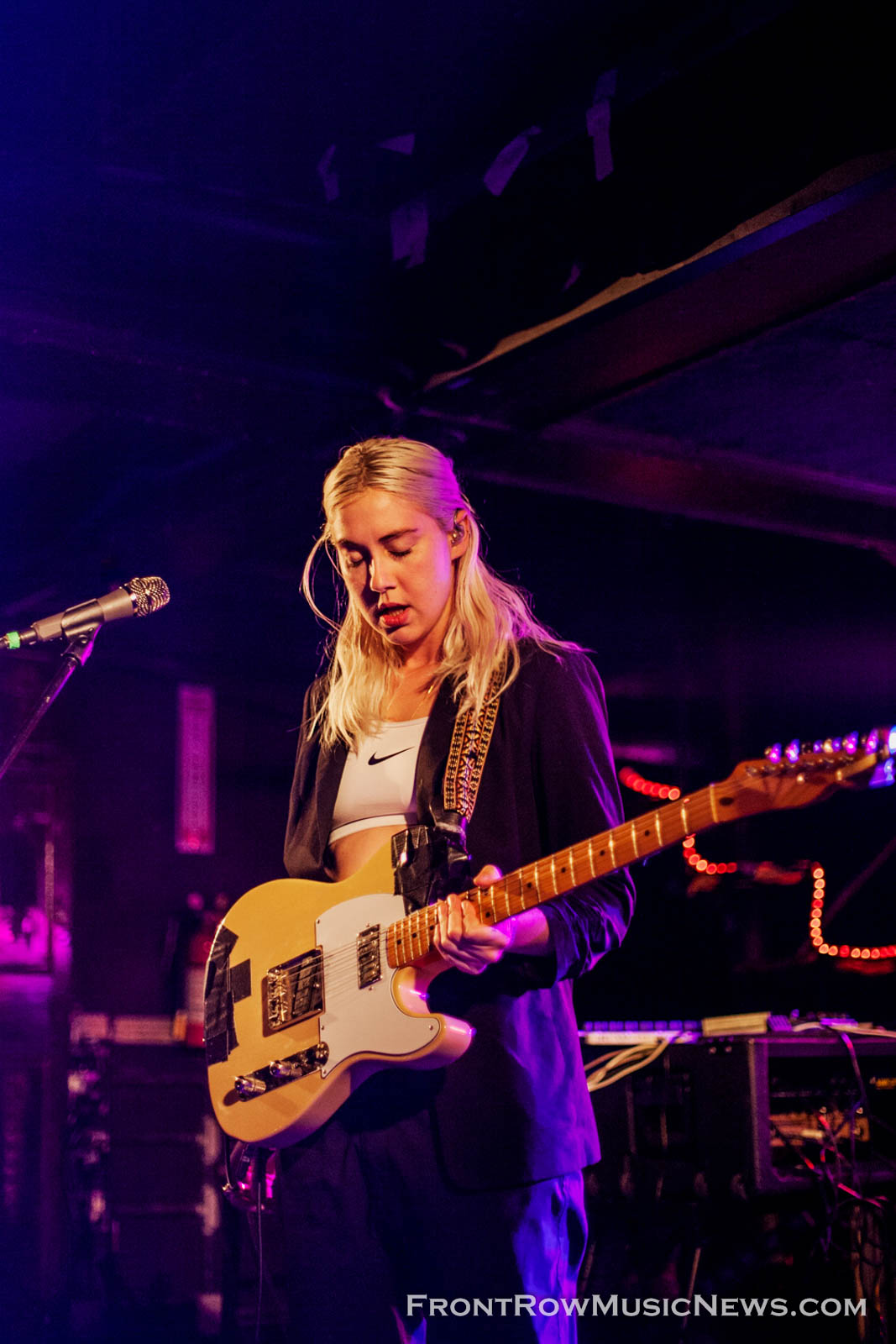 Torres-Photo-credit-Erica-McKeehen
Torres (b. Mackenzie Scott) brought her ethereal indie rock to the dim halls of Subterranean in Chicago's bustling Wicker Park on October 5th, 2017. Her latest album, Three Futures, debuted just one week prior to this late-night performance, and incase you haven't listened yet, the songs take on a much more electro-experimental tone than her previous, more downtempo work. As such, Torres' entire performance at Subterranean was re-envisioned in this new direction, embellished with avant-garde funk and psychedelic electronica — unique little bloops and blips that felt organic to the mood of the performers on stage that night. Even the quieter, more introspective interludes, "Honey" and "New Skin," with their slow-brooding intensity — felt lighter when layered underneath the beat of the drum machine.
Torres had audience members in the crammed west-side venue on their feet, bopping passionately to her erratic riffs. Her style, precariously assembled, would fool any first-timer. As her band, always dressed for performance in quirky cohesion, descended the spiral staircase leading down toward the venue's stage, she was last to take her place, silver-heeled boots glimmering in the bluish lights. Beneath her dark slacks and blazer she wore only a white spandex Nike sports bra, and her Legolas-platinum hair hung limply around her tender expressions.
Born in Orlando, Florida in 1991, Scott was adopted at birth and moved to Georgia at age three. Raised by her Baptist foster parents, she learned to play guitar in church and performed hymns during both weekly service and nursing home visits. School encouraged Scott's performance skills, and in 2012 she graduated with a degree in Songwriting. Shortly thereafter she began her songwriting career in Nashville; several songs on her first two albums (TORRES and Sprinter detail Scott's experiences growing up in the South, as a foster child, in a religious environment. The gripping authenticity of Scott's work quickly earned her respect as a young musician and she was asked to open for a variety of established acts over the next three years including Garbage, Tegan and Sara, and her early musical superhero Brandi Carlile.
Though her career only spans the last several years, Torres is already proving to audiences with Three Futures that she is a resilient, amphibious creative, able to reimagine and evolve beyond listeners' expectations with each new project. Her poise as a performer allows her to push the edges of genres and forms, allows her to transcend the presence of her performer peers and stand out, shimmering brightly.
Catch Torres perform during the remainder of her tour and explore more of her sounds at torreslovesyou.com.
Tags: AlternativeChicagoelectronicErica McKeehenindieMackenzie ScottRockSprinterSubterraneanThree FuturesTorres
About Erica McKeehen
You may also like...