Thumbs Up for Magic Giant at the Metro in Chicago 2019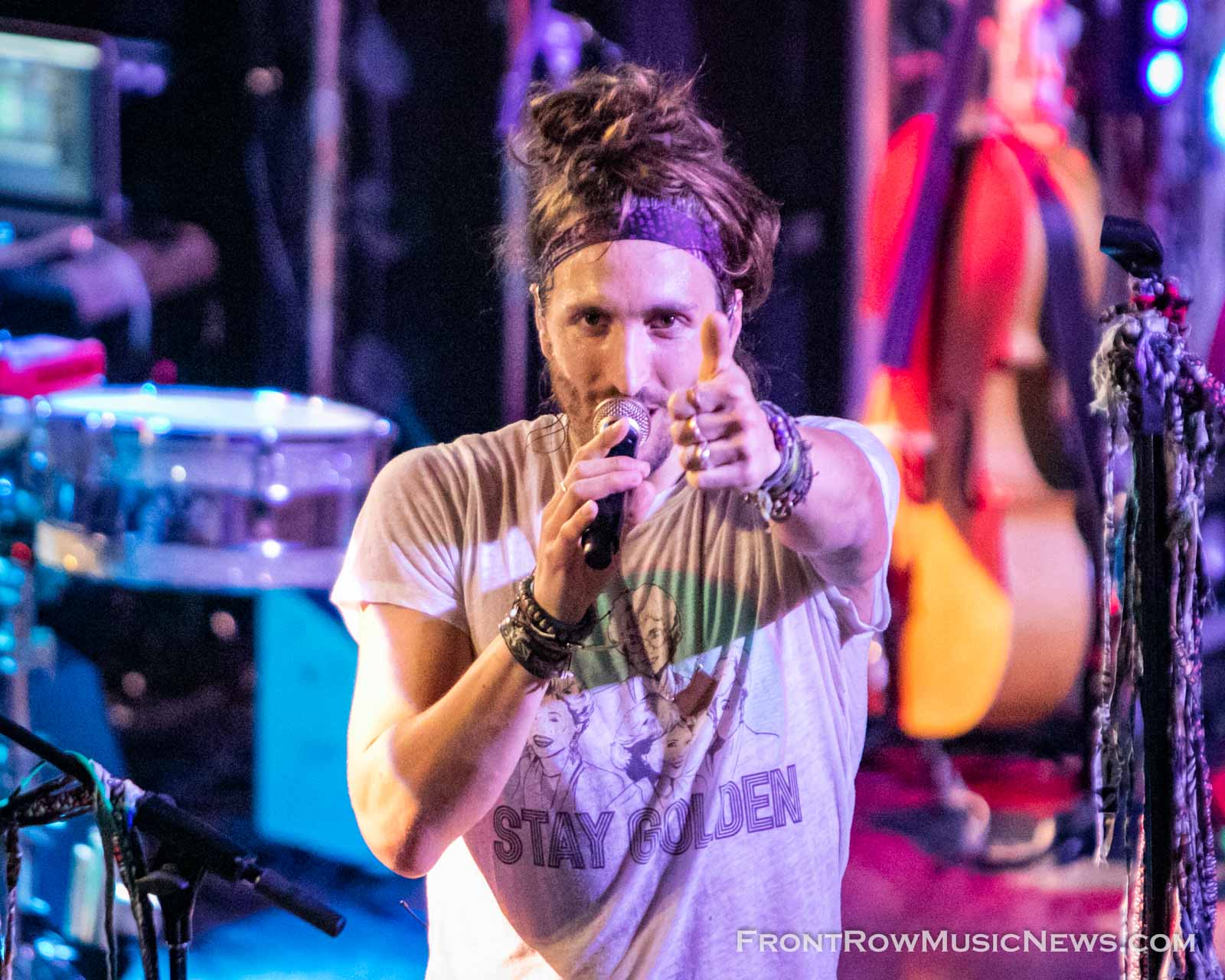 Magic-Giant-Photo-credit-John-Kosiewicz
February 15, 2019, MAGIC GIANT brought the Home Away From Home Tour to the Metro in Chicago. Along for the ride were fellow L.A. based band, Weathers, and Australian rock band, Castlecomer. For Chicago, it wasn't a regular tour stop in another city. It was a celebration. Well, if you've ever been to a Magic Giant show before, you'll know that every show is a celebration, but today was a special celebration. It was the "Rocketman" record release party! Although over the past year, many Magic Giant show attendees have heard the song performed live, the new single, which features American Authors, was officially released as a single.
Formed in 2014, the indie, folk, pop band, Magic Giant is out of Los Angeles, California. The band includes: Austin Bisnow on lead vocals, cello, synthesizer, percussion; Zambricki Li on banjo, fiddle, viola, cello, harmonica, mandolin, octave mandolin, acoustic guitar, dobro, lap steel, backing vocals; and Zang on acoustic guitar, cello, bass, percussion, backing vocals. Touring with Magic Giant are drummer, Kosta Galanopoulos, who has been touring with Magic Giant for nearly two years. In addition, bassist Jesse Schuster was added to this tour.
The Home Away From Home Tour is an appropriate name for a Magic Giant tour. Attending one of their performances is more like hanging with family and friends. Its about seeing old friends, as well as making new friends. Even though the band is from L.A., every city seems like their home town, especially in Chicago. In addition, Austin and the rest of the band aren't afraid to get close with a hug or high five, before, during and after the show. We're all a community of Magic Misfits!
Highlights from the night included: dancing and singing; positive vibes; favorite songs like "Window," "Celebrate the Reckless," "Set On Fire"; of course we can't forget the release song, "Rocketman." The band is also breaking loose with some additional new songs this tour with "Alien" and "Disaster Party." Hopefully, we'll catch these released soon as well, or even better, a new album. Prior to singing "Alien," Austin gave the audience a quick lesson on the chorus with the works, "Are you out there?" From the song's start, the audience was loved it and after it was over, the audience cheered as if it were a standing ovation (well, technically it was because it was standing only venue, but you get the idea). Following a brief moment as the band composed themselves from the audiences positive reaction to "Alien," Austin did a little rooster crow, in which the audience replied in kind, then Austin said, "Alright, we're coming out to sing acoustic with everybody" in which they performed "Great Divide" in the middle of the crowd. Like "Alien," when it came time to perform another new song, "Disaster Party," Austin helped the crowd with the chorus words, "Maybe the world is broken. Our house is always open." A big surprise in the setlist was the cover of Coldplay's song, "Yellow." The band put their own twist on the song, and once again, Austin was down on the barrier, the time getting serenaded by the audience, "Look at the stars, Look how they shine for you, And everything you do, Yeah they were all yellow". It was a beautiful moment. The night ended with members of Castlecomer joining on stage for a big party closing out with "Set On Fire."
Be sure to visit their website for the latest information and tour dates at: MagicGiant.com.
Tags: Home Away From Home TourMagic GiantMetro ChicagoRocketmanThe Metro
About John Kosiewicz
You may also like...