Adam Ant Brings ANTHEMS to the Midwest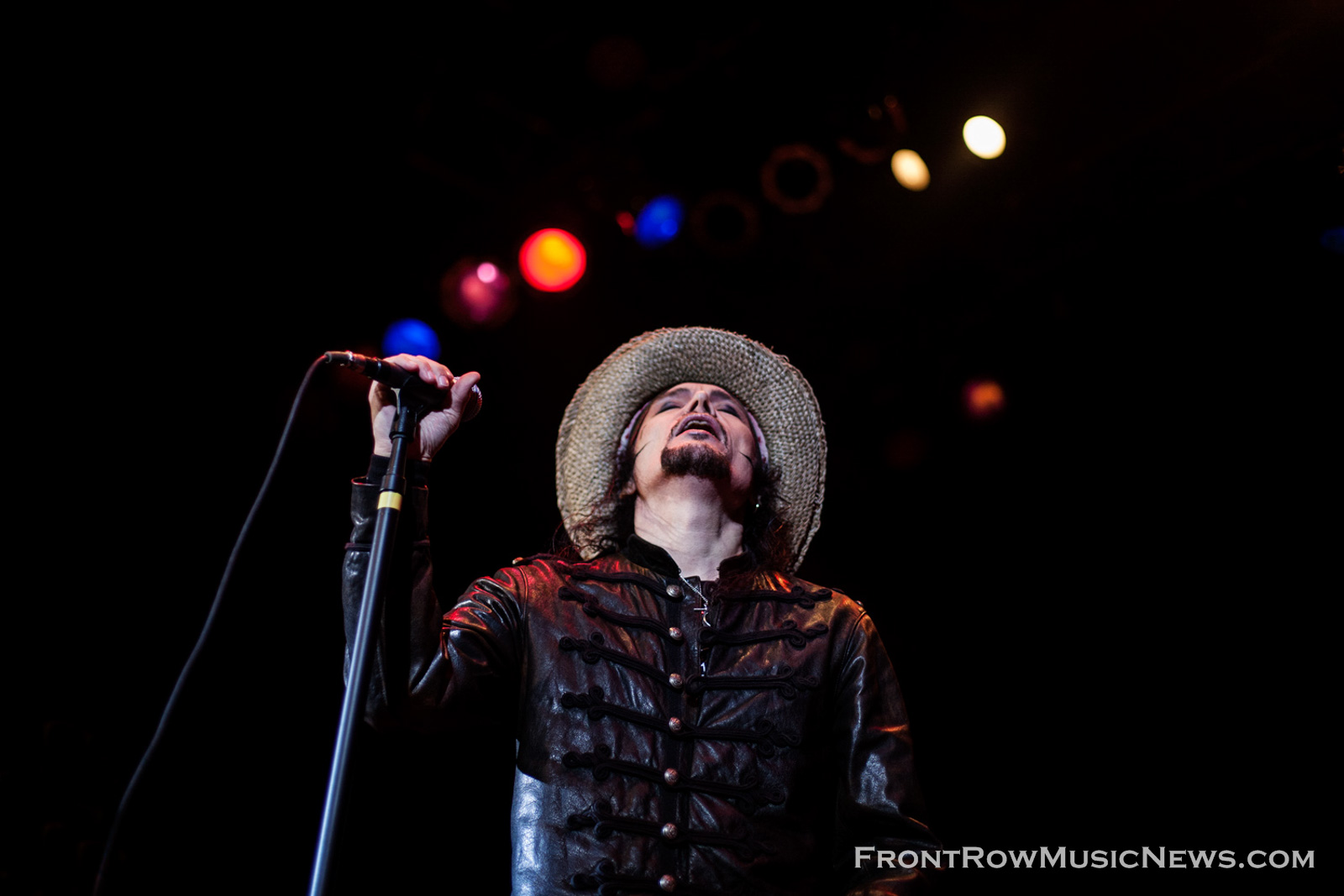 On September 16th, 2017 Adam Ant (who, donning lipgloss, feathers, and David Hemmings' jacket from the 1968 film, The Charge of the Light Brigade, once stunted audiences with his most berserk brand of post-punk pop throughout the late 70s to mid-80s), performed to a sold-out crowd in America's humble Heartland, Ohio, slinking across the stage of bright lights in black leather and a straw hat, sealing the devotion of fans both slight and diehard. I traveled from Chicago to see Adam's performance in Cleveland at the House of Blues since this round of shows on the ANTHEMS Tour did not bring him to the Windy City. (Earlier this year, Adam and the new crew performed at Vic Theatre for the Kings Tour — and to give you some perspective into the man's physically impressive pace at a tender 62 years young — that same Kings Tour has just kicked off in Australia to close out 2017.)
LA's Glam Skanks, Adam's faithful femme headliners (vocalist Ali Cat, guitarist Veronica Volume, bassist Millie and drummer Cassie), primed the crowd for some raunchy rock before Adam pranced on stage to an extended sample of Tchaikovsky's "1812 Overture," and unleashed a ferocious with the most brutal of introductory tunes: "Beat My Guest." After guests were swooned into submission, Adam (b. Stuart Leslie Goddard), looking leaner and meaner than months' prior with his modern military armor, fast on his feet with a just a dab of glammy gold paint glistening from his tear ducts, wasted little time bouncing through explosive renditions of "Vive Le Rock" and "Dog Eat Dog."
As the tour was christened ANTHEMS, the setlist captured the most loved tracks of the last (almost) four decades, from Adam and the Ants tunes to everything post-Prince Charming.
Once upon a time, the Sexiest Man Alive had an astonishing seven singles in the UK top 40 at once. His career with Adam and the Ants reached peak success after their second release Kings of the Wild Frontier, and by the time Prince Charming came around, the group — lead explicitly by frontman Adam — had sold over 15 million records and played over 300 gigs in one year. However, Adam was a relentless and demanding bandleader; he was sober, and he was a workaholic. He fired band members for using drugs, and the groups' line-up, aside from Adam's longtime songwriting partner Marco Pirroni (who wrote with him until 1995's Wonderful), changed with each album.
Friend or Foe (released in 1982) ushered in Adam's solo career with the ultimate ANTHEM, "Goody Two Shoes," a bold assault on mainstream pop rock values (as well as a personal branding), and one of his most well-known songs across the pond to date. Adam took a significant hiatus in the 90s and 2000s but in the last decade has refocused on touring and bringing his unique catalogue back to life in more intimate rock venues. To fans' delight, he takes liberty in playing a rather heavy assortment of b-side rarities and requires full, enthusiastic audience participation for the chorus of "Prince Charming.'"
Adam Ant Set List, 9/16/2017
1. Beat My Guest
2. Vive Le Rock
3. Dog Eat Dog
4. Apollo 9
5. Friend or Foe
6. Antmusic
7. Room at the Top
8. Desperate But Not Serious
9. Car Trouble
10. Zerox
11. Young Parisians
12. Prince Charming
13. Gotta Be a Sin
14. Puss 'n Boots
15. Can't Set Rules About Love
16. Christian D'or
17. Strip
18. Kings of the Wild Frontier
19. Greta-X
20. B-side Baby
21. Stand and Deliver
Encore:
Goody Two Shoes
Lady/Fall In
Red Scab
Physical (You're So)
After the eruptive roar following "Kings of the Wild Frontier," I looked to the stage and saw Adam collapsed over his knees. Adam's bumps in the road — be they personal or professional — are clearly no match for his impressive vitality, and his fans revel in him standing back up, after having gave the fought of his life. Adam's work is proof that passion keeps us all upright in facing our fears. "No method in our madness, just pride about our manner."
For more information and tour dates for Adam Ant, be sure to check out his official web site Adam-Ant.com.
Tags: Adam and the AntsAdam Antanthems tourBerundiclevelandErica McKeehenglamgoody two shoesHouse of BluesKings of the Wild Frontierpost-punkprince charmingRock
About Erica McKeehen
You may also like...