Sum 41 at Lancaster Convention Center in Lancaster, PA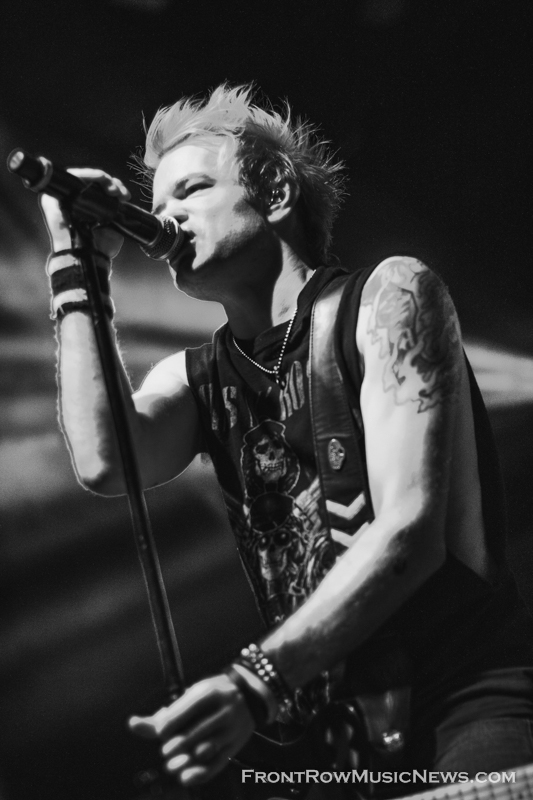 Sum-41-Photo-credit-Amanda-Stauffer
Sum 41 is a Canadian rock band which was formed in Ajax, Ontario in 1996. The band joined Pierce the Veil on their We Will Detonate tour along with supporting artists, Emarosa and Chapel. The tour made a stop in Lancaster, PA on May 2, 2017 at the Lancaster Convention Center. Sum 41 took fans down memory lane when they played songs from their first album All Killer, No Filler which was released in 2001. Currently, Sum 41 is made up of lead guitarists Tom Thacker and Dave Baksh, bassist Jason McCaslin, drummer Frank Zummo and lead vocalist/guitarist and founding member, Deryck Whibley.
Starting off the show, Sum 41 began with a track called "13 Voices" off of their most recent album which is titled 13 Voices as well. This album is their 6th one and was released on October 7th, 2016 including ten original songs. During the show, Deryck hyped up the crowd and asked if anyone would like to join the band on stage for the rest of their set and chose a few lucky individuals who were unbelievably happy to be given the opportunity. Sum 41's light show and set up was another impressing factor (aside from their music). Also, there was a massive skeleton figure with glowing red eyes on stage that displayed Sum 41's band name by using it's fingers, which were four fingers up on the right hand and the middle finger up on the left hand to represent 41. Finally, the band concluded the show by playing a popular hit (and one of my favorites) called "Fat Lip" off their 2001 debut album, All Killer No Filler that got everyone in the crowd moving.
Please be sure to keep up with Sum 41 for any future tours or releases by following them on their website (http://www.sum41.com/) and also on their Facebook page (https://www.facebook.com/Sum41/). I recommend seeing them live as soon as possible to experience a concert that you won't be able to forget.
Tags: 13 VoicesLancasterLancaster Convention CenterSum 41We Will Detonate
About amandaleahphoto
You may also like...