U2 at Solider Field in Chicago on June 4, 2017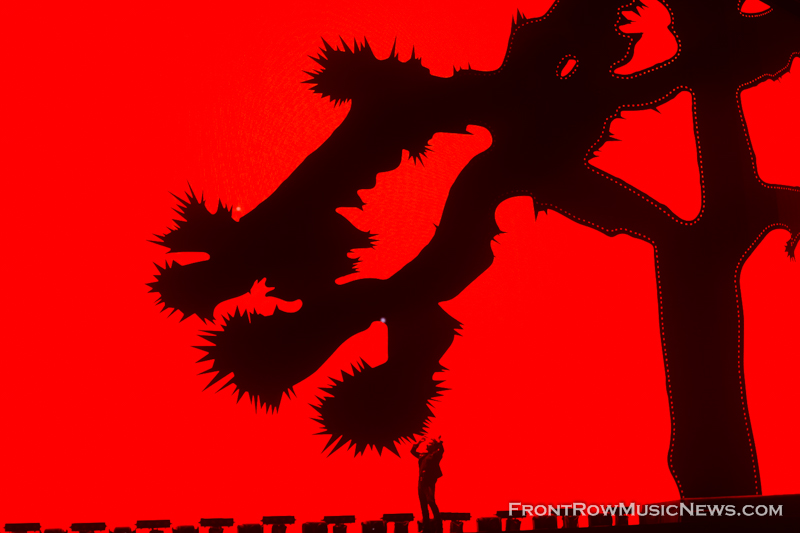 U2-Photo-credit-Azuree-Wiitala
On June 4th, 2017, U2 took Chicago on a ride of their musical history for a second night in a row. Full disclosure, I am a fair-weather fan. I know, I know- but I totally understand when their following describe the shows as a religious experience, which I've heard from numerous U2 fans. I've seen them play twice and both shows have been a truly epic production. My first U2 experience was on the 360 tour, this most recent show being my second exposure to the lads. The 360 show was definitely like nothing I've experienced in the live music world before or since, the concept was so wild and executed so well. The Joshua Tree tour wasn't as unconventionally different than the 360 tour, but was still definitely an experience to behold.
Perhaps because I'm a photographer and a highly visual person, production on the level that U2 does things is admirable to say the least. It was amazing to see stills and video on a HUGE wall that resembled a strip of film, throughout their set. I'm assuming the imagery was provided by one of my favorite photographers, and long time photographer to the band, Anton Corbjin. Corbjin has shot some of my favorite images of musicians but most relevant to this tour, he took the photos for the Joshua Tree record which was released 30 years ago and they are truly timeless.
U2 played a few of their hits before diving into The Joshua Tree record. "Sunday Bloody Sunday" opened the set, followed by "New Years Day", "A Sort of Homecoming" and "Pride". Followed by "Where The Streets Have No Name" and the rest of The Joshua Tree record. They finished with a whooping six song encore including "Miss Saravejo"- a Passengers cover, "Ultraviolet", "One", "Beautiful Day", "Elevation", and "The Little Things That Give You Away".
It was a fantastic show from beginning to end. Those dudes are still slaying each show. Their fans adoring and diverse, which I LOVE. The production and showman ship is out of this world. I don't think I have to say this, but if you have a chance to see U2 live- do it! Keep up with latest information and tour dates at U2.com/
U2 Setlist
June 4, 2017 at Soldier Field, Chicago, IL
Sunday Bloody Sunday
New Year's Day
A Sort of Homecoming
Pride (In the Name of Love)
The Joshua Tree
Where the Streets Have No Name
I Still Haven't Found What I'm Looking For
With or Without You
Bullet the Blue Sky
Running to Stand Still
Red Hill Mining Town
In God's Country
Trip Through Your Wires
One Tree Hill
Exit
Mothers of the Disappeared
Encore:
Miss Sarajevo (Passengers cover)
Ultraviolet (Light My Way)
One
Beautiful Day
Elevation
The Little Things That Give You Away (preceded by "Three Little Birds" snippet)
About azuree wiitala
You may also like...