twenty one pilots at Allstate Arena in Rosemont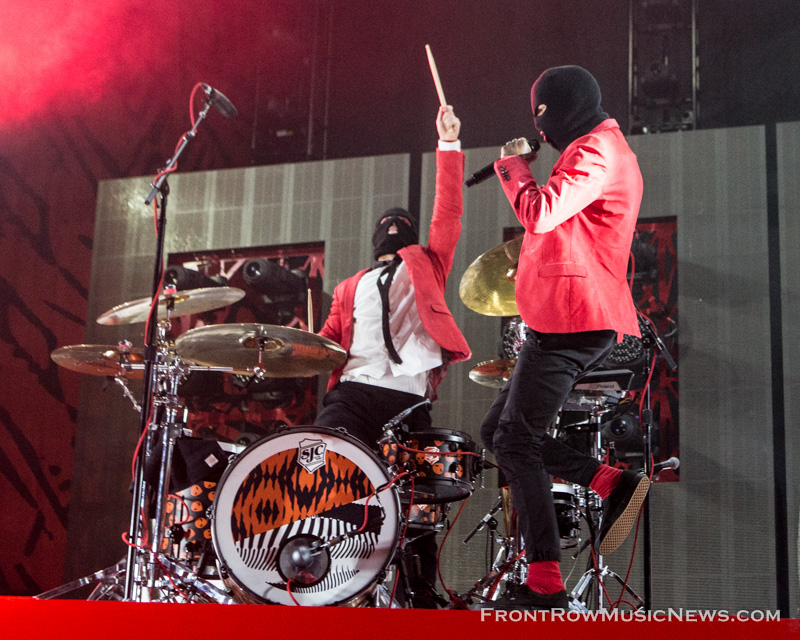 twenty-one-pilots-Photo-credit-John-Kosiewicztwenty-one-pilots-Photo-credit-John-Kosiewicz
From clubs to arenas to the world, the duo of Tyler Joseph and Joshua Dun out of Ohio called, twenty one pilots, keep broadening their horizons. On June 5, 2016, their 2016 EMØTIØNAL RØADSHØW World Tour was now stopping at Allstate Arena in Rosemont, IL to perform in front of the sold out, 18,000 capacity venue.
A long six months earlier, the tickets were sold out within an hour. Since purchasing the tickets, fans anxiously awaited this day to arrive. Many fans who had General Admission floor tickets even camped outside the venue, for up to a day and a half to be up front.
The evening started out with great opening performances by Chef'Special, also on Fueled by Ramen label, as well as Mutemath. However, for the loyal Clique, the magic started with the main event, twenty one pilots.
twenty one pilots shows are always entertaining, energetic, and the magic of the show keeps fans guessing what the band will do next. Early in the night's show, a real magic trick happened during the performance of "Hometown." As the song wrapped up, only seconds after Joseph disappeared from playing the piano on stage, he reappeared on the second floor balcony. Definitely surprised the fans in the balcony area.
Many of the classic moments fans come to expect during the twenty-one pilots show occurred: Joshua Dun playing drums on a platform held up by the fans during "Ride;" Dun doing a backflip off of Joseph's piano during "Holding on to You;" Joseph climbing on the pillar during "Car Radio;" and for the encore, both Dun and Joseph out in the audience during "Trees". However, they increased the fan interaction during "Guns for Hands" when Joseph went into a large hamster ball and ran through the audience as fans held their hands up high.
For this tour, not only did they include the usual mix of songs from Vessel and Blurryface, they also included an 11 minute melody of older songs off of the self-titled album, as well as the very difficult to find, Regional At Best. A big surprise was when they were joined on stage by members of Chef'Special and Mutemath to perform covers of Twist and Shout, My Heart Will Go On (Céline Dion), Love Yourself (Justin Bieber) and Jump Around (House of Pain).
After Leg 2 of the tour in Europe, twenty one pilots return back to North America with Leg 3 with even bigger venues, including another stop in Chicago at the United Center. Keep up with the latest information and tour dates at the twenty one pilots website.
twenty one pilots Setlist – June 5, 2016
Allstate Arena, Rosemont, IL (Chicago)
Main Stage
Fairly Local intro –> Heavydirtysoul
Migraine
Hometown
Polarize
House of Gold intro –> We Don't Believe What's on TV
The Judge
Lane Boy
B-Stage:
Ode to Sleep
Medley: The Pantaloon / Fall Away / Johnny Boy / Forest / Addict with a Pen / March to the Sea / Kitchen Sink
Main Stage
Doubt
Holding on to You
Twist and Shout (The Top Notes cover; with Mutemath & Chef'Special)
My Heart Will Go On (Céline Dion cover; with Mutemath & Chef'Special)
Love Yourself (Justin Bieber cover; with Mutemath & Chef'Special)
Jump Around (House of Pain cover; with Mutemath & Chef'Special)
Ride
Stressed Out
Guns for Hands
Tear in My Heart
Car Radio
About John Kosiewicz
You may also like...