Coyote Riot at City Winery in Chicago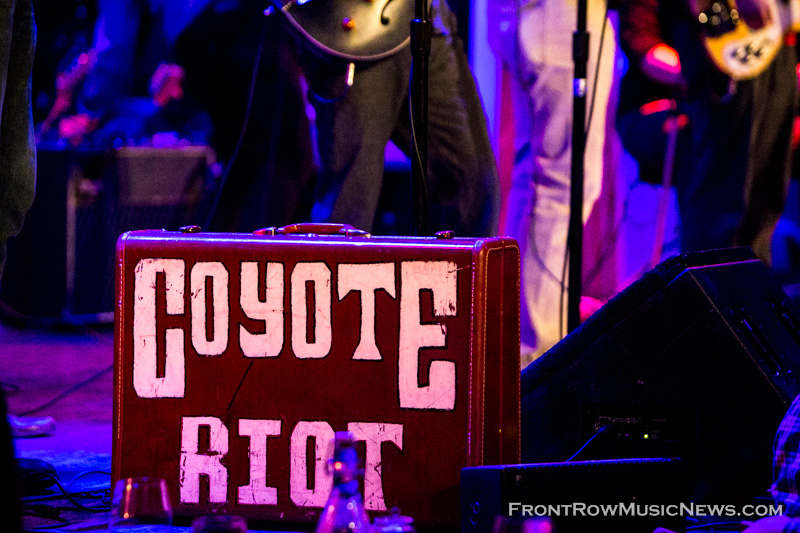 Coyote-Riot-Photo-credit-John-Kosiewicz
Hailing from Chicago's far southwest side, Coyote Riot had a busy 24 hours between Friday, February 17 and Saturday, February 18, 2017. They performed three Chicago area shows within 24 hours. The first show of Friday was at 8:00 pm in the West Loop at the City Winery where they opened for Head for the Hills. Front Row Music News caught up with the Rockabilly/Folk/Bluegrass band during this first performance. After their set, the band members hung out with family, friends and fans after the show. They had to then rush up north to the Wrigley area at Underground Lounge to perform a midnight set as part of Bickhamstock 7. The original location for Bickhamstock 7 was the Double Door. However, the iconic Wicker Park music club was closed on February 6th, 2017. After a short night's rest, Coyote Riot was back performing to Chicago's south-side crowd for the 2nd Annual Whiskey Jam at Barney Callaghan's.
Coyote Riot describe themselves as "folk, bluegrass, rock and blues tossed in a blender and chugged out of a 40 oz." Whatever you call it, it's definitely a foot stomping, wanna go dancing, good time. They started out as a group of friends hanging out, banging on some guitars and occasionally playing at local pubs back in 2012. Now they've matured into a more developed sound being put on display on bigger stages around the Midwest. The band released their first album of original music in December 2016 titled Burnt Along the Way, and the night's set included mostly songs from the new album. In addition, they played one of their classic covers that they've been playing on the south-side, "Ain't Nobody's Business But My Own." The venue was packed with what seemed to be many Coyote Riot fans. Their performance ended with an amazing applause from the audience for their hometown band.
Combining the raucous sounds of guitars, tenor banjo, electric bass, peddle steel and fiddle and an array of signature voices, Coyote Riot has developed a knack for putting on a rowdy show bursting with energy. The band can often be found playing out around venues stretching the city, the local bars in and around their Mount Greenwood – Beverly neighborhood and playing outdoor summer festivals or parties for just about any occasion. Actually, Front Row Music News first caught the band during the South-Side Irish Parade (see our first Coyote Riot post). They were strolling along the sidewalk and stopping every block or so to play a few songs.
The band looks forward to further developing their sound, adding to their catalog of original music in preparation for their follow up album and continuing to put on energy packed shows which has won them over a loyal and growing following around the Midwest.
Keep up on all the latest information and show dates at the Official Coyote Riot website.
Tags: City WineryCoyote Riot
About John Kosiewicz
You may also like...