Glam Skanks Shimmer in Chicago, Opening for Adam Ant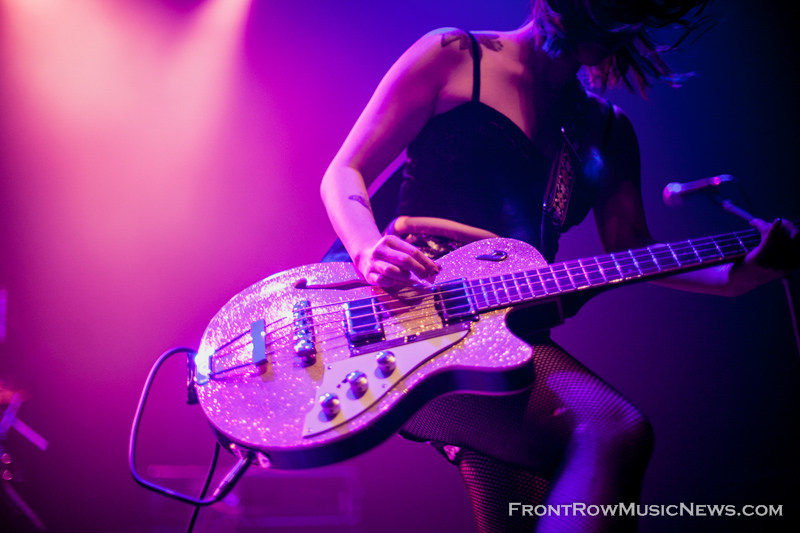 Glam-Skanks-Photo-credit-Erica-McKeehen
LA's Glam Skanks have embarked on an incredibly successful tour supporting 80s rock warrior Adam Ant, who is currently performing the Adam and the Ants album Kings of the Wild Frontier in its entirety to a select few venues in the United States (and beyond). On January 31st, 2017, the gaggle of glitter set to the stage with streamers, pink hair, and silver spandex to perform their brazen brand of anthemic rock before a sold-out audience at the Vic Theatre in Chicago. The show was one of many sold-out dates on the tour.
The ladies did not disappoint fans of classic rock and roll, and, in fact, totally proved themselves as an airtight arena heavy metal machine — reminiscent of Heart or Queen. As a bonus, Glam Skanks also offered all the spectacle one hopes for when watching live music amidst a sea of punks, young and old; for eager fans of Adam's, who are well-groomed for the costume, theatrics, and fantasy standard to any Adam Ant performance, Glam Skanks served as a hearty appetizer before the main course.
The Glam Skanks are vocalist Ali Cat, guitarist Veronica Volume, bassist Millie Chan and drummer Cassie. The band's debut release Glitter City comprised most of their set and is jam-packed with mouthy mantras and sexually-charged glam-rock worth your time if you, like me, quickly recognize that Glam Skanks actually embody much of the humor, sex appeal, and showy subversive rock goodness of Adam and the Ants.
For more information about Glam Skanks' tour or latest album, visit their official web site.
Tags: Adam and the AntsAdam AntChicagoErica McKeehenglam rockGlam SkanksGlitter CityKings of the Wild FrontierLAThe Vic
About Erica McKeehen
You may also like...