Tedeschi Trucks Band Three Sold Out Nights at the Chicago Theatre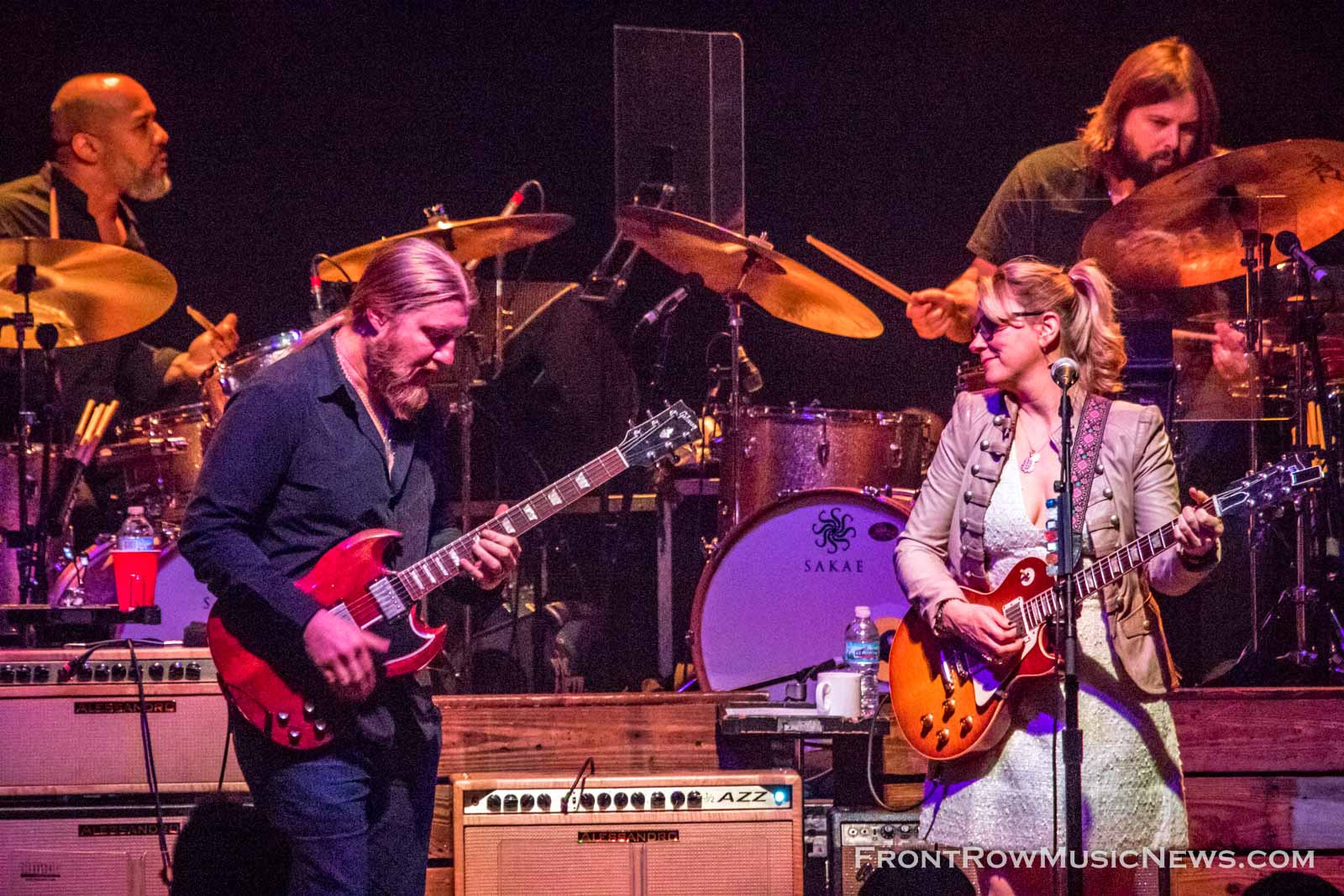 As part of their Winter 2018 Tour, Tedeschi Trucks Band returned to Chicago for three sold out nights at the historic Chicago Theatre on January 25, 26 & 27. January 25 featured an opening set by JJ Grey & MOFRO, while the following two nights were 'An Evening With TTB' featuring two full sets of music with no opening act.
On top of having an amazing opening act in JJ Grey & MOFRO for night one, the Chicago audience blessed with almost 2 hour 20 minutes of blues, gospel, jazz, soul rock and jamming! The magical combination of the beautiful vocals of Susan Tedeschi and the amazing guitar playing of Derek Trucks is definitely something special. The audience almost treats the experience as a spiritual or a religious event. An audience member was overheard stating, "Susan Tedeschi has the voice of an angel. When I go to heaven, I hope all the angels sing as well as she does."
However, the Tedeschi Trucks Band is the 12-piece ensemble of amazing artists in their own right and throughout the night, were given the opportunity to shine.
• Susan Tedeschi (Guitar, Vocals)
• Derek Trucks (Guitar)
• Kofi Burbridge (Keyboards/flute)
• Tim Lefebvre (Bass)
• Tyler Greenwell (Drums)
• J.J. Johnson (Drums)
• Mike Mattison (Vocals)
• Mark Rivers (Vocals)
• Alecia Chakour (vocals)
• Kebbi Williams (Saxophone)
• Ephraim Owens (Trumpet)
• Elizabeth Lea (Trombone)
The setlist included a sprinkling of great songs one after another from each of their three studio albums: 2011 Revelator (2011); Made Up Mind (2013); and Let Me Get By (2016). The first song was the title song from the most recent studio album, "Let Me Get By" and featured Kofi Burbridge on keyboards. Next, "Part of Me" off the sophomore album, accentuated the background singing of Mike Mattison, Mark Rivers and Alecia Chakour. Kebbi Williams saxophone on "Don't Know What It Means"… Well, we could go on and on, but you really need to experience the moments for yourself. Actual setlist as shown on Tedeschi Trucks Band Facebook page, indicates ending with "Idle Wind." However, they replace it with "I Want More." In addition, "Will the Circle Be Unbroken" was inserted between "Statesboro Blues" and "Bound for Glory."
If you missed the opportunity to catch TTB on this tour, Tedeschi Trucks Band announced a Summer Tour with opening acts, Drive-By Truckers and the Marcus King Band, for the entirety of the American trek, which will run from late June to late July.
Keep up on the latest information and tour dates at the Tedeschi Trucks Band website TedeschiTrucksBand.com.
Check out our other posts on Tedeschi Trucks Band
Tedeschi Trucks Band – Wheels of Soul Tour 2017 (7/19/2017)
Blues on the Fox with Tedeschi Trucks Band in Aurora 6/18/2016
Tedeschi Trucks at Chicago Theatre 1/22/2016
Tedeschi Trucks Band Setlist
Chicago Theatre, Chicago, IL
January 25, 2018
Let Me Get By
Part of Me
Don't Know What It Means
Shame
All the World
Going Down Slow
Made Up Mind
Midnight in Harlem
Talking About (Susan Tedeschi song)
Don't Think Twice, It's All Right (Bob Dylan cover)
How Blue Can You Get? (Johnny Moore's Three Blazers cover)
I Want More/Soul Sacrifice
Encore:
Statesboro Blues (Blind Willie McTell cover)
Will the Circle Be Unbroken? ([traditional] cover)
Bound for Glory
About John Kosiewicz
You may also like...